13 best coworking spaces in Berlin
Berlin is the vibrant capital of Germany and the main cultural metropolis in Europe. Its industrial grit is juxtaposed with upscale glamor and its heavy recent history with youthful zest. It's an unrivaled hotspot of artistry and innovation in Europe, with a new startup emerging every 20 minutes.
It's no wonder that digital nomads are crazy about Berlin, as it offers the perfect measure of work and play, or rather, an excess of both. Check out this nomad's advice on what to do in the city:
Berlin has a huge number of coworking spaces, and we've listed the creme de la creme among them.
Weserland is the king of coworking spaces in Berlin right now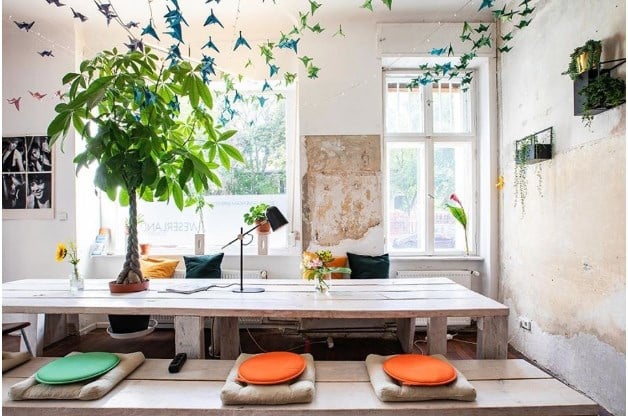 Source: Weserland Facebook
Conveniently located in Berlin's Neukölln district on Waserstraße, Weserland is one of the most popular coworking spaces in Berlin. You can find many lunch and after-work options in the neighborhood, as there are numerous restaurants and bars nearby.
Weserland has a Coworker Members' Choice Award under its belt and rightfully so. As soon as you enter the space, you feel at home. Colorful paper cranes, plush cushions, plants, and daylight make for the most pleasant environment. The owners put a lot of thought in the ergonomics. You can choose from a variety of seating options, which range from sturdy benches to Bosu ball chairs. Some of these seats may look uncomfortable, but they were all carefully designed with your back in mind.
The owners will make you feel welcome in every way. They sometimes cook food for everyone, and you can use the kitchen to prepare your own food. When you need a break, you can even take a nap in their nap room or recline in a hammock.
Basics
Pricing
Per day – €18Per month – €160
High-Speed Internet
Yes
Open Hours
Monday – Friday: 24 hoursSaturday: 24 hoursSunday: 24 hours
Ergonomics
Comfortable Chairs
Yes
Standing Desk
Yes
Workspaces
Dedicated Desks
Yes
Conference Rooms
Yes
Private Offices
Yes
Phone booths
Yes
Coliving
No
Rent24 in Karl-Liebknecht-Straße 34 is our least favorite space to cowork in Berlin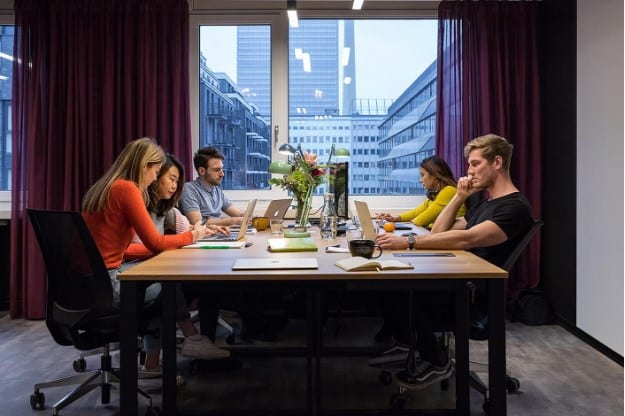 Source: Rent24
Rent24 has six coworking spaces in Berlin and more in other German cities and eight other countries. This particular hub spans several floors of a building in East Berlin. It's our least favorite Rent24 location. It is followed closely by their Potsdamer Straße space, which displaced one of the oldest youth centers in Berlin to the great dissatisfaction of many.
This place is also our least favorite coworking space in Berlin. Although it spans a remarkable 7,700 sqm and offers a range of open-plan spaces, private offices, and more, their guests have reported numerous issues. Some of them are the following:
It still resembles a construction site, even though it's been open for guests for over a year (cables hanging from the ceiling, holes in the ground, etc.)
It is too dark (black walls and a large poster on the building covering the windows)
Kitchen appliances often break down
It is too hot in the summer
These are only some of the complaints made by their guests. We recommend you stay away from Rent24.
Basics
Pricing
Memberships start from €125Hot/dedicated desk per month from €300
High-Speed Internet
Yes
Open Hours
Monday – Friday: 9 a.m. – 6 p.m.Saturday: closedSunday: closed
Ergonomics
Comfortable Chairs
Yes
Standing Desk
Yes
Workspaces
Dedicated Desks
Yes
Conference Rooms
Yes
Private Offices
Yes
Phone booths
Yes
Coliving
No
12 other cool coworking spaces in Berlin
Here are some other spaces to cowork in Berlin:
Ahoy
betahaus
CoWomen
Techspace
KAOS
Mindspace
House of Clouds
Thunderbolt Collective
tuesday coworking
b+office
Enklave
skalitzer33
Ahoy at Wattstraße 11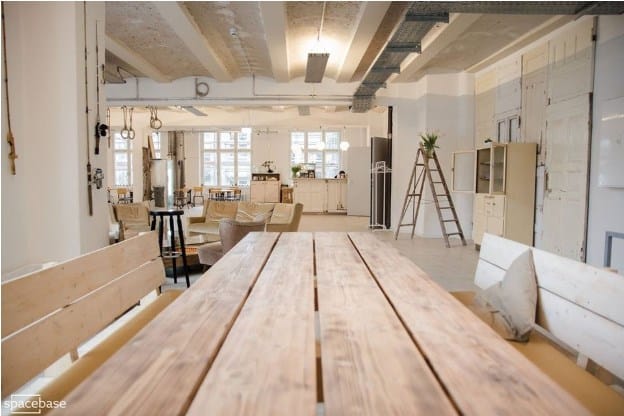 Source: Ahoy Facebook
Ahoy is a nautical-themed coworking space in a convenient location surrounded by many cafes and food places. There's even an onsite cafe, so you don't have to stray further. A metro station is within walking distance.
The space has a laid-back air and fosters the same community. The whites and blues that dominate Ahoy spaces go well with the relaxed atmosphere and contribute to it. You can find a variety of seating options in multiple rooms. There are private and conference rooms as well as large event spaces. Ahoy's event managers can help you host a workshop or any other meetup there and make sure that everything goes smoothly.
This place has great options to help you fill in your breaks, such as:
Foosball
Ping pong table
Pool
Library
The price per day is €15 and per month €150.
betahaus at Rudi-Dutschke-Straße 23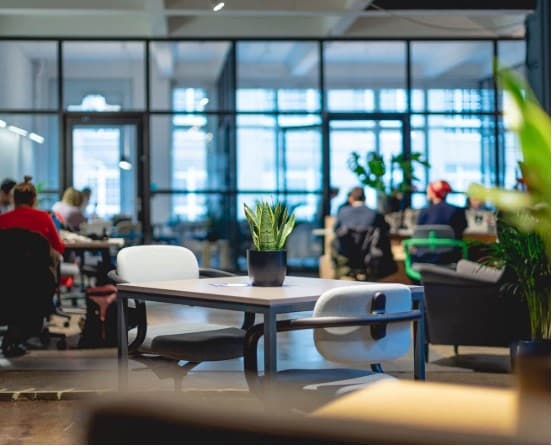 Source: betahaus
There are two betahaus locations in Berlin. We've decided to write about this one on Rudi-Dutschke-Straße because it represents the headquarters of betahaus. This space is one of the oldest coworking spaces in Berlin. It's in the multicultural and diverse Kreuzberg, at a well-connected location. There's also free parking on the premises.
This is one of the most popular startup meetup locations in the city. On the ground floor, it has a cafe where you can socialize, while other floors are coworking areas. betahaus has all the rooms you might need, from open areas and event spaces to phone booths, as it spreads across 3,000 sqm.
They organize various events to help their users become successful startupers. The most notable ones are betabreakfasts with tech or entrepreneurial focus that take place on Tuesdays.
The monthly price for a hot desk is €159.
CoWomen at Am Krögel 2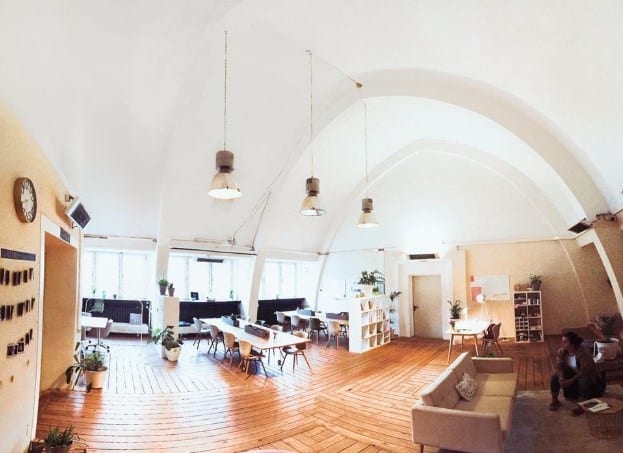 Source: CoWomen Facebook
CoWomen is a gorgeous, spacious coworking hub in the center of Berlin. It's situated in a charming old renaissance building known as Alte Münze. The central location makes it easy to reach and move from.
If you're a solo female traveler, this might become your home away from home. You'll feel completely at ease at this place as it was designed by women for women. Its main purpose is to help female entrepreneurs build a strong network and teach them many useful skills.
The space is beautifully designed and has all the amenities a coworking space should feature. You can enjoy free tea and coffee while working on your thing alone or exchanging ideas with other inspiring coworkers. They organize regular workshops to help their members hone many different skills.
A day in this lovely hub costs €22, and a full month is €249.
Techspace at Lobeckstraße 36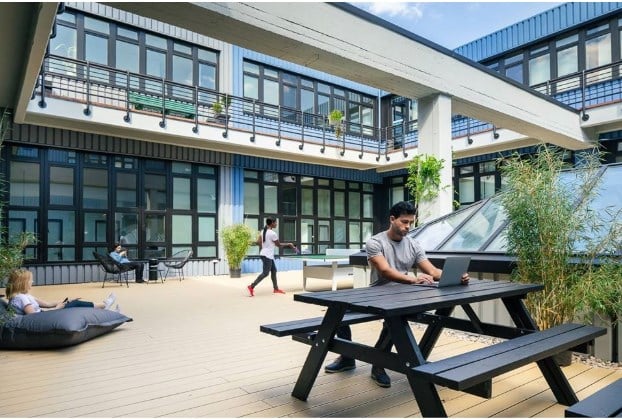 Source: Techspace Facebook
Techspace is a network of coworking spaces in Europe. It features two locations in Berlin. We picked the one in Kreuzberg in southeast Berlin. Techspace repurposed an old industrial building and made it into a modern one filled with coworking facilities. It spans across a total of four floors.
Techspace has retained a bit of the industrial vibe of the old building but made it modern and trendy. There's a number of offices, phone booths, and a huge event space that can place up to 100 people. If you prefer working outdoors, there are a spacious balcony and a courtyard at your disposal. You can choose from a variety of seats, from standing desks to bean bags.
You can get a dedicated desk for €429 a month.
What we don't like about Techspace
Even though the place looks like a space shuttle, there's no air conditioning, so you'll want to avoid it during the summer.
KAOS at Wilhelminenhofstraße 92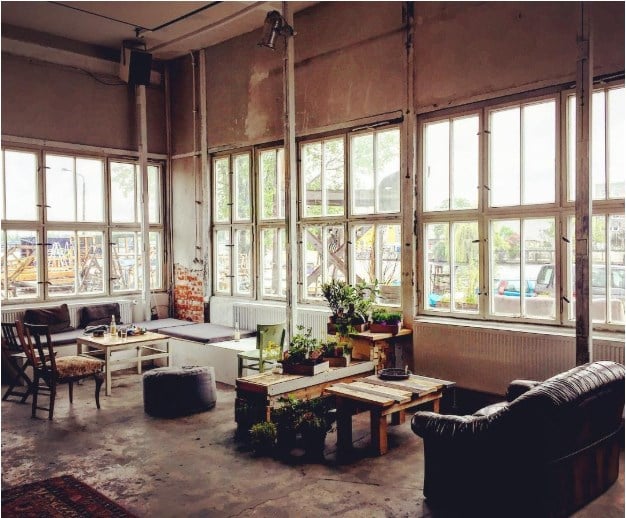 Source: kaosberlin
KAOS is a coworking space truly representative of Berlin. It's inside an industrial warehouse on the River Spree. It's a great location if you'd like to sit by the water, and it's also close to the center of Berlin.
This is a space best suited for creative souls, especially those in art, media, and product design. Apart from offering coworking offices, KAOS features:
Workshops
Exhibition spaces
Event spaces, etc.
It also has an outdoor terrace where you can hang out with other creative people after work.
KAOS hosts many cool events. It is especially important for Berlin's design scene. If you're any kind of designer, artist, or just a creative mind, we recommend you check this place out.
You can rent a hot desk for €150 per month.
What we don't like about KAOS
Beware that some of their furniture is not best suited for long hours spent at your laptop. You can bypass this issue by bringing a travel stand desk and working standing up.
Mindspace at Friedrichstraße 68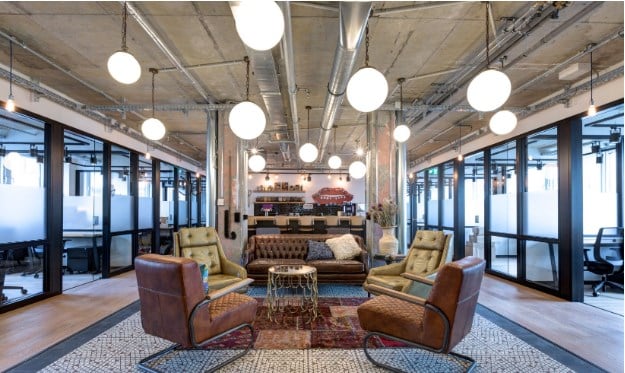 Source: Mindspace
Mindspace is a global co-working space provider. It has three locations in Berlin:
On Friedrichstraße
On Krausenstraße
On Skalitzer
Our favorite one is on Friedrichstraße in the heart of Berlin. It's minutes away from public transport. Their space on Krausenstraße is close by, so you can check them both at once and see which one you prefer.
As many Berlin-based co-working spaces, this one also features hard industrial elements, but they're softened by cozy furniture and large murals. There are all the usual rooms: open areas, conference rooms, private offices, etc. All of their seats are ergonomic and back-friendly.
You can mingle with an international crowd of remote workers here while drinking free tea, coffee, and even beer.
The monthly cost for a hot desk is €300.
House of Clouds at Oldenburger Straße 6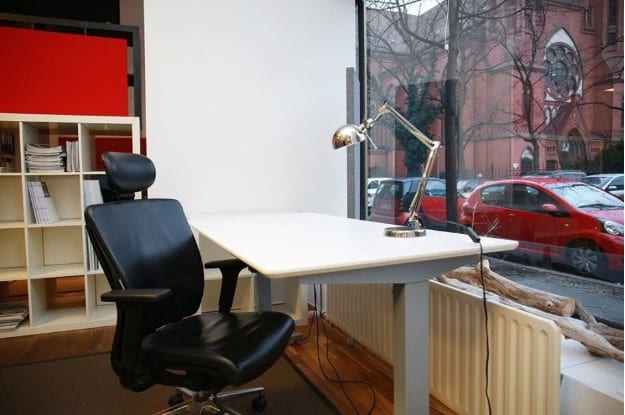 Source: House of Clouds Facebook
House of Clouds is located in Moabit, a neighborhood in the center of Berlin. There's a lot of greenery around it as well as shops and cafes. Moabit's main street Turmstraße, which is minutes away from this spot, offers many places where you can grab a bite.
This coworking space is much more traditional and conventional than most places on this list. If you're old-school and prefer to work in a space with an actual office feel, this is the right one for you. You get to sit at adjustable desks and recline in comfy chairs. There's also a lot of storage space for your stuff.
The place is open 24/7, and the price is €15 per day and €200 per month.
Thunderbolt Collective at Paul-Lincke-Ufer 20
Source: Thunderbolt Collective Facebook
Thunderbolt Collective is another coworking space in the creative heart of Berlin—Kreuzberg. Being at such a central location, the place is easily accessible. It is surrounded by cute cobblestone streets, fancy cafes, art galleries, and more.
As Germans love repurposing old industrial buildings, this space occupies a former electrical substation. That is why it features an unusually high ceiling, which has an awe-inspiring effect similar to that felt in churches and cathedrals. There's a 600-sqm open area, beautifully designed loft space, conference rooms, a game room, etc. You can even rest your eyes in a nap room.
There's also a living room with a fireplace where you can take a break while enjoying your free coffee and chatting. You'll meet many creative people here from various industries.
You can get a dedicated desk for €400 per month.
tuesday coworking at Belziger Straße 71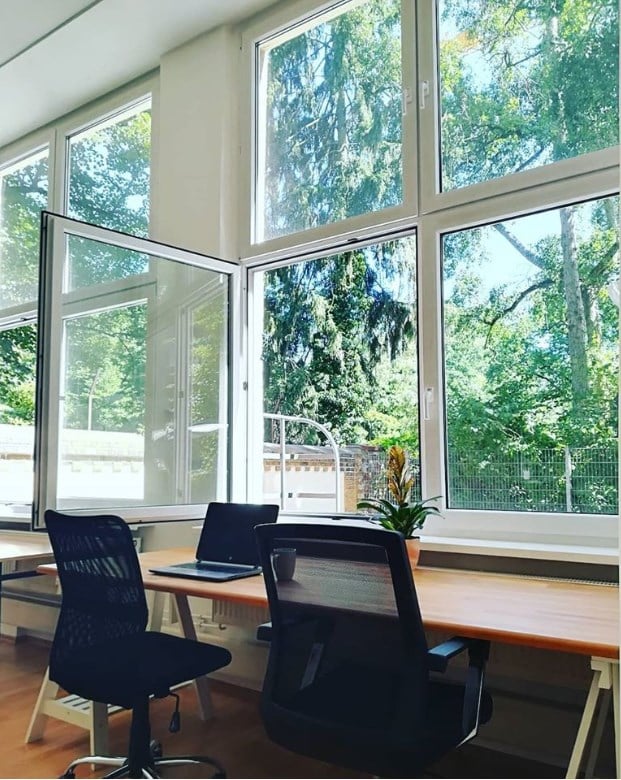 Source: tuesday coworking Facebook
tuesday coworking offers intimate spaces in Schöneberg at two locations:
Belziger Straße 71
Feurigstraße 51
By paying membership for one of these, you get access to both. These are lovely, homelike spaces best suited for individuals or small teams of creatives. You get access to all the amenities you may need.
tuesday coworking was created as an alternative to commercial workspaces, which are becoming larger, more expensive, and more impersonal by the day. At this place, they truly put a focus on community and culture instead of business and money. You're sure to meet the most eclectic crowd of coworkers this city has to offer here.
The price for a hot desk is only €85 per month.
b+office at Dudenstraße 10
Source: bplusoffice
b+office is located in the historic Bauhaus loft. With bike parking and public transit stations nearby, it's easy to access and move around from. The place is also close to the famous Bergmannkiez.
This space is airy and filled with natural lights thanks to its high ceilings and huge windows. The design of b+office is minimalist but still trendy and fully functional. There are a wide-open area and smaller offices as well as large conference rooms.
The community at b+office is laid-back and friendly. You can network with them during your breaks at an outdoor terrace or play foosball or darts. If you're visiting during the summer, be sure to come here on Friday as that's when they make a delicious barbecue, which includes both meat and veggie options.
The price is €17 per day and €195 per month.
Enklave at Kienitzer Straße 100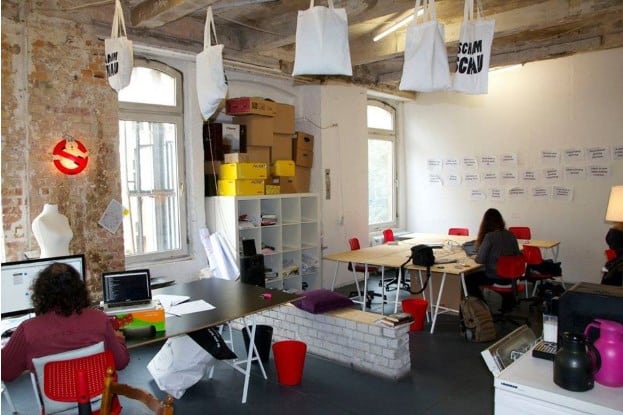 Source: Enklave Facebook
Enklave is a community-oriented space in Berlin's Neukölln. It's a super convenient location whether you're coming by bus, on foot, by bike, or by car. There are public transport stations in the vicinity and car and bike parking on the premises.
This is a great place, both for locals and traveling remote workers. As a member, you get 24-hour access. The space is divided into three zones:
They also offer a variety of technical equipment ranging from dual-monitor computers to video recording equipment.
Even though a buzzing community gathers here, you can still isolate yourself if you want to. Once you're done with work, you can join one of their daily food events—lunches, brunches, beer tastings. If you want to meet like-minded new people, this is the place to be.
You can get a taste of the place by signing up for a free trial. Otherwise, you'll pay €100 per month.
skalitzer33 at Skalitzer Straße 33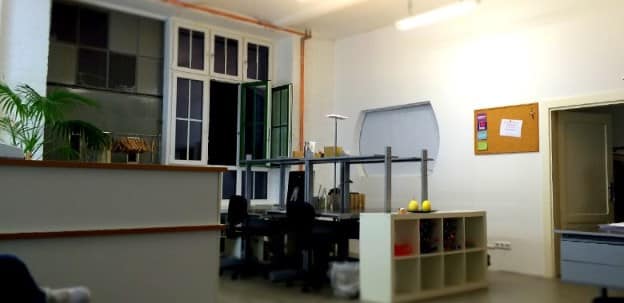 Source: skalitzer33
This name of this place is not the most creative one, but it reveals a convenient location. skalitzer33 is at the heart of Kreuzberg between "Kotti" and "Görli." It's in an industrial brick building with high ceilings and lots of light. There are parking on-site and public transport stations nearby.
You can choose a desk in the open-plan space, or if you prefer more peace and quiet, you can go to a smaller, more private office. You'll have plenty of storage space at your disposal to put away all your unnecessary stuff. You can use their small kitchen when you need to grab a bite.
When you need more space for a project, you can rent their spacious loft. Another cool thing about this place is that you can even set up a pop-up store there at their shop with a window front. You can take a nap in the nap room or hang out at the outdoor terrace. If you need clean clothes, there's even a laundry service here.
The price is €15 per day and €196 per month.