The 6 best coworking spaces in Bogota, Colombia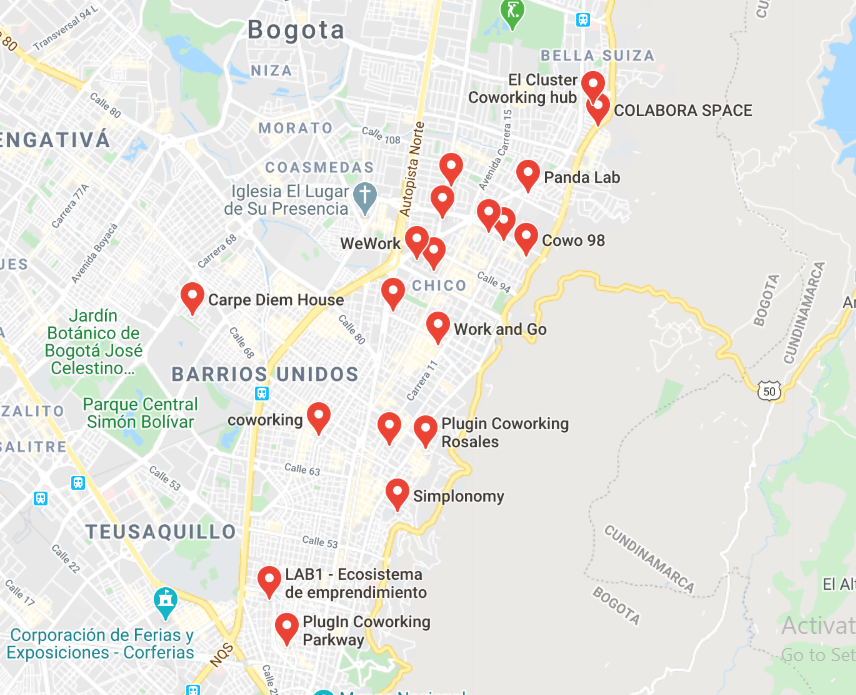 Bogota is the capital and the largest city in Colombia. With a metro population of over 10,000,000 people, it is the epicenter of business opportunities in the country. It comes as no surprise that digital nomads have an eye on this city when looking for the next place to work and live from. We give you the rundown of all the popular places you can cowork from in Bogota. Along the way, we also share some useful tips on how to make your life there easier.
So without further ado, here are the best places to cowork from in Bogota:
Panda Lab — Carrera 8b
HubBOG — Calle 98
Work&Go — Zona T / Calle 98
Co+Labora — Usaquen
Emprendu — Zona T
CoWo — Chicó Norte / Quinta Camacho
Panda Lab is our top pick for coworking Bogota-style!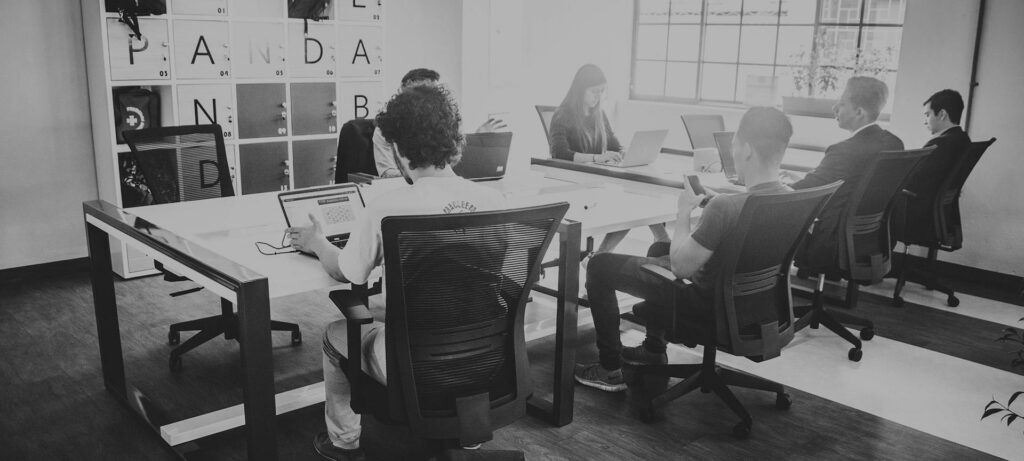 Source: Panda Lab
Panda Lab is located in Carrera 8b, a street just outside Bogota's bustling city center. Its location gives it a very good selling point — it is close enough to all the major spots in town, but far enough not to be swallowed up by its traffic noise. So, if you prefer working on your stuff without interruptions, this super affordable place is definitely worth taking a look.
Another huge advantage of this place is its budding community. Gatherings of all kinds are held regularly here — one of the most popular is the Artificial Intelligence Meetup. Those of you who are aiming to broaden your network should take advantage of such events and join the Panda Lab coworking space.
If you do join, you will have access to their kitchen with an assortment of snacks and free coffee. Another plus is that you can store your valuables safely in a personal locker. The Wi-Fi signal is stable, and there are plenty of power outlets. You can also opt to work from the outdoor terrace (although Bogota weather is generally horrible) or the lounge area with excellent ergonomics.
What took our breath away is that this space is so carefully designed that it offers time-out activities as well. Hop up to the fourth floor, and have a blast playing virtual football and golf with other innovators frequenting this place. Seriously, how much cooler can a coworking space get?
Basics
Pricing
Per day –Per week –Per month COP 385,000
High-Speed Internet
100 megabit fiber
Open Hours
Monday – Friday: 7 am – 7.30 pmSaturday: 8 am – 12 pmSunday: Closed
Ergonomics
Comfortable Chairs
Yes
Standing Desk
Yes
Workspaces
Dedicated Desks
No
Conference Rooms
No
Private Offices
No
Conference room
No
Phone booths
No
Coliving
No
HubBOG comes in as a close second coworking spot in Bogota, Colombia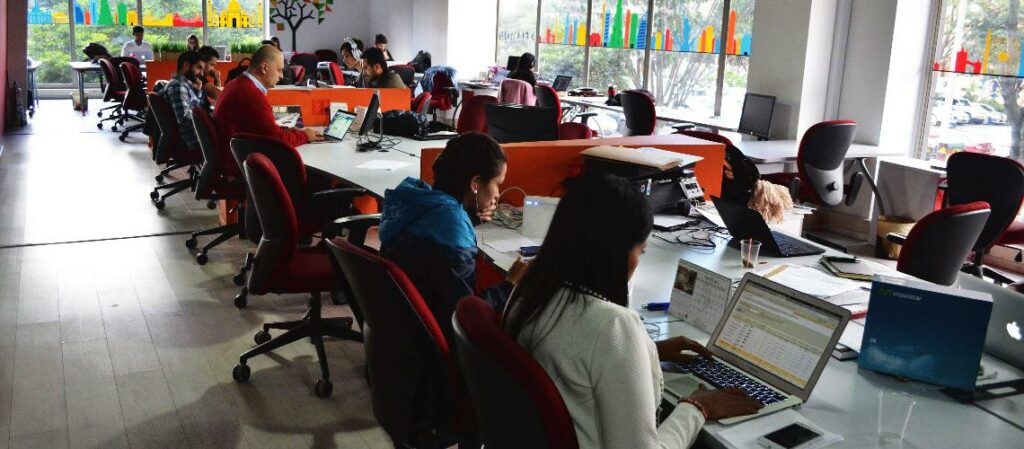 Source: HubBOG
Located at Calle 98, HubBOG is ever so slightly closer to the city's center than our number one pick. Just like it, that place is equipped with many standing desks and the coziest chairs you could wish for. But it is not as affordable as our top choice, so we lowered our ranking.
That is not to say that HubBOG is not an exquisite coworking space. It is open 24/7 and has a strong internet connection, which is something Bogota cannot quite boast about. So, it is worth noting that the Wi-Fi signal does play an important role in this part of the world. The offices are wheelchair-accessible, which is another big plus as this feature is quite rare for coworking places. Also, you get unlimited usage of the printer and scanner.
What really sets this spot apart is that it has many options for large coworking groups. Not only is there a huge open-plan shared office with many hot desks but also three private offices for groups of up to 10 people. It has a 50" screen, a sound system, and a library. Even more impressive, they have an event space that can host up to 80 people for workshops, seminars, or conferences.
It also rejoices us to say that you can also have fun while you are there. There is a rooftop terrace where you can, hopefully, soak up some sun. Also, there is a mini-golf course and foosball. We should also mention that the staff here speaks solid English. That always puts a smile on a Gringo's face because rarely anyone speaks English in Colombia.
Basics
Pricing
Per day: COP 50,000Per week: COP 200,000Per month: COP 539,000
High-Speed Internet
100 megabit fiber
Open Hours
Monday – Friday: 24hSaturday: 24hSunday: 24h
Ergonomics
Comfortable Chairs
Yes
Standing Desk
Yes
Workspaces
Dedicated Desks
No
Conference Rooms
Yes
Private Offices
Yes
Conference room
Yes
Phone booths
No
Coliving
No
Bogota has more cool coworking spaces for you to choose from
Here are some additional awesome coworking spaces in Bogota, listed in no particular order:
Work&Go
Co+Labora
Emprendu
CoWo
Work&Go — Zona T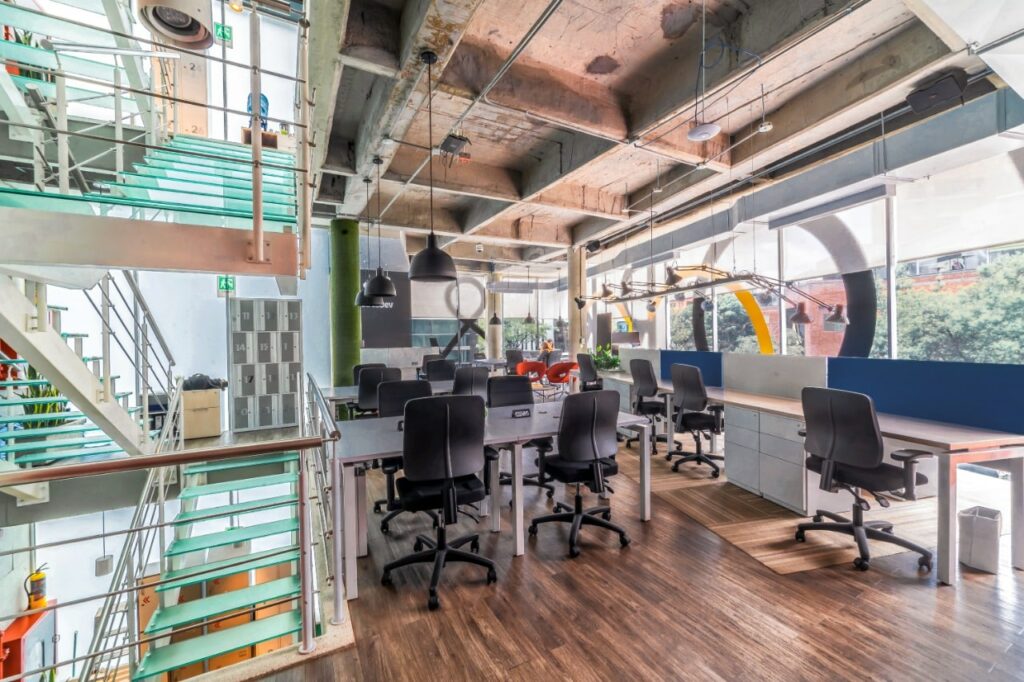 Source: Coworker
Work&Go is located in the Zona T district, which is popular with foreigners. There are many amenities around, such as shopping malls, bars, cafes, and restaurants. It is a true digital nomad's heaven. There is also rich nightlife, as people in Bogota work hard during the week, but on the weekends, they make sure to party just as hard. But you should keep your valuables close by at night — this is a notoriously crime-ridden city.
Work&Go's members are known for being extremely polite. They will take their phone calls outside, allowing you to work without interruptions. There are ways to connect with other members. Community-building events are held on a regular basis, and you can also find other members on social media channels, like Facebook and Slack.
This coworking space is also cozy and relaxing. The lounge area is perfect for chit-chat. There, you can lay back on beanbags and perfect your Spanish speaking skills with other visitors. Conveniently, there is also an Airbnb close by.
Basics
Pricing
Per hour: COP 12,000Per day: COP 30,000Per month: COP 420,0003 months: COP 342,000 / month
High-Speed Internet
100 megabit fiber
Open Hours
Monday – Friday: 7 am – 9 pmSaturday: ClosedSunday: Closed
Ergonomics
Comfortable Chairs
Yes
Standing Desk
Yes
Workspaces
Dedicated Desks
Yes
Conference Rooms
No
Private Offices
Yes
Conference room / Event space
Yes
Phone booths / Skype room
Yes
Coliving
Yes
Co+Labora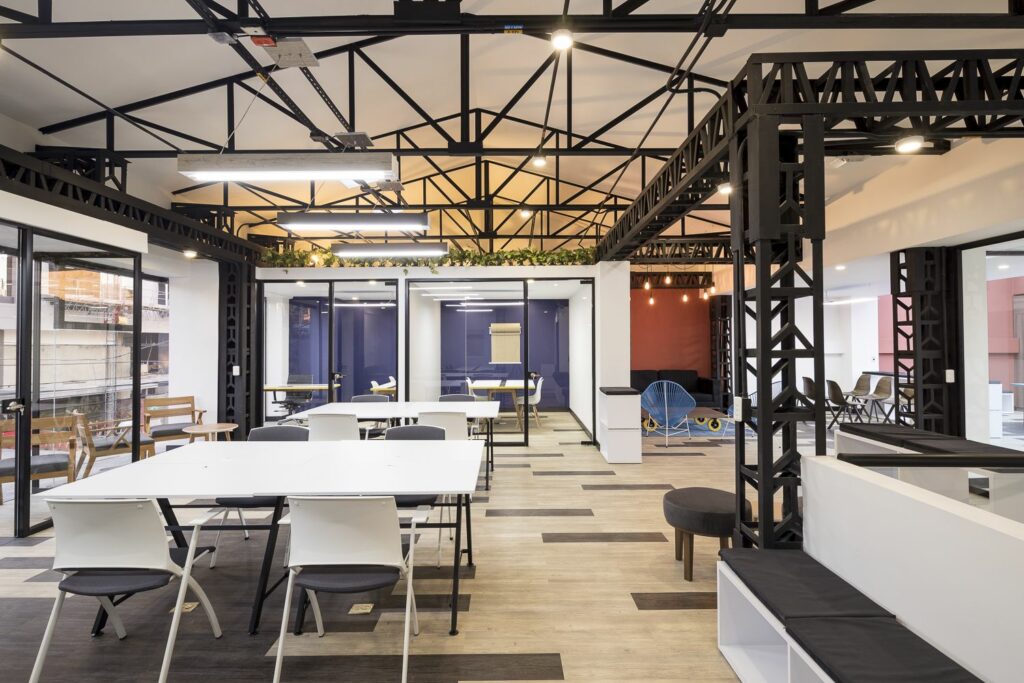 Source: Coworker
Basics
Pricing
Per hour: COP 13,750Per day: COP 51,000Per week: COP 210,000Per month: COP 696,0003 months: COP 668,160 / month6 months: COP 633,360 / monthPer year: COP 605,520 / month
High-Speed Internet
100 megabit fiber
Open Hours
Monday – Friday: 8 am – 8 pmSaturday: 8 am – 2 pmSunday: Closed
Ergonomics
Comfortable Chairs
Yes
Standing Desk
No
Workspaces
Dedicated Desks
Yes
Conference Rooms
No
Private Offices
Yes
Conference room / Event space
Yes
Phone booths / Skype room
Yes
Coliving
No
Emprendu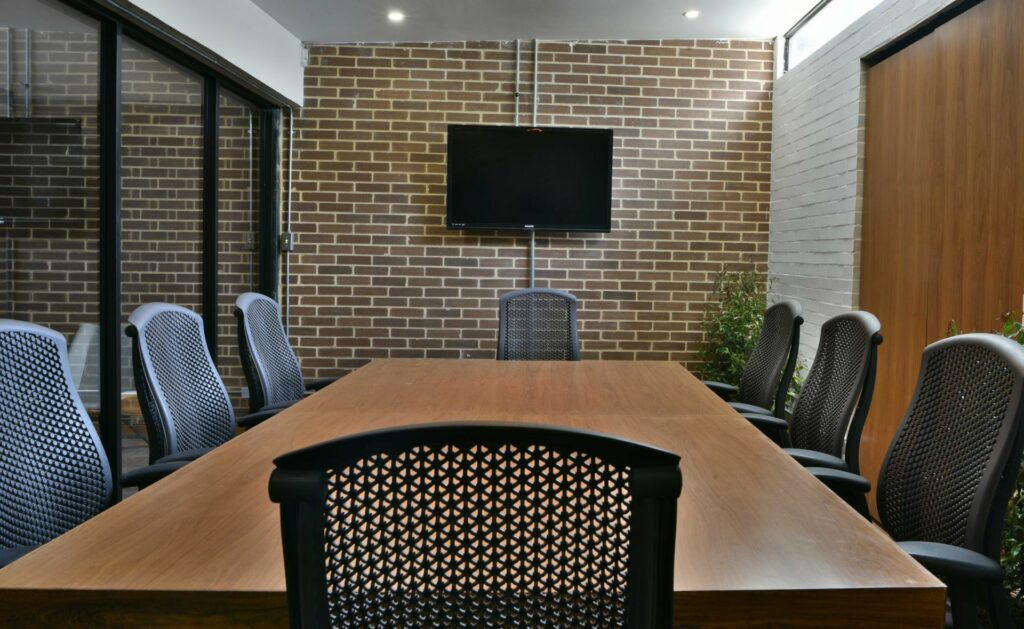 Source: Coworker
Basics
Pricing
Per day –Per week –Per month: COP 550,0006 months: COP 522,500 / monthPer year: COP 495,000 / month
High-Speed Internet
100 megabit fiber
Open Hours
Monday – Friday: 24hSaturday: 24hSunday: 24h
Ergonomics
Comfortable Chairs
Yes
Standing Desk
Yes
Workspaces
Dedicated Desks
Yes
Conference Rooms
No
Private Offices
Yes
Conference room
No
Phone booths / Skype room
Yes
Coliving
Yes
CoWo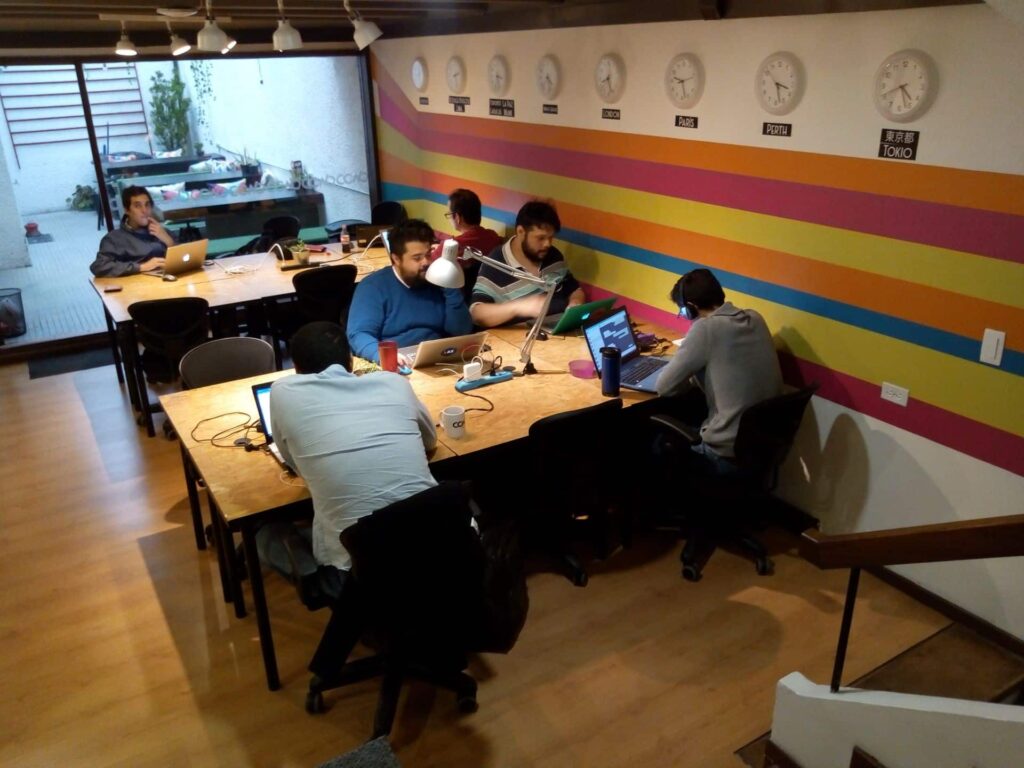 Source: Coworker
Basics
Pricing
Per day: COP 50,000Per week –Per month: COP 365,000
High-Speed Internet
100 megabit fiber
Open Hours
Monday – Friday: 7 am – 7 pmSaturday: 7 am – 4 pmSunday: Closed
Ergonomics
Comfortable Chairs
Yes
Standing Desk
Yes
Workspaces
Dedicated Desks
Yes
Conference Rooms
No
Private Offices
No
Conference room / Event room
Yes
Phone booths / Skype room
Yes
Coliving
No