8 best coworking spaces in Guadalajara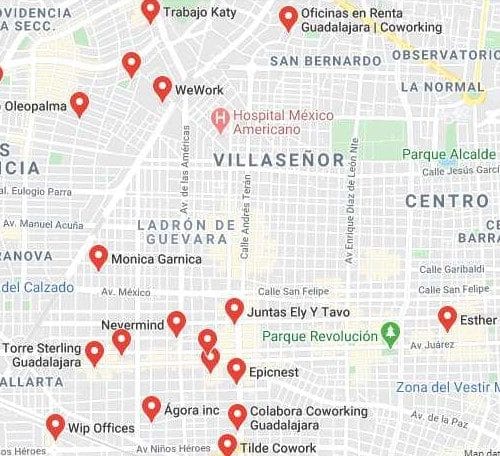 In the country that gave us mariachi and tequila, every place is equally exciting to visit. Some places are just more equal than others.
Guadalajara is easily the most fascinating area in Mexico—yes, outranking even the capital city. Tortas ahogadas and tequila are an unforgettable gastronomic experience. Guadalajara is the home to the most significant zoo in Latin America—Zoologico Guadalajara—and if you like large areas of greenery, Bosque Los Colomos is probably among the most beautiful parks there are.
There is something for everyone. If you consider yourself a history buff or an artistic soul, Guadalajara boasts museums that'll take your breath away. If you'd like to experience the culture, the many Mercados are a must-see, and none as much as Mercado San Juan de Dios, also called Mercado Libertad. If you just want to have a good time, one word—mariachi.
It's undeniably easy to lose your head in the many attractions of the city. If you're a digital nomad, who needs to work while traveling, you'll need to be in full possession of your faculties. The easiest way to stay focused on your work is to find a coworking space that will keep you productive and motivated.
Unfortunately, sometimes it seems as if the choice of a coworking place is as broad as it's long, especially if you've never visited the city before, and you don't have anybody's experience to fall back on. Don't worry—we'll give you a hand with that. Here's a list of Guadalajara's eight best coworking spaces, and one you should probably avoid.
Nevermind is our favorite place to cowork in Guadalajara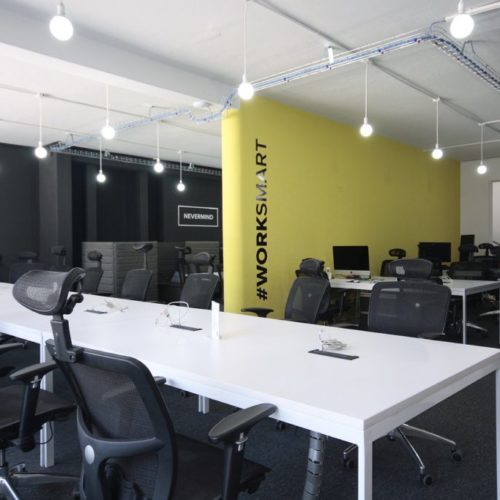 Source: Nevermind
Don't let the passive-aggressive name fool you—Nevermind is one of the friendliest, most motivational coworking spaces in Guadalajara. With its location right between the Americana, the Arcos Vallarta, and the Ladron de Guevara areas, it is easily accessible from all parts of the city. It is also surrounded by many cafés and restaurants, which is very convenient for all of you who do not share Joey Tribbiani's enthusiasm for sandwiches.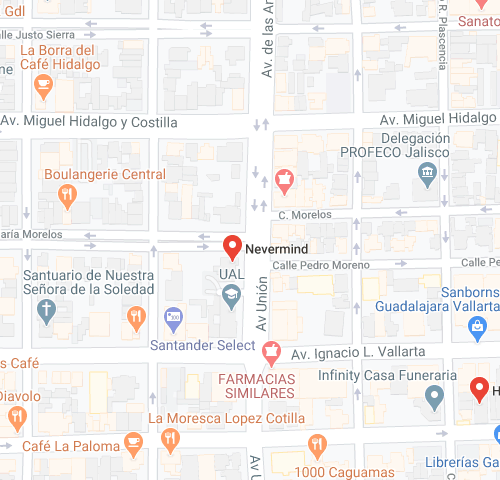 The thing that we loved most about this coworking space is the internet. Every desk has its network cable, which ensures excellent speed with an average of about 200 Mbps for download and 143 Mbps for upload. If you like to move around while you work and don't mind a bit slower connection, that's okay too—there is also Wi-Fi. In any case, an unreliable connection is the Achilles' heel of any computer-based freelancer, so having access to an incredibly stable and fast Internet is bound to save you at least some headache.
They don't have standing desks, which is a bummer, but their ergonomic chairs are top-notch and provide excellent support. Even if you have to work full-time or long hours, you're not likely to suffer from the stiffness that usually comes with long periods of sitting. If you'd still prefer to stand while typing your day away, here's a pro tip—there are travel stand desks you can carry around with you, and they are much lighter than the regular kind.
Nevermind takes care of its community and organizes fun and educational events for its members. There is a reasonably well-stocked library, as well as a lounge area where you can relax with a pint of beer on casual Fridays or a bagel on Bagel Tuesdays, free of charge.
You can use their printing equipment for free, but only for 20 pages a day. They provide tasty (and free!) coffee, there is free parking, and the place is wheelchair accessible.
What else do you need in a coworking space?
Basics
Pricing
Per day: MXN 150Per month: MXN 2,500
High-Speed Internet
Yes
Open Hours
Monday – Friday: 8:30 am – 8 pmSaturday: 9 am – 2:30 pmSunday: closed
Ergonomics
Comfortable Chairs
Yes
Standing Desk
No
Workspaces
Dedicated Desks
Yes
Conference Rooms
Yes
Private Offices
Yes
Phone booths
Yes
Coliving
No
These seven coworking spaces are almost equally awesome
Beauty is in the eye of the beholder, and the appeal of a coworking space is in the eye of the digital nomad. Just because Nevermind is our top choice, it doesn't necessarily have to be yours. You may dislike it for any number of reasons—we don't judge. We do, however, try to provide options to suit everybody's taste, so here are other great coworking spaces in Guadalajara.
Metta Coworking
Worklabs
CoLabora
IOS Offices
Centraal Bosch
Labra
Potencial Corporativo
Metta Coworking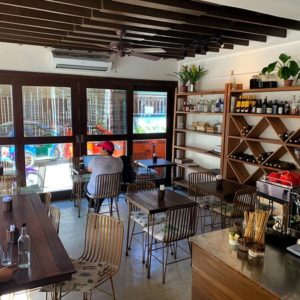 Source: Metta coworking
Metta Coworking is located in Italia Providencia, 5 minutes' walk from public transport which takes you to the city center.
It provides all the standard benefits, such as Wi-Fi and comfortable seating. There are ergonomic chairs, as well as standing desks, which gives you a bit of freedom when you want to stretch your legs but are not ready for a break.
The space provides printing equipment, as well as microphones and projectors. If you don't like taking your stuff to your desk, you can use the personal lockers that are available to the members, and there is a kitchen if you're feeling creative. Of course, you can simply buy some snacks onsite. Tea and coffee are free, and there is a great lounge area with a foosball table and a small outdoor terrace where you can spend your breaks.
Metta coworking is pet-friendly, so you can bring your cat or dog to inspire you while you work and help you make new friends. If you're into community building, this coworking space is great for you. It organizes a plethora of workshops and events, and the members have their Facebook group. If it sounds like your cup of tea, don't be afraid to give it a go!
Open hours
Monday – Friday: 8 am – 8 pmSaturday: 9 am – 2 pmSunday: closed
Price
Per day
MXN 180
Per week
MXN 800
Per month
MXN 2,000
Worklabs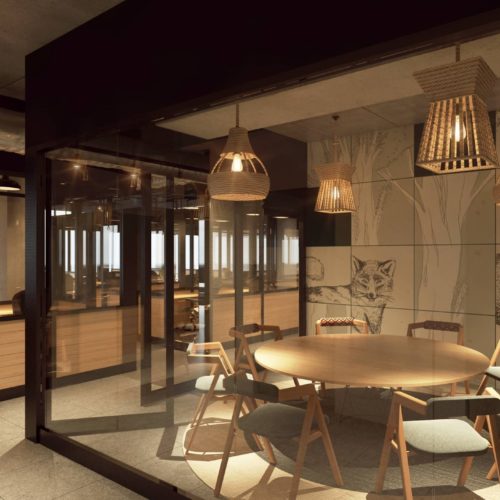 Source: Worklabs
Set up in Arcos Vallarta, Worklabs is in an excellent, easily reachable location. It is wheelchair accessible and has a strong community for which it organizes occasional events and workshops.
Worklabs makes sure you're comfy while you work. They offer high-speed Wi-Fi, which minimizes frustration while working. The temperature is regulated through the air conditioning and heating system, and there are ergonomic chairs and standing desks, which are great for keeping back pain at bay. There is plenty of natural light, which makes it easier to stay optimistic, motivated, and productive.
Printing equipment, personal lockers, and a kitchen are there at your disposal. There is a relaxing lounge area, and the balcony gives you a fantastic view of the city.
When you need a break, you can play ping pong with some of the other members, or you can meditate with a glass of beer or a cup of coffee—both of which are free of charge.
Open hours
Monday – Friday: 9 am – 6 pmSaturday: 9 am – 3 pmSunday: closed
Price
Per month
MXN 3,499
Colabora
Source: Colabora
Colabora is located in Obrera, only a few minutes' walk from the Ninos Heroes roundabout. They provide fast Wi-Fi, so you don't have to lose your mind over an annoyingly slow connection. There are standing desks and ergonomic chairs, so your legs don't have to die after several hours of work.
There is some extra equipment available to the members, including printers, microphones, and video recording equipment. You can use personal lockers, phone booths, and Skype rooms. There is a kitchen if you feel like whipping something up. If you don't, you can always buy snacks onsite. Tea and coffee are free, but there is an onsite café in case you're craving something fancier to boost your inspiration.
Colabora takes care of its community. Workshops and events are organized quite often, and there are mentorship, incubator, and accelerator programs for the members.
The space is dog-friendly, and there are a library and a nap room. The outdoor terrace is stunning and truly relaxing, and it overlooks the busy street below.
Open hours
Monday – Friday: 8 am – 8 pmSaturday: closedSunday: closed
Price
Per day
MXN 300
Per week
MXN 1,375
Per month
MXN 3,000
IOS Offices
Source: IOS Offices
Out of the four IOS Offices locations in Guadalajara, Americas 1500 Tower is easily our favorite.
It offers all the usual—fast internet connection, ergonomic chairs, standing desks, as well as office equipment, Skype rooms, and organized events.
What we loved so much about this coworking space, though, is the beautiful view you can enjoy if you're lucky enough to grab a desk at the window. It is truly inspiring, but no more than the view from the terrace. IOS Offices provides a foosball table and a mini-golf course. Still, when you're taking a break, you'll never skip going to the terrace—it's just that beautiful. Beer and coffee are free, and there is an onsite café, so take your beverage, enjoy the view, and let it inspire and motivate you before you go back to work.
Open hours
Monday – Friday: 8 am – 8 pmSaturday: 9 am – 1 pmSunday: closed
Price
Per day
MXN 315
Per month
MXN 2,100
Centraal Bosch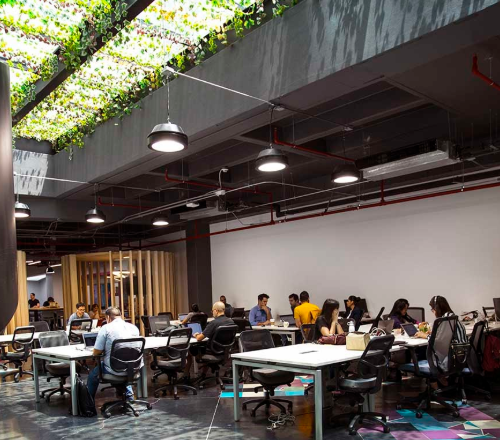 Source: Guadalajara Connectory
Located in a shopping center downtown, Centraal Bosch is only a few blocks from La Minerva. It boasts reliable Wi-Fi and plenty of equipment available to its members, including printers and sound recording systems.
They organize useful and educational events for their members. Centraal Bosch provides ergonomic chairs and standing desks. It is wheelchair accessible.
There is a kitchen you can use, as well as personal lockers, podcasting rooms, and Skype rooms. This coworking space is a co-living one as well, which is convenient for everybody who doesn't want to spend precious time going to and from work.
There is a functional—but not really cozy—chill-out area where you can grab a free coffee or beer when you're taking a break.
Open hours
Monday – Friday: 8 am – 10 pmSaturday: 9 am – 2 pmSunday: closed
Price
Per day
MXN 232
Per month
MXN 2,088
Labra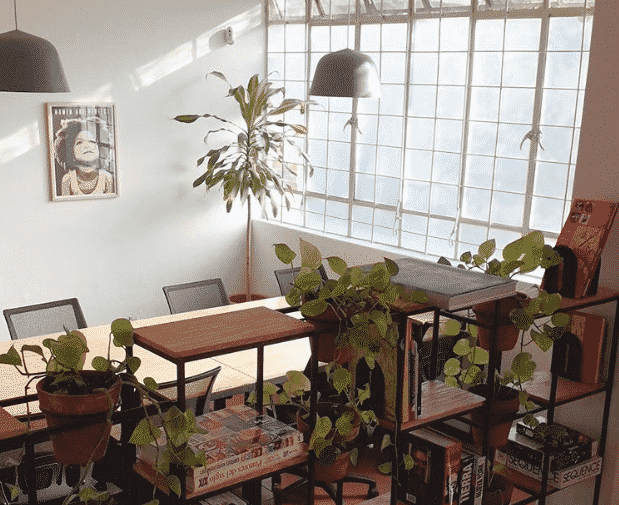 Source: Labra
Labra is conveniently located just down the street from La Minerva roundabout. While it looks pretty ordinary in all other aspects, one thing that makes it unique is the amount of greenery in the place. The many plants you're surrounded with make you feel like you're almost outside and, combined with plenty of natural light, really boost your optimism and mood in general.
When it comes to the basics, Labra offers a reliable internet connection and ergonomic chairs. There are no standing desks or alternative seating, so it can get a bit uncomfortable after a while.
The space provides printing equipment and projectors. It also organizes community workshops and events. There are personal lockers and a kitchen you can use if you want. If you need an accommodation as well, there are some Airbnbs nearby.
There is a small but cute outside terrace where you can take a break. Coffee is free, and there are some books and magazines to entertain you and take your mind off work. You can even take your dog with you!
Open hours
Monday – Friday: 8 am – 8 pmSaturday: 9 am – 2 pmSunday: closed
Price
Per hour
MXN 60
Per day
MXN 200
Per month
MXN 2,500
Potencial Corporativo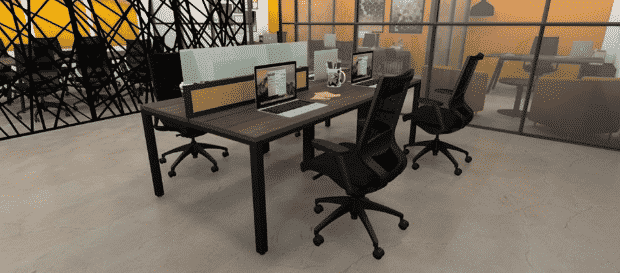 Source: Potencial Corporativo
Located in Ladron de Guevara, Potencial Corporativo is strategically placed in the financial corridor of Avenida de las Americas. It is by far the priciest item on this list, but it does provide plenty of benefits to make up for it.
Aside from the basics, which include high-speed Wi-Fi and ergonomic chairs, they provide standing desks, bean bags, Bosu ball chairs, and even hammocks. They offer a wide range of additional equipment, such as:
Chromecast
Drone
Microphone
Sound and video recording equipment
Greenscreen
3D printer
Computers (PCs and Macs)
Printing equipment
AR and VR equipment
Professional lighting equipment
Projector
Photo studio
Recording studio
They take excellent care of their members and organize plenty of useful workshops, events, and programs. The community has its own Facebook group, Slack channel, and even a community app. They even have a sports team, and they meet for lunches and drinks regularly.
When you need to relax, you can find anything you need, from a swimming pool and nap room to a yoga studio and meditation room. There are ping pong, foosball, and pool table, a mini-golf course, and a trampoline. If you're not in the mood for physical activity, you can always play darts, board games, or arcade games. You can do karaoke or check out their little art gallery. There are free wine and beer, so you can just chill out. The number of entertainment options is impressive—and potentially distracting.
The space is pet-friendly, and they offer childcare services, which is great for all of you who don't think they can use coworking spaces because you're not sure what to do with your kids while you're gone.
Open hours
Monday – Friday: 9 am – 7 pmSaturday: closedSunday: closed
Price
Per month
MXN 7,500
Agora Inc is our least favorite place to cowork in Guadalajara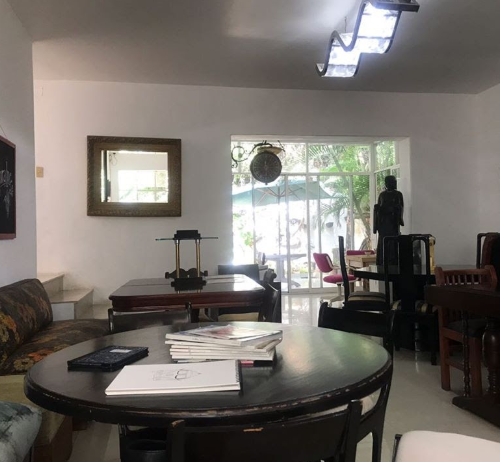 Source: Agora Inc
"Least favorite" does not equal "terrible" or "useless", and Agora Inc is not without its charms. It boasts a great location in the center of the city, and many people like the sentimental value of the interior. So, why didn't we enjoy it?
In our opinion, the crucial flaws of this coworking space are:
Lack of comfort
Non-existent community
Zero content
The furniture in Agora Inc is very charming and quaint if you're into the whole grandma's living room-style of decoration. While the aesthetics do provide a certain charisma, the seating is just not long hours-friendly. It's probably not even short hours-friendly. The armchairs and couches are fine if you want to relax, but they're hardly conducive to hard work. The chairs at the tables are standard dining-room chairs, and those at the desks are of lower quality and simply not the right choice for working for a few hours.
Agora Inc does not cultivate its community, which means that it is of no use if you want to make friends or form contacts. Its value is strictly limited to the peace and quiet it provides in addition to the desk and chair.
When you want to take a break and take your mind off work for a while, you'll have to make do with whatever entertainment you can provide for yourself. This is not such a big deal—you can always bring a book, read the news, or play games on your phone. However, in a world where coworking spaces provide board games, foosball tables, and swimming pools, do you honestly want to spend your time in a place that won't even offer a few magazines to lessen your stress?
Agora Inc is an okay coworking space if all you're looking for are a desk and a chair. In our opinion, though, there are many superior options in Guadalajara.
Basics
Pricing
Per hour: MXN 54Per week: MXN 2,350
High-Speed Internet
Yes
Open Hours
Monday – Friday: 8 am – 8 pmSaturday: 8 am – 4 pmSunday: closed
Ergonomics
Comfortable Chairs
No
Standing Desk
No
Workspaces
Dedicated Desks
Yes
Conference Rooms
Yes
Private Offices
Yes
Phone booths
No
Coliving
No