Why Is Employee Time Clock Software Important for Your Business?
Time is money—a saying that business owners know too well. No matter how small the company, processes like payroll, recruiting, accounting, and employee management can be difficult for one person to handle.
All the HR tools out there provide automation, electronic storage and document processing, and easy access to important data. Investing in them not only saves time and money but provides accuracy and dependability that are otherwise compromised.
Every business owner understands that it is necessary to keep track of employee attendance. Paying attention to when your employees came to work, took lunch breaks, and left is crucial for your payment system but easily manipulated. The practice of using mechanical time clocks and writing down attendance on a spreadsheet proves to be inaccurate, undependable, and impractical.
Regardless of the size of your business and the niche you're in, your company will undoubtedly benefit from automating employee time tracking.
Managers today rely on time clock-in software solutions for many valid reasons—they are inexpensive, easy to maintain, helpful with payroll-related processes, and beneficial for boosting employee productivity.
For all those reasons, you should look into all the necessary features, benefits, and software options available, and invest in one as soon as possible. We are here to provide you with all that information in one place.
Why Should You Trust Us?
The founder of HireSmarter, Nick Jordan, started his career as the 8th employee in a startup business that expanded to 200 employees.
His content creation company— ContentDistribution—grew from 1 to 30 team members in 16 months. In a business based on remote work culture, we evaluated over a thousand candidates, interviewed hundreds, hired fifty, and churned twenty. For us, the lack of experience in human resources made hiring a challenging task.
Difficulties we encountered during this process—like trying to keep track of all the schedules and data on spreadsheets—led us to explore alternative solutions. We have evaluated and personally tested a great number of HR software solutions on the market and have developed proven research methods that make us experts in this field.
Our extensive knowledge of the subject will help save you hours of research and prevent you from making an error in judgment that can cost a lot of money.
Top Ten Employee Time Clock Software Solutions
Our extensive research on the subject of best time clock software solutions on the market has led us to the following ten:
Homebase
OnTheClock
Time Clock Wizard
Timetrex
When I Work
ClockInEasy
ClockIt
ClockShark
uAttend
Time Clock Hub
Homebase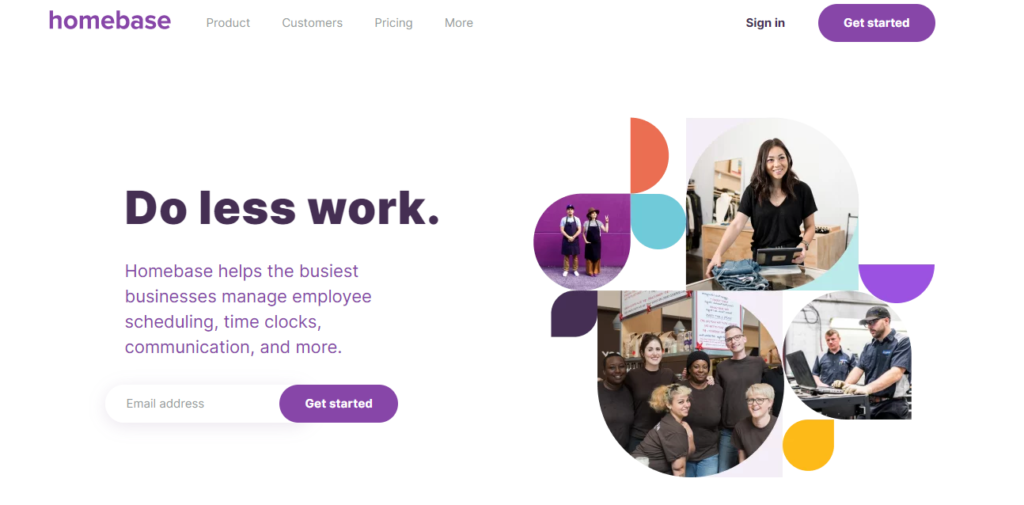 Homebase Homepage
Whatever feature in time clock software you need, Homebase has it. This comprehensive software solution covers everything from employee scheduling, applicant tracking, and onboarding to payroll and POS integration possibilities.
It allows you to track employees that are working on and off-site with GPS clock-in option and has a PIN-based clock-in feature that designates a different PIN code to each employee. Homebase also includes an editing feature that lets managers handle any clock-in omissions and is able to sync your clock-ins when your Wi-Fi is down.
Homebase also helps you stay compliant with labor laws by tracking overtime and breaks, saves you money by preventing early clock-ins, and keeps you posted on whether an employee is late for a shift or approaching overtime. Those features allow you to be on top of everything, even if you are not in the office. All this makes Homebase one of the most cost-effective time clock software solutions on the market today.
| | |
| --- | --- |
| Pros | Cons |
| Easy to useSimple employee schedulingReliable editing feature | Not adapted for companies with multiple departments |
OnTheClock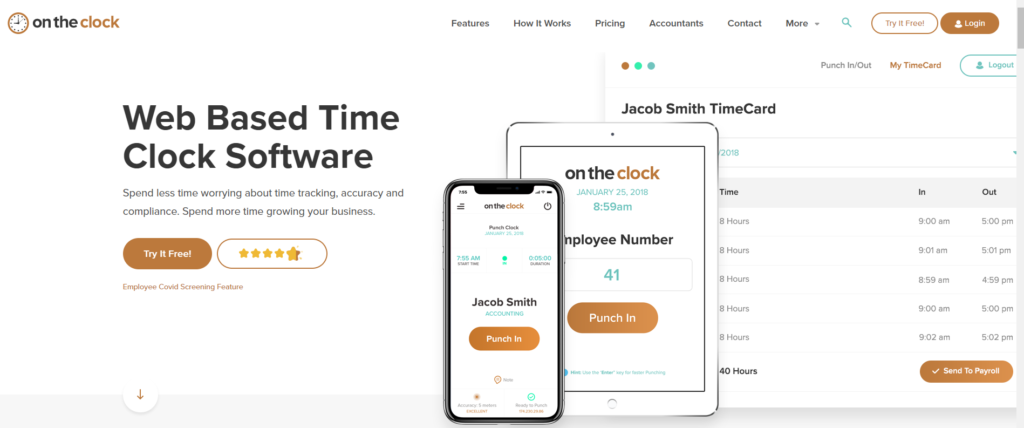 OnTheClock Homepage
OnTheClock is another advanced time clock software solution on the market. The clock-in process is handled through a joint Administrator, so all you have to do is open an account, onboard all your employees, and enable them to clock in and out from every approved device.
The clock-in options are various—your employees can do it via the mobile application, fingerprint recognition, or Group Punch. The variety of options make the clocking-in process convenient and effortless.
OnTheClock also gives you the possibility of tracking down the clock-ins for the employees off-site by using a GPS employee tracking system. Employees can use a time clock system to request paid time off and receive approval or denial from their managers. They are also granted access to time clock personal accounts where they can see their schedules and have a clear image of how many days off they have at any given time.
OnTheClock can seamlessly integrate with a number of widespread payroll software solutions—such as Gusto, Sage, or ADP— and calculate time cards for you, including overtime and paid time off.
| | |
| --- | --- |
| Pros | Cons |
| Easy setupEfficient customer serviceFriendly interface | Limited printing optionsPriced per user |
Time Clock Wizard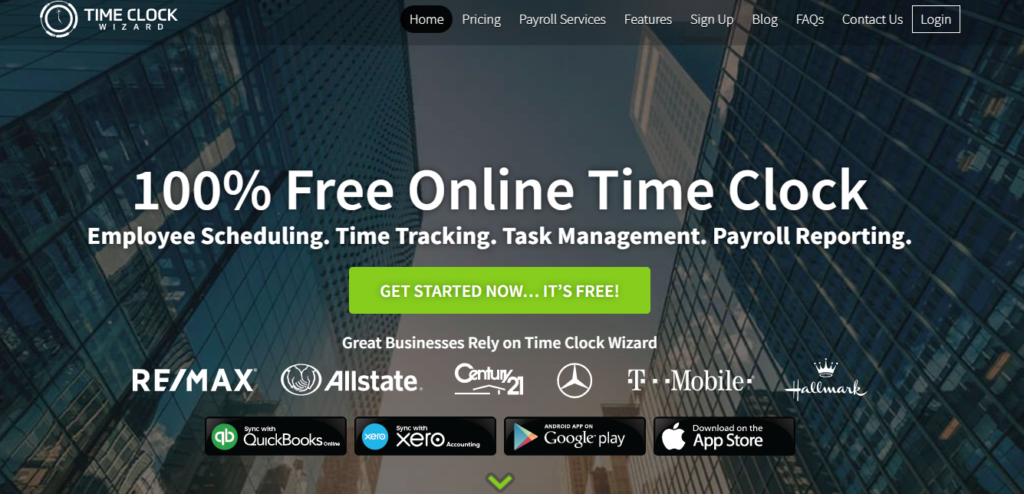 Time Clock Wizard Homepage
Time Clock Wizard is a time clock software solution that is designed for both small and enterprise-level businesses. Their client list includes companies like Hallmark, T-Mobile, and Mercedes Benz.
Time Clock Wizard merges employee tracking, task management, payroll reporting, and scheduling features in a single dashboard with a multi-level access system:
Employee
Administrator
Super Administrator
Employees' access to the dashboard is limited to clocking in and out, making requests, and receiving messages from their managers. The Administrator level is granted access to employee and manager settings, and Super Administrator has unlimited access to everything, including the Business settings.
This unique, centralized system is what makes Time Clock Wizard stand out among other time clock software solutions on the market.
| | |
| --- | --- |
| Pros | Cons |
| Straightforward UIReliable customer serviceGreat integration possibilities | No offline mode |
Timetrex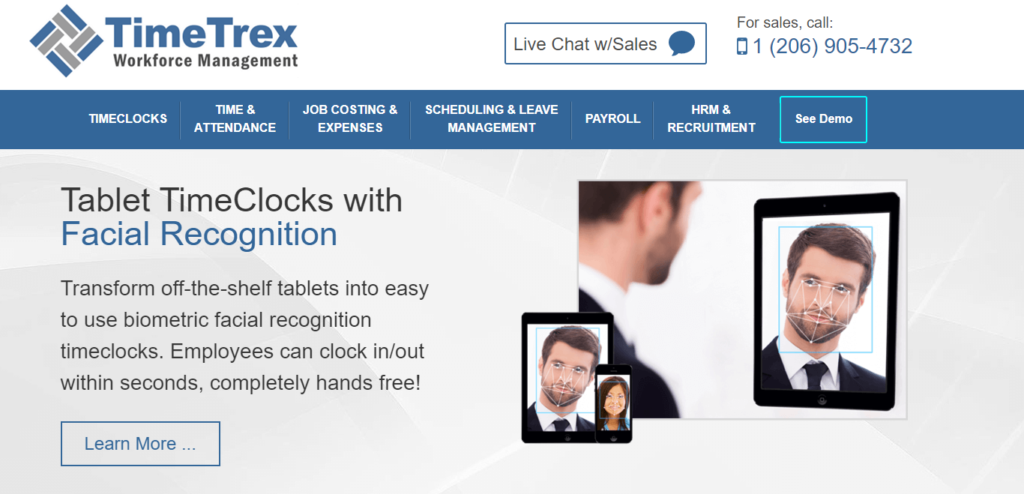 Timetrex Homepage
TimeTrex is a software solution adapted for businesses of all sizes.
One of its main characteristics is the powerful facial recognition-based clock-in feature that can be made accessible through a mobile application on any smartphone or tablet. It is a simple solution for employees whose jobs require frequent travel.
TimeTrex is a popular, free, and open-source HR tool that also handles payroll, time management, recruitment, scheduling, and job costing.
| | |
| --- | --- |
| Pros | Cons |
| Accessible reportsQuick payroll processing | Cluttered interface |
When I Work

When I Work Homepage
When I Work is the best and most comprehensive free time clock software solution. It integrates hiring, scheduling, time tracking, and team messaging services, making it a well-rounded employee management solution. Its clock-in feature can be used from computers, iPads, and mobile phones, so it is an excellent choice for remote workers.
By using their digital timesheets that record and keep all changes (early clock-in or out and absentees, for example) in one accessible place, you will save a great deal of time and money.
If the budget is tight, but you still need a robust time clock software solution, When I Work is the best option for you.
| | |
| --- | --- |
| Pros | Cons |
| Provides simple schedulingIs easy to use | Can't integrate with payroll |
ClockInEasy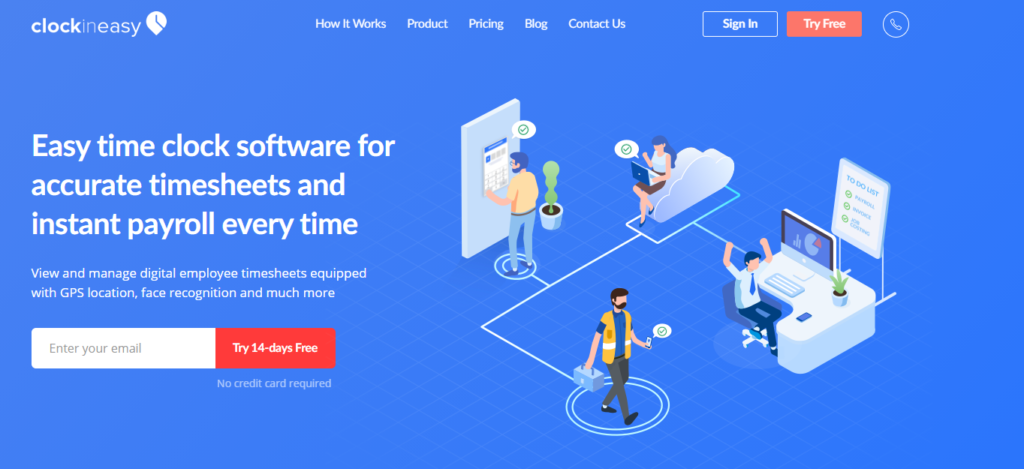 ClockInEasy Homepage
What makes ClockInEasy one of the top time clock software solutions is its ease of use. It provides both basic and advanced features, and navigating through both is simple.
Possibilities like clocking in and out, as well as creating and editing timesheets are available via the cloud on any mobile device, so it is a perfect solution for remote workers. Integrations with payroll services are also available with a few clicks.
For any team whose main goal is accessibility, ClockInEasy is the way to go.
| | |
| --- | --- |
| Pros | Cons |
| AffordableEasy to use | Weekly total of hours not available in the reporting feature |
ClockIt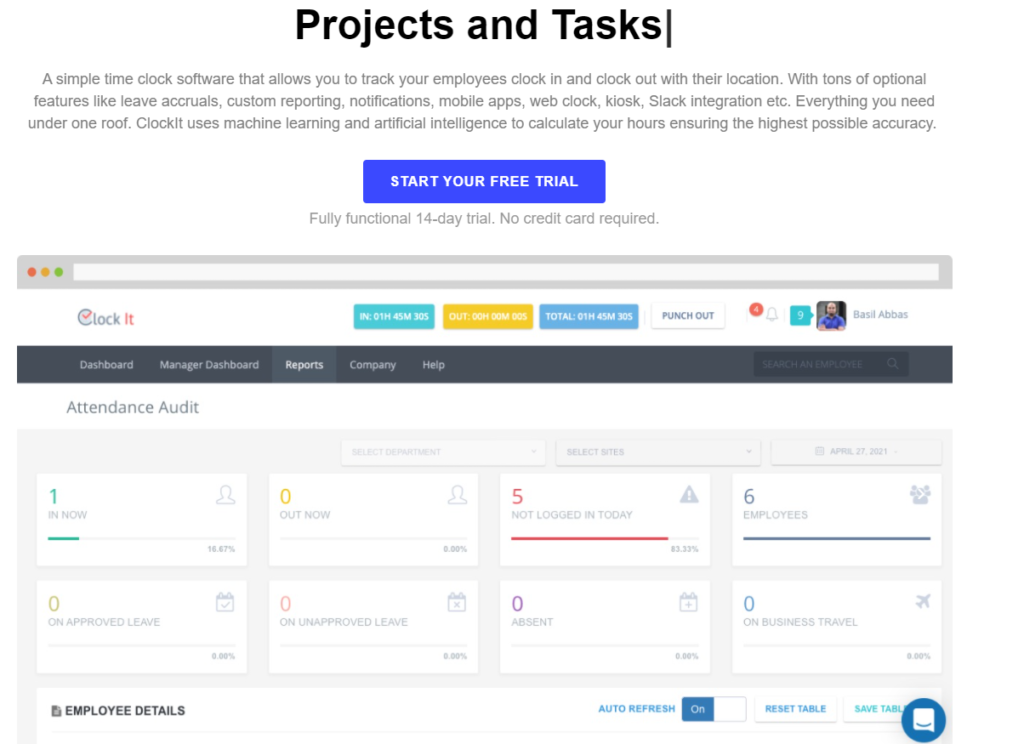 ClockIt Homepage
ClockIt is a time clock tool that makes time management and attendance tracking an easy task. Your employees can clock in by using Slack, a web portal, or a biometric fingerprint recognition feature.
It provides integrations with different payroll, accounting, and employee management tools such as Paychex, Asana, and QuickBooks, as well as extensive reporting possibilities. One of the most important features ClockIt offers are color-coded calendars that provide a great visual image of every employee's schedule.
| | |
| --- | --- |
| Pros | Cons |
| Accessible featuresResponsive customer supportEasy integration with SlackAttractive interface | Inflexible scheduling for rapid shift changes |
ClockShark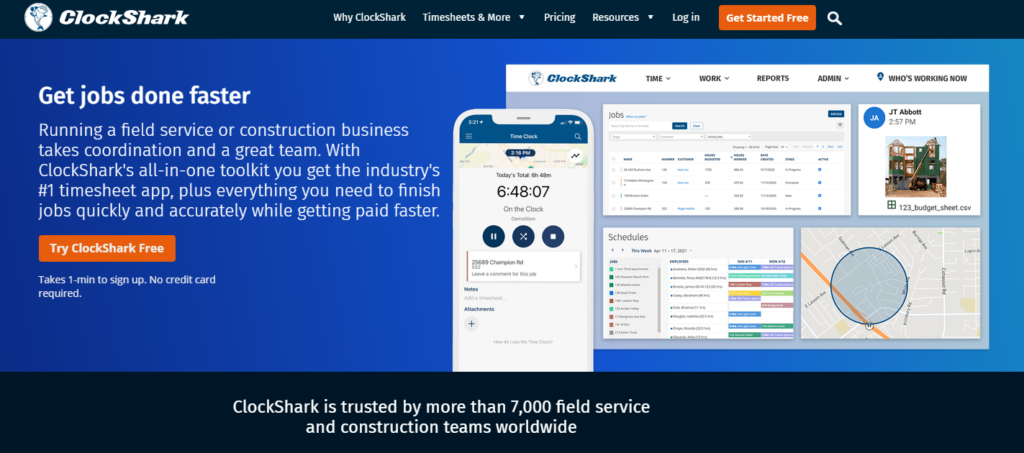 ClockShark Homepage
ClockShark is the perfect time clock solution for mobile workers, like construction and field service companies. Most time clock software solutions on our list are not adapted for these types of businesses, given that they require pinpoint accuracy when calculating time, location, and job costs. ClockShark helps you achieve that accuracy by enabling constant communication between the on-the-road workers and the office.
When it comes to clocking in and out, your employees can do it on the kiosk on the site, and you can rely on mobile GPS and geofencing to track down their location when they're out on the field.
Scheduling was made easy through the drag-and-drop system, and your workers can always check their schedules on their mobile phones. ClockShark integrates well with payroll services, which makes accounting a breeze.
The fact that most of these tasks can be done on the road and via mobile phones is a significant advantage for these types of companies.
| | |
| --- | --- |
| Pros | Cons |
| Vast reporting optionsEasy integration with QuickbooksSimple setup | GPS tracking needs improvement |
uAttend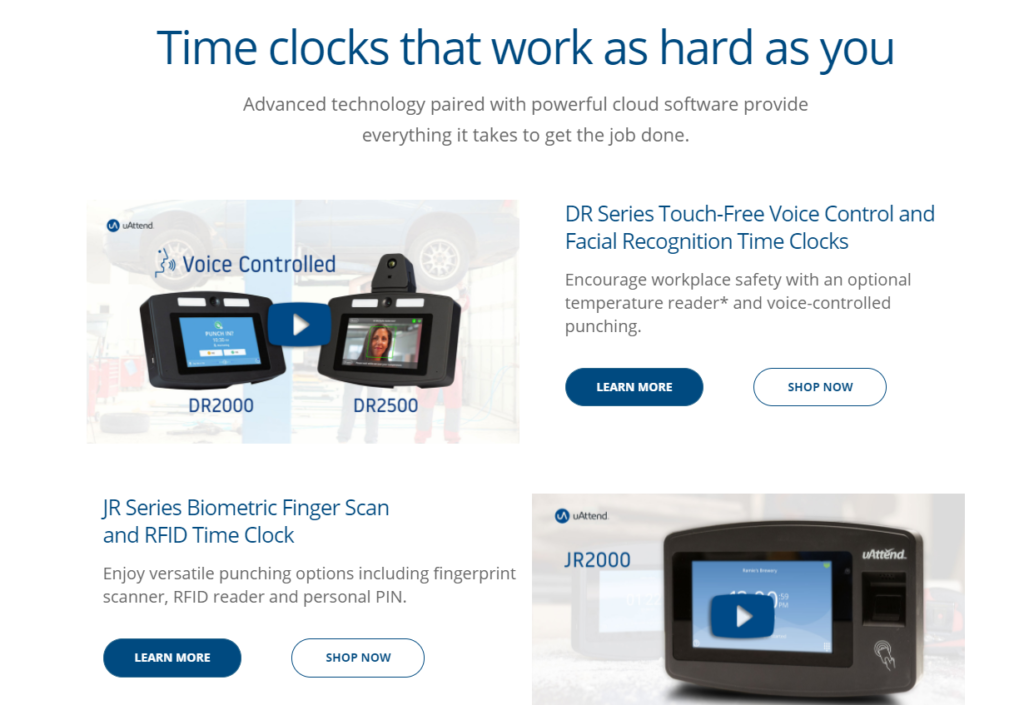 uAttend Homepage
uAttend is a great time clock software solution for small businesses. It is a simple cloud-based tool that offers complete time attendance, management, and employee scheduling services. Employees can also use uAttend personal clocks, on which they can perform different tasks.
The uAttend touch tablet allows clocking in and out with a biometric finger scanner, RFID card, or PIN, which makes it an excellent choice for in-office jobs.
| | |
| --- | --- |
| Pros | Cons |
| Diverse clock-in optionsEfficient customer service | Time-consuming setup |
Time Clock Hub

Time Clock Hub is another all-in-one free time clock solution that businesses of all sizes can benefit from. It includes payroll, time tracking, time managing, and scheduling features in one easy-to-use platform.
The most distinctive feature it provides is customized reporting, where you can create payroll reports and upload them into the accounting software of your choice with a single click.
The software is accessible on computers, laptops, and tablets, and it functions on every operating system that we use today.
| | |
| --- | --- |
| Pros | Cons |
| Reporting optionsAccessibilityAdaptability to businesses of all sizes | System loading is slow |
What Are the Main Features of Employee Time and Attendance Software?
When searching for the right employee time clock software solution, some features are a must, regardless of the size, budget, or special requirements of your business:
A clock-in and clock-out feature. This is a given, and anybody who has ever dealt with manual clock-punching systems knows the importance of this feature. The system automatically tracks employee hours, which provides more accurate calculations of sick days, paid leave, and overtime
Editing feature. This feature allows employees to edit their working hours if necessary or fix an error if they forget to clock in or out, which saves management the hassle of tracking down the mistake later
Extensive reporting. One of the most important features of a time clock software should be comprehensive reports. They allow you to export the data needed to perform other related tasks, such as calculating payroll
Mobile functionality. In a world where everything is performed on the go, this feature is a must. Employees can clock in or out and access their schedules, send requests, receive information, and much more from wherever they are
Compliance. This is one of the most valuable features for any business owner. You have to keep track of any potential law changes and requirements because every violation will result in severe penalties. A good time clock software solution will have an option of notifying you if you are in danger because of unapproved overtime, for example
What Are the Benefits of Using a Time Clock Software Solution?
Time clock solutions will benefit your business in many ways:
They save time. Using a software solution that keeps track of employee schedules and uploads time records saves you the hassle of entering data manually over and over again—not to mention constantly checking if everything is in order
They improve mobility. Today's time clock software solutions use GPS tracking and allow checking in and out via mobile phones, so you can track down your employees' attendance even if they are not bound to the office
They make payroll processing a breeze. Time clock software solutions collect data and send it automatically to a payroll processor, which prevents manual entering and eliminates errors in calculations
They increase employee productivity. Transparency of information provided by time clock software solutions helps hold every employee accountable for their tardiness, extra earnings, and time management, which prompts them to increase their productivity
They improve accuracy. Outdated time tracking systems based on manual data entry were unreliable and susceptible to manipulation and time-theft. Today's time clock software solutions use automated systems that reduce errors and allow employees to track time via mobile phone or a time clock at any moment
Questions To Ask Yourself Before Choosing a Time Clock Software Solution
If you have decided to switch from a manual punch clock or paper timesheet to more advanced software solutions, you must first ask yourself these questions:
| | |
| --- | --- |
| How big is my business? | Factors to consider here are the number of employees, number of locations, fixed or unfixed place of work, and payroll requirements |
| What features does my business need, and can I afford them? | These questions should prompt you to assess the real needs of your business and align them with the price that you are willing to pay, or can afford. For example, cloud-based solutions tend to cost less upfront and more as the business grows, whereas on-site tools are the other way around |
| Does it offer responsive technical support, and what do the reviews say? | You need to make sure that customer support offers a live chat option or any other form of answering your question immediately. Also, checking the reviews that other business owners leave will give you a clear idea of the advantages and disadvantages when using a specific tool |
We hope that the information we have provided will save you the time needed for research. All you need to do is assess the specific requirements of your business and be aware of your budget to make a decision on which solution is the best for your company. If you want to check out some other valuable HR software solutions, check out our HR knowledge base.