What Is the Best Employee Training Software for Your Business?
Every company today realizes the importance of investing in its employees' development. Since training courses conducted in person imply dragging workers away from their projects, online training software courses have taken their place as the most practical solution.
An employee training software should help you save time needed to advance your employees' skills and provide you with actionable insights to enhance their productivity.
Employee training courses are at their best when they allow you to create inspiring and engaging programs, monitor employee performance, and provide feedback. This will ensure that your employees expand their knowledge and use it to bring value to your company.
The trouble is, every business is unique and has a different workflow. Different niches also have varying skill requirements, plus there are hundreds of training programs out there, so find the one that aligns with your business might seem like a daunting task.
We've been in the exact same situation. We scaled Stronger Teams from one to 30 employees in less than 16 months, without any formal HR training or experience. To get to 30 team members, we evaluated more than a thousand candidates, video interviewed 100, hired 50, and churned 20. Training each person individually was not an option.
To create an effective training process for new hires, we started looking into a variety of HR software solutions. We've researched and tested dozens of them to find the ones that met the needs of our remote business.
We've already done all the heavy lifting, so you don't have to. In this article, we'll share our knowledge and provide insights regarding the top eight employee training tools, so you can find the perfect solution for your company.
Top Eight Employee Training Software Solutions
Here is a list of our selection for the best employee training software on the market right now:
Litmos
Kitaboo Insight
SkyPrep
Docebo
TalentLMS
Skillsoft
iSpring Learn
Bridge
Litmos

Litmos is a comprehensive training software that focuses on providing training for customer-oriented businesses. It has a platform that contains a training course catalog—SAP Litmos Training Content— where you have access to a wide range of customizable training programs.
The training programs are geared towards sales teams and customer service professionals, with real-life examples, compliance training, and employee development modules.
The main advantage of Litmos is its practicality and flexibility—it is accessible from any device, offers vast integration possibilities with other software solutions you might be using, and it is available for an unlimited number of users. It also allows you to motivate learners with special points and badges for their achievements.
Litmos' analytics features will give you an insight into the most visited courses and those that need improvement, based on employee feedback and performance.
Pros
Cons

Simple interface
Easy to use
Great reporting capabilities
Advanced progress tracking

Assessment feature could use a broader scope
Customization options are solid but could use some improvement
Kitaboo Insight

Kitaboo Insight is a platform designed for enterprise-level business training. You can create and deliver all training content on a laptop, a mobile phone, and a tablet, which makes it accessible and practical.
All of the training content, including onboarding, sales training, and employee training, is centralized and organized in a digital library. You can easily browse through all titles and choose the program you need.
The platform provides seamless integration with your existing Learning Management System (LMS). Kitaboo also offers the possibility of making the training content more attractive with multimedia sources like audio, video, and images, as well as evaluation techniques for a better user experience.
All this, together with advanced analytics features and offline access to digital content, makes Kitaboo a well-rounded training software that any large business could benefit from.
Pros
Cons

Integration possibilities
Analytics features
SkyPrep

SkyPrep is an intuitive training software that offers employee, partner, and customer training. It concentrates on standardizing the training process so that every employee receives the same level of training.
SkyPrep also facilitates distance learning—your employees can access the materials from any internet-connected device, no matter the location. SkyPrep provides a centralized platform where you can both upload files and create documents. You can also issue certificates upon training course completion and generate a report with just a few clicks.
You will undoubtedly be satisfied with SkyPrep and its practical, time-saving approach to employee training.
Pros
Cons

Customer support service
Ease of use
Scalability

Reporting features could use improvement
Docebo

Docebo is a cloud-based training software with a friendly UI that you can use to create, organize, and distribute training content from the platform to any mobile device. Docebo uses AI to offer top-notch employee, customer, and compliance training courses.
What distinguishes Docebo from its competitors is the powerful analytics feature the tool provides. It not only allows managers to analyze the data to improve training programs but also provides a personalized analytics page for employees so they can monitor their own progress.
Docebo also uses gamification to enhance employee participation in the learning process and encourage teamwork and collaboration in learning.
Docebo's training content is available in 40 different languages. With its integration possibilities, customization, and reporting features, Docebo presents itself as one of the leading training software solutions today.
Pros
Cons

Customer support service
Versatility
Scalability

Occasional bugs in the system
TalentLMS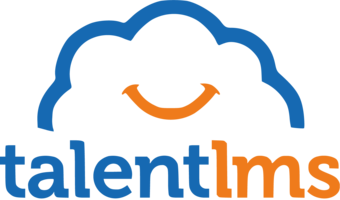 TalentLMS is one of the most comprehensive yet affordable employee training software solutions on the market. You can either create or use existing content to provide training for employees, partners, and customers and distribute it from a single, customizable platform to any device.
TalentLMS improves users' learning experience with extensive reporting, excellent features that promote collaborative learning between employees, and more than 200 integration possibilities. You can even buy up to 100 pre-made training courses to add to your library, as well as sell your own training courses via PayPal or Stripe.
TalentLMS offers a free trial, after which you can decide on a plan that suits your needs best.
If you are on the market for a low-cost but all-in-one training software, look no further than TalentLMS.
Pros
Cons

Easy to use
Intuitive UI
Affordable
Responsive customer support service

Lack of template options for certificates
Skillsoft

Skillsoft is an employee training software solution that offers more than 180 training courses in the field of compliance, technology, leadership, and business skill development. It has one of the most extensive libraries, which offers modern courses created in a way that is receptive to learners.
Skillsoft is cloud-based, so users can access the training materials at any time and for every step of their professional development. It provides reporting features and a personalized homepage for individual employees. Learners can also choose in what way they want the content to be delivered—as books, e-books, audio materials, etc.
All teaching materials are available on one centralized, intuitive, easily accessible platform called the Skillsoft Percipio Platform.
Pros
Cons

A comprehensive set of training courses
Accessible

Intimidating and cumbersome to use in the beginning
iSpring Learn

iSpring Learn's user-intuitive platform makes it one of the simplest training software solutions out there. It is a cloud-based tool that simplifies the training process and makes the courses accessible to all users. All you have to do is create an account, upload existing files and training materials, and assign a specific course to a team or an employee.
iSpring Learn allows you to put the training management on autopilot and entrust the system to send emails and reminders for approaching deadlines. One of the aspects that make iSpring Learn stand out is the iSpring Suite—a toolkit for creating teaching materials in the shape of courses, quizzes, and video lessons. You can create them in collaboration with other team members to make them as comprehensible as possible.
iSpring Suite also allows you to create interactive online courses on iSpring Space. All this and much more make iSpring Learn the right training software for any business.
Pros
Cons

Cost-effective
Unlimited content
Course creator

Limited reporting possibilities
Bridge

Bridge is an employee training management software solution that strives to connect learning and performance management. The main philosophy behind Bridge is that employees are the most important asset of any company and that it is necessary to invest in their continuous professional development.
The tool is based on the system where managers connect to employees by monitoring their performance and progress during training courses and providing both feedback and recognition.
Bridge offers a platform where you can design and create teaching materials. You can also utilize development features that help employees constantly work on improving their knowledge and skills so they can align them with company goals.
Bridge is a one-of-a-kind training tool with a proven method that any company will benefit from.
Pros
Cons

Advanced and engaging training system
Friendly UI

Quizzing engine could use improvement
What Should You Look for in Employee Training and Development Software?
Today's employee training software tools are not focused solely on the training aspect. They are usually robust, customizable solutions that also cover progress monitoring and reporting.
A well-rounded training tool that will make the training experience most practical, money-saving, and appealing to the staff contains these features:
Accessibility. Cloud-based tools are a practical solution for employees who are scattered in different locations. With such tools, your employees only have to log in to the web portal and start using the program. More and more employee training management software solutions are cloud-based since that allows the Learning and Development team to implement changes to the training resources with ease. That way, employees can quickly pick up where they left off and always be provided with an up-to-date learning experience.
Multimedia and interactivity implementations. You need to keep your employees interested in training resources and stimulated to learn. Implementing audio and video files and images will make the content more attractive to follow and the information easier to retain. The interactive module keeps the employees engaged in the learning process, which also helps the training purposes. The better the training goes, the faster the learners will be able to apply their knowledge in their future work.
Reporting. This is a feature that allows you to follow the progress of your employees' training process. Most of the training software solutions have an analytics feature that provides managers with a clear image of the employee's learning patterns or reaction to the learning resources. Managers can use that information to make the necessary changes to the learning material.
Assessment technique. Every training course benefits greatly from this service. It helps target areas in which employees need improvement so they can focus on that during the training process. After the training is completed, assessment techniques help establish who has finished the program successfully and who needs extra help. It also targets the flaws in your training program. The assessment approach typically comes in the form of questionnaires.
Benefits of Using Employee Training Management Software
Employee training software can play a major role in your company's growth and improve your business' overall performance drastically. Before you make a final decision, you need to take your business size, requirements, and resources into consideration.
Here is a list of the biggest advantages of integrating an employee training tool into your workflow:
Reduced training time and costs. One of the main advantages of online training courses for employees versus in-person training is the cost. Training tools not only save the money you would otherwise have to spend on organizing in-person workshops, but it also gives your staff the opportunity to use the materials multiple times. In addition, with online training courses, you don't have to run the training personally after every hiring cycle. The systems today are easy to use and accessible from a single, centralized platform at any time from any device, so both new hires and current employees can access them at their own convenience. The training steps and associated tasks are automated, which saves a lot of time.
Improved communication and employee engagement. Most training software solutions offer features that facilitate and encourage communication and collaboration between employees during the training processes. This strengthens the team spirit and directs everyone's efforts towards a common goal. Employees are able to follow their own progress and get feedback and recognition from the managers regarding their training, and have an opportunity to continue improving their skills, which affects their level of engagement.
Retaining employees. When employees feel that their efforts are being appreciated and their company takes their professional development seriously and invests in them constantly, they will recognize the opportunity for progress and personal improvement in the company. This will increase the employees' overall satisfaction, impact their performance positively, and result in them staying on board for the long-haul.
Attracting top talent. Every company wants the most talented people in their team, but these candidates are rather selective about the type of company they want to land in. One of the most important factors for them is to work in a company that is investing in its employees and is on board with current technological developments. The right training system will leave a positive impression on them and make them want to become a part of your team.
Questions To Ask When Considering Employee Training Tracking Software
If you're considering investing in employee software for your business, you need to ask yourself these three questions:
| | |
| --- | --- |
| What are the key features that my business requires from a training tool? | We advise you to make a list of the most important features your business needs. Take into account what aspects of your business need improving and what your employees will respond to the best. |
| Is it easy to use? | Make sure you purchase a software solution that provides easy access to the learning materials and is user-friendly. Otherwise, you will end up spending a lot of time teaching your employees how to navigate the system, which defeats the purpose of buying a training tool. |
| What are your IT demands? | Always have in mind that installing and maintaining the software puts further strain on your IT experts. Consider purchasing a cloud-based tool, where you only need the internet to access the system, and all changes and updates are handled by the software provider. |
We hope to have provided you with enough information so you can make an informed decision on the right training tool for your business. If you are interested in improving other aspects of your business as well, feel free to check out our recommendations of the best HR-related software on the market: