The #1 lever to drive the fastest SEO results is publishing velocity
We choose the projects we work on carefully.
We have to.
We want to enjoy what we do, and the stress of under-delivering doesn't lead to loving life.
We enjoy the recognition of our peers and clients for doing great work.
We won't earn the right to work at larger and larger scales if we're not successful at our current scale.
A successful outcome that doesn't lead to twice as big opportunities in the future isn't worth the short term revenue. We're spinning our wheels doing our best work.
The two most important considerations are always:
Does this brand yearn to be a leader in their space, and want to be everywhere their target audience is searching?
Are we confident we can absolutely crush it?
If the answer is no to either one of these, we have to say no.
And we're in a good spot where we can prioritize long term growth over short term business needs.
Publishing velocity
We've had success across B2B SaaS, B2C SaaS, mobile apps, marketing services, fashion, pets, and outdoor equipment.
And the biggest lever we have to accelerate or decelerate outcomes is publishing velocity.
In every project we have taken on in the last two years, the faster we publish content, the faster we generate rankings, traffic, and business impact.
Learn why we consistently outrank stronger websites with bigger budgets, stronger domains and more backlinks
It's pretty intuitive — you can't rank for a keyword until you have a page about that keyword.
And once you publish, it takes 6 – 9 months for that content to fully mature in the search results.
So if your content calendar is 100 pages of content published over a year, content published in months 7 – 12 won't add the maximum business impact a year after beginning your organic content distribution campaign.
At that publishing velocity, it will take 18 to 20 months after the start of your campaign for your content to fully mature.
But if you front-load your content calendar and publish all 100 pages of content in 4 months, most, if not all of that content will be mature by month 12.
Pushing backlinks, updating your site structure, decreasing page load time, doing on-page optimizations will all begin to impact your rankings and traffic within weeks instead of the six month maturation time of content, plus the time content spends sitting in your content calendar queue.
So, let's get into it.
Our worst performing project of all time.
strongerteams.com's worst-performing campaign of all time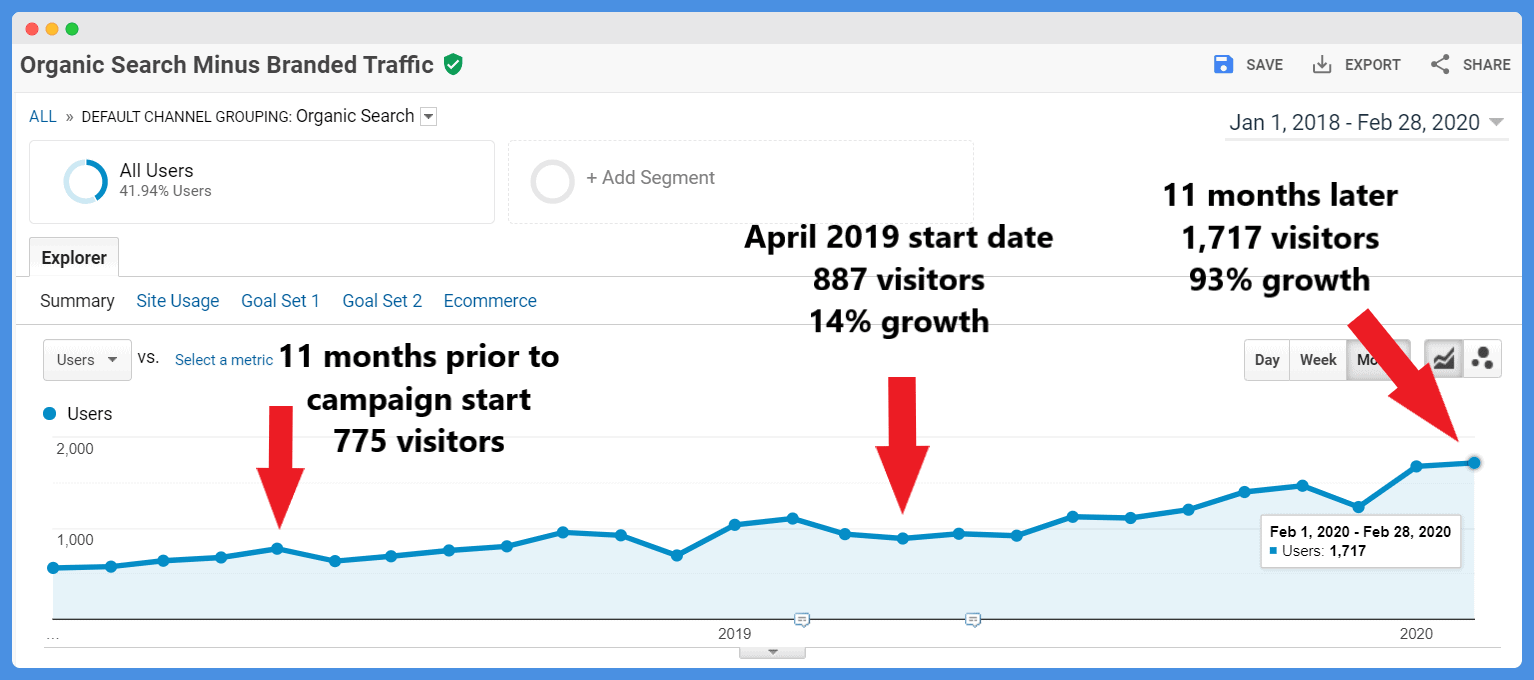 This anonymous project is our worst performing campaign of all time.
In the 11 months after beginning our engagement, we grew non-branded organic search traffic by 93%, from 887 to 1,717.
In the 11 months before our engagement, organic traffic grew by 14%, from 775 to 887.
That means non-branded organic search traffic grew 664% faster after beginning our engagement than before.
Nearly every page we published is ranking and generating traffic
But we only published 19 pieces of content in 11 months.
When we could have easily achieved 5,000, 10,000 or more qualified visitors each month in this same period.
Very successful outcomes require high rates of publishing
The time it takes to work through your content calendar, and the time it takes for content mature are your two biggest bottlenecks to seeing the business impact from your organic content distribution investment.
The most common reason brands can't meet publishing velocity goals are:
Senior management inserts themselves in the content review process. This will always fall at the bottom of their priority list.
Too many revisions are requested by too many people at the pay rate provided.
The person responsible for reviewing and editing the content doesn't report to a campaign stakeholder, AKA the metrics your editor is evaluated on aren't largely influenced by the success of your campaign.
Budget. Although the rate comes out to less than the salary of a content writer whose words won't rank.
Learn how we source, test, hire and retain the highest quality, most affordable writers on the internet.
How much content are we talking about here?
There are at least hundreds, but probably thousands, and often tens of thousands of keywords that can send your business qualified traffic.
But you won't rank for every keyword by writing one page of content.
Or two pages of content.
Or ten pages of content.
To capture all of the qualified searches across your funnel and truly be everywhere your target audience is searching, you probably need to publish hundreds of pages of content.
Let's say you're Tensor Social, an influencer analytics SaaS.
If Tensor wants to get in-front of brands, marketers, and agencies, there is a lot of surface area to cover.
There are over 87,000 different ways brands, marketers, and agencies use influencer and influencers in their searches.
If we only analyze the top 3,000 influencer related keywords, that represents over 100 unique pages of content.
Learn how to turn any writer into an SEO content writer publishing content that naturally ranks
Real life example of faster SEO results
These are a few of the projects we've driven over the last three years.
What we see again and again and again.
Is that companies that publish faster, see better results.
And you know what?
Despite whatever success you see below, each of these projects could have 3x'd their outcomes by 3x'ing their content velocity.
In each project, we'll also include:
The time-frame of the campaign
The number of pages published
Some extra context when it makes sense
DoNotPay.com (B2C SaaS)
430 pages published in 11 months (50% published in last 30 days)
0 to 479,000 in 16 months
DoNotPay announces $12mm Series A @ $80mm valuation from A16 & Peter Thiel, here's the full case study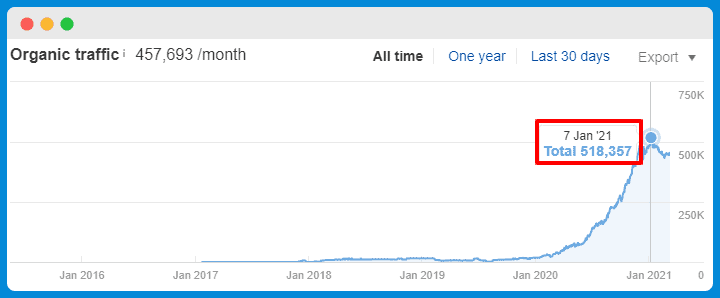 Doggypedia.org (Publisher)
200 pages published in 6 months
0 to 116,000/month in 13 months
Sold to AlphaPaw.com (case study coming soon)
Learn how we grew Doggypedia to 18,500,000 Pinterest impressions and 5,700 hours of YouTube watch time in 2019.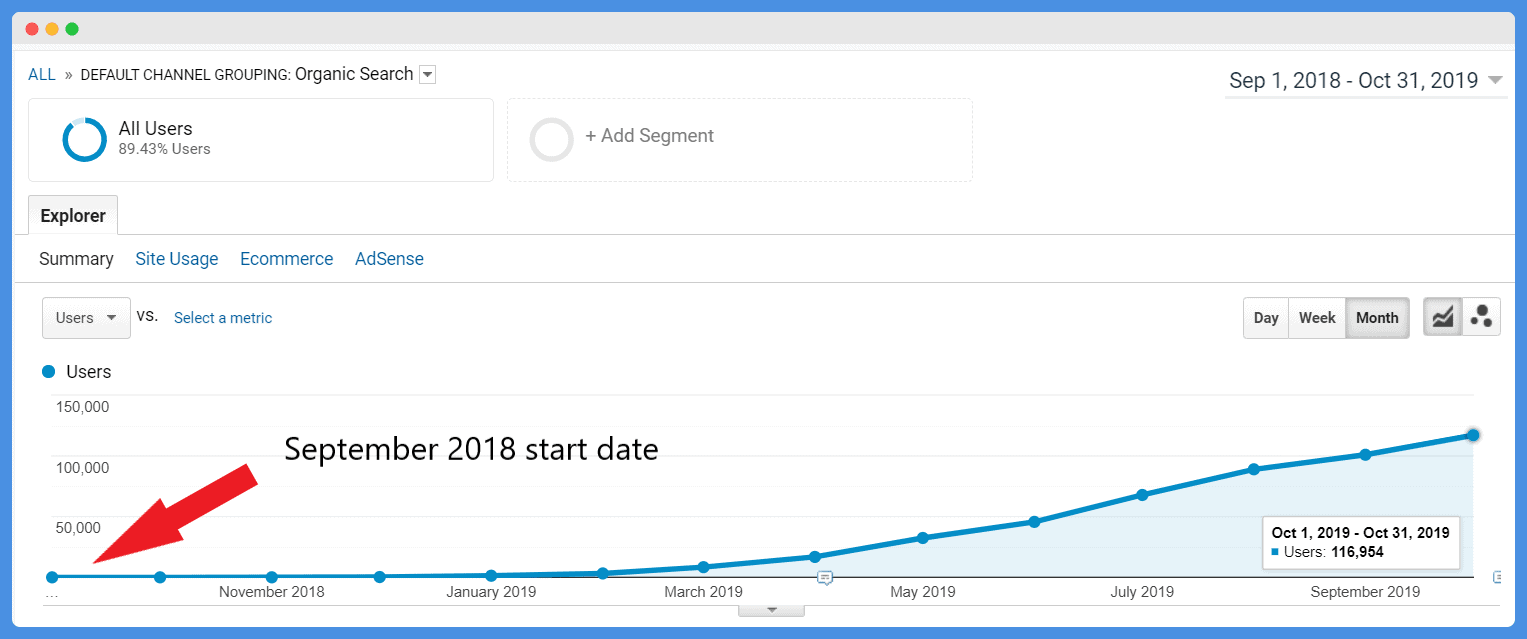 CampusReel.org (B2C SaaS)
300+ pages published
1,500/month to 166,000+/month in 12 months
Are you looking for B2C SaaS SEO? Check out our CampusReel case study.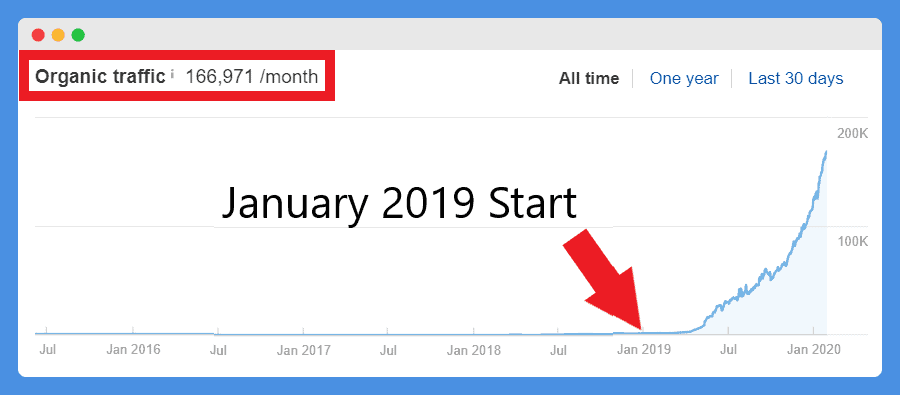 AnyLeads (B2B SaaS)
70 pages of content published in 5 months
0/month to 47,000/month in 12 months
81 credit card required free trials signups in most recent month

LogicInbound.com ( B2B services)
~100 pages published in 4 months
500/month to 103,000 visitors/month in 13 months
Generated SQL from Amazon
Ahrefs estimated traffic under reports LogicInbound.com by~50%.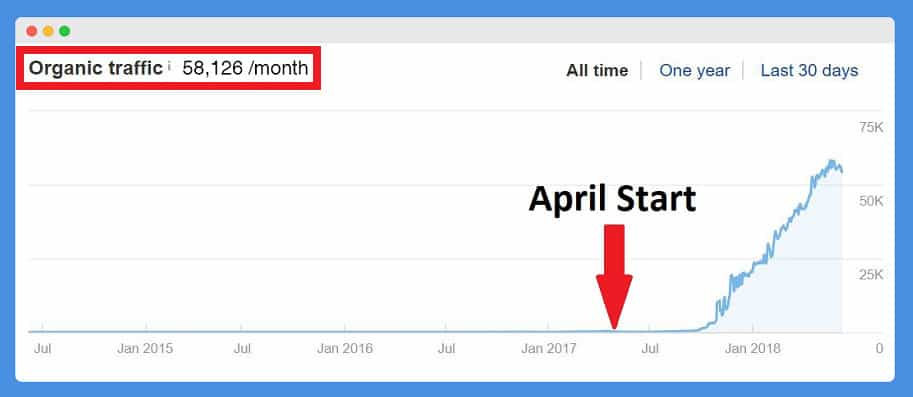 Bonus Examples
It's not just us, and it's not just the projects we work on.
Every single website crushing organic search is publishing large volumes of content.
The graph below shows the top publishers in the dog niche.
The #1 thing they have in common?
They all have published a crazy amount of content.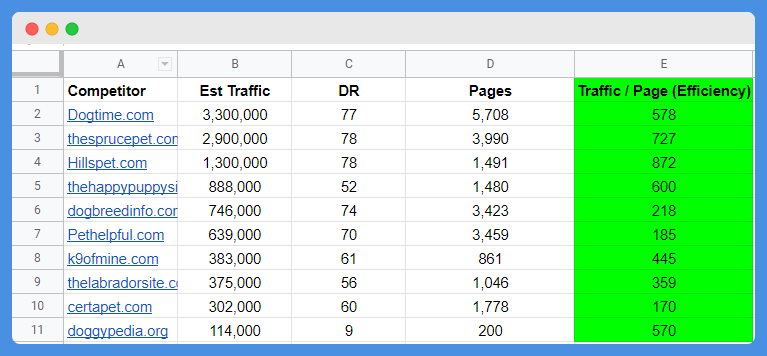 Column E shows how much traffic they generate per page of content on their site.
And it's all in a pretty tight band.
On average, a top site in the dog niche will generate between 180 – 800 visitors per page of content they've published.
There isn't any website that is generating 80% of the traffic with 20% of the pages.
Quick side note, Doggypedia.org.
It has a DR 9.
That project is ours, and was highlighted above. 🙂
Learn how to rank without backlinks
And it's not just puppies either.
The websites that generate the most traffic in any given industry tend to have significant amounts of content.
Let's go for a ride.
InfluencerMarketingHub.com
892 pages
344,210 visitors per month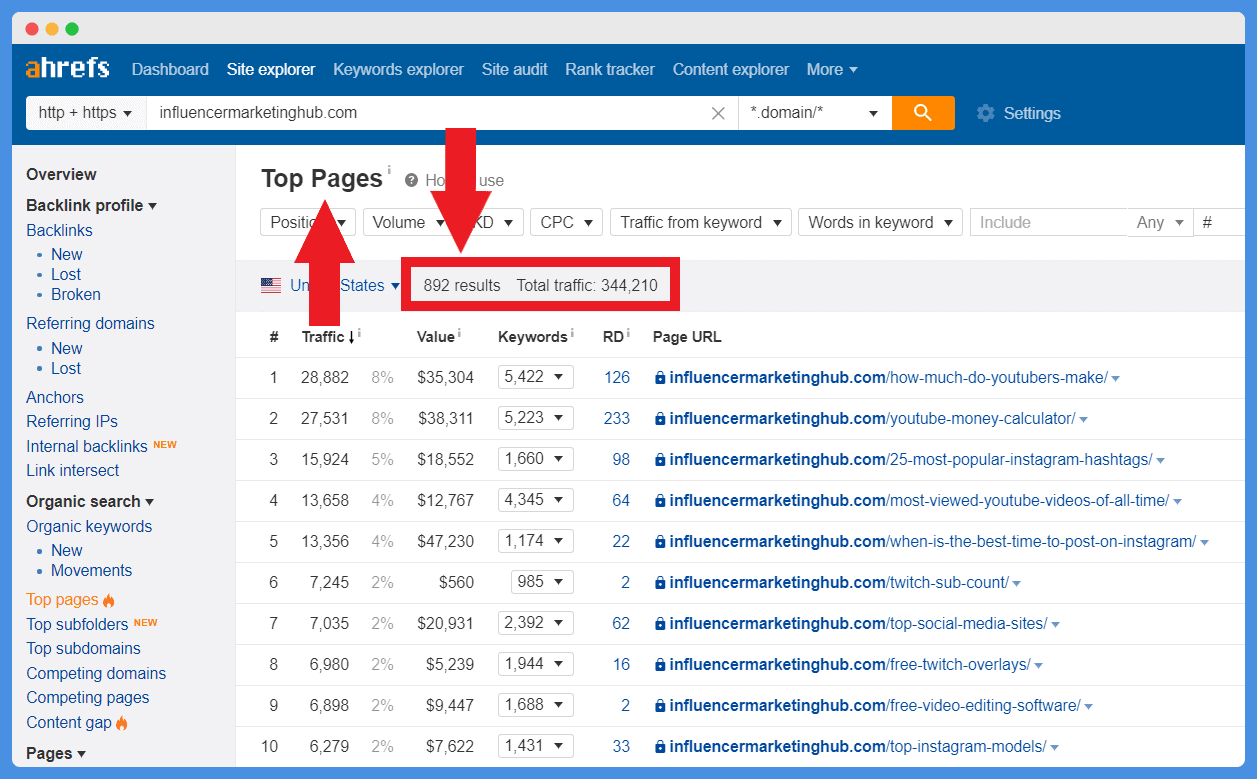 Zapier.com
1,648 pages
383,338 visitors per month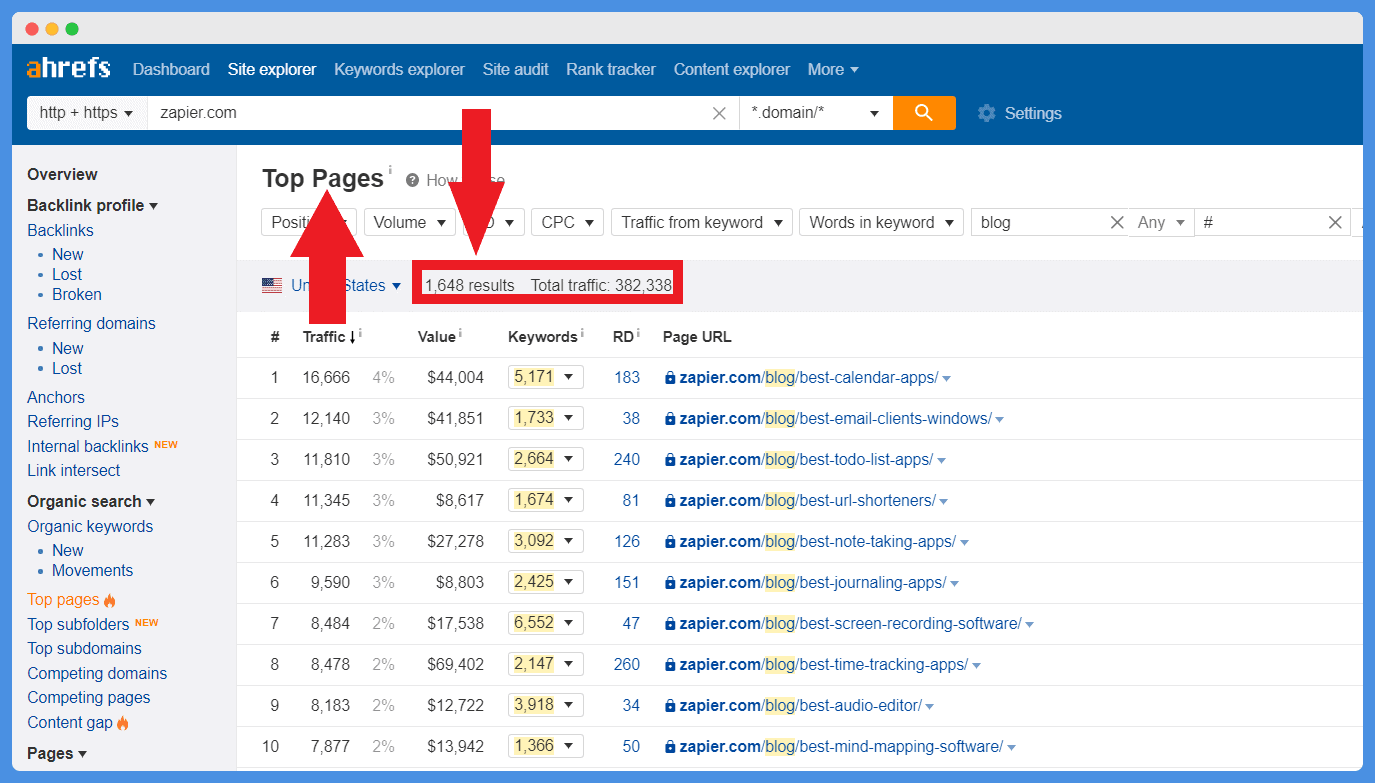 TheHappyPuppySite.com
1,496 pages published
645,784 visitors per month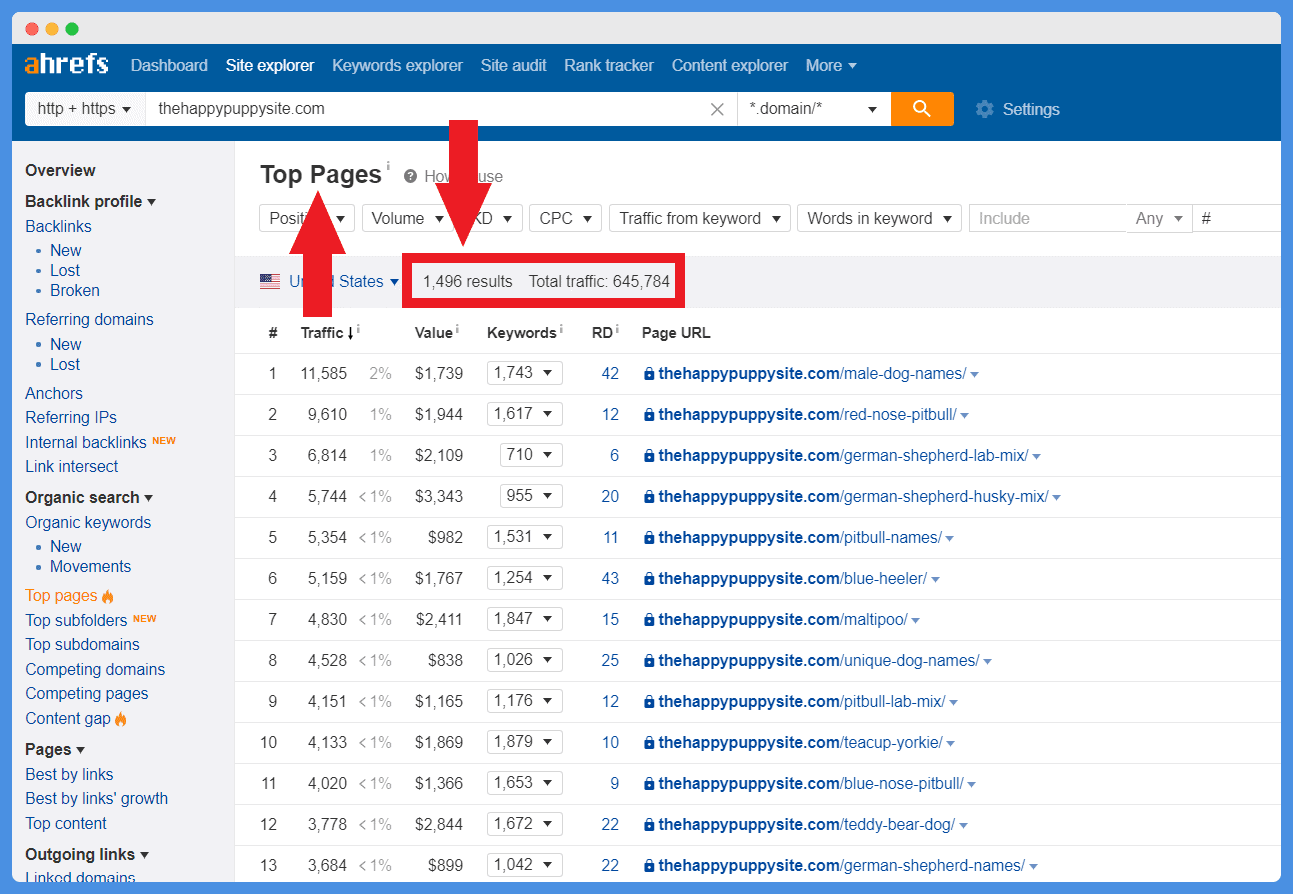 NextLuxury.com
13,453 pages
1,345,944 visitors per month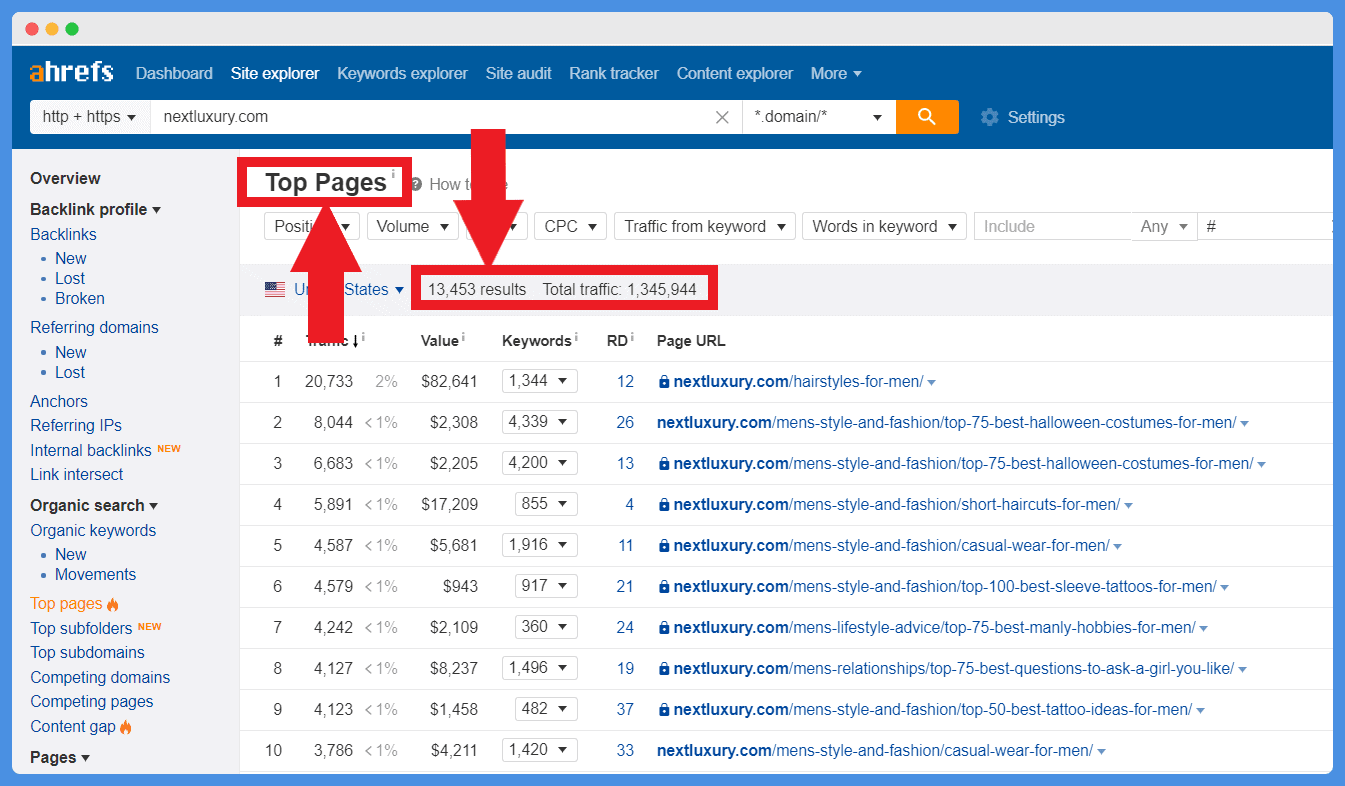 CreditKarma.com
24,600 pages published
7,768,510 visitors per month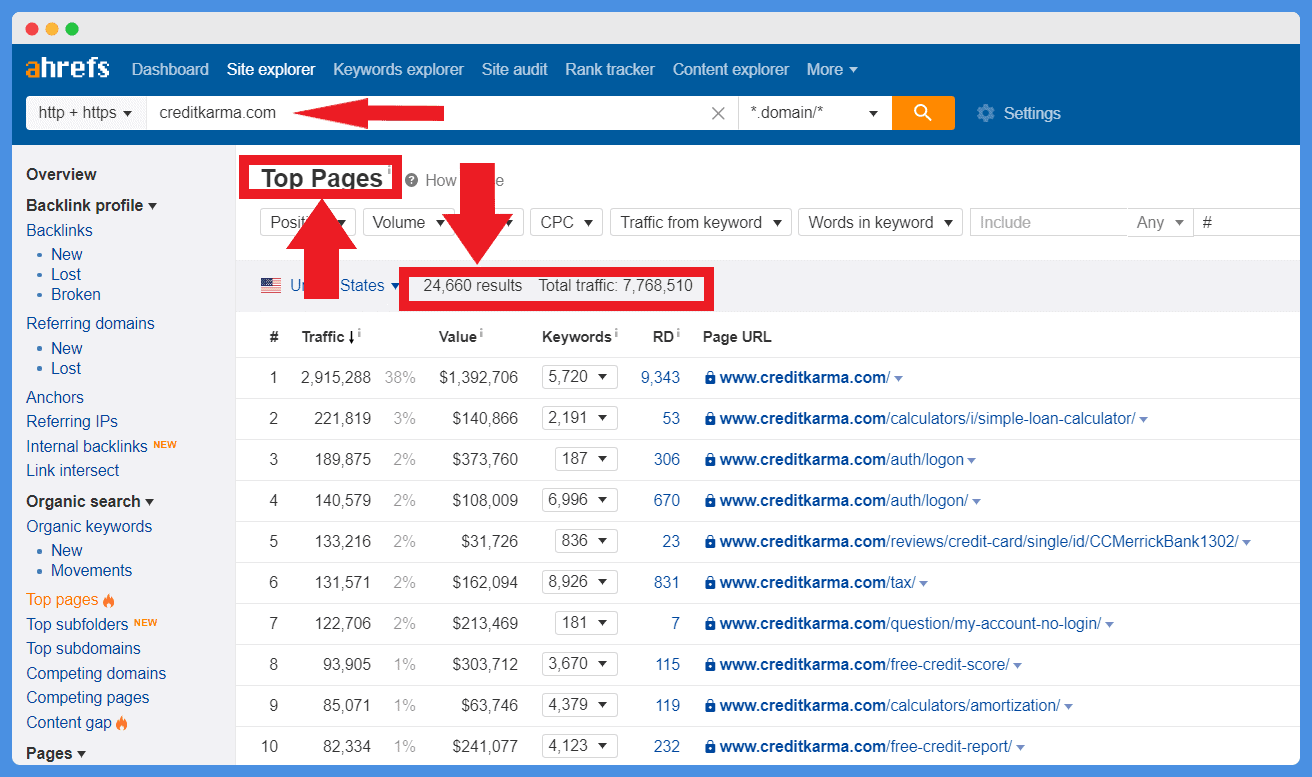 How much should I budget to crush organic content distribution?
The cost to crush Google and turn organic search into a company asset is dependent on three things.
The number of pages you need to publish
We've been using ClusterAi internally for over a year.
ClusterAi is keyword grouping tool that turns large lists of keywords into unique content topics.
Most grouping tools do this by grouping semantically similar words.
But ClusterAi crawls Google for each keyword and groups keywords that have 3 or more URLs in common into unique pages.
When three or more URLs or pages rank for a pair of keywords, that means we can probably rank for both keywords with one page also.
But if there are two or fewer pages that rank for both keywords, we probably can't rank for both keywords with one page and will need to create separate content topics to rank for both keywords.
Import thousands of keywords into ClusterAi and get back groupings based on actual search data.
The groupings include the main keyword, variations, and the number of monthly searches across all keywords in a group.
This ClusterAi is for the matcha boys at TenzoTea.com.
Automate your keyword research:
Automate your B2B SaaS keyword research
Automate your B2C SaaS keyword research
Automate your affiliate keyword research
Required content quality
An in-house content writer in Austin, Seattle or San Francisco is going to cost between $49,000 – $66,000.
An in-house content writer also happens to be the most expensive option.
Depending on the vertical you're in, you can find great content writers at .05 cents per word.
You can spend as much as a dollar per word if you want to.
But, you have a lot of content to create.
So we recommend building a system to find and hire the highest quality, most affordable writers that meet your quality requirements.
The timeline you want to publish in
Total Pages * Content Cost / Months
For example:
100 pages of content
$150 per page
5 months
100 pages of content * $150/page = $15,000 / 5 months = $3,000/month at 20 pages/month.
If you want to reduce risk to your production schedule, and only give each writer one article per week, you need 5 writers to produce 20 articles per month.
What's the ROI?
The formula to understanding different SEO ROI outcomes is:
Total Monthly Searches * Click Through Rate * Conversion Rate * Average Order Value = SEO ROI.
We've reviewed hundreds of projects and built a handy calculator in Google Sheets to help us understand how driving large volumes of qualified traffic will translate into business success.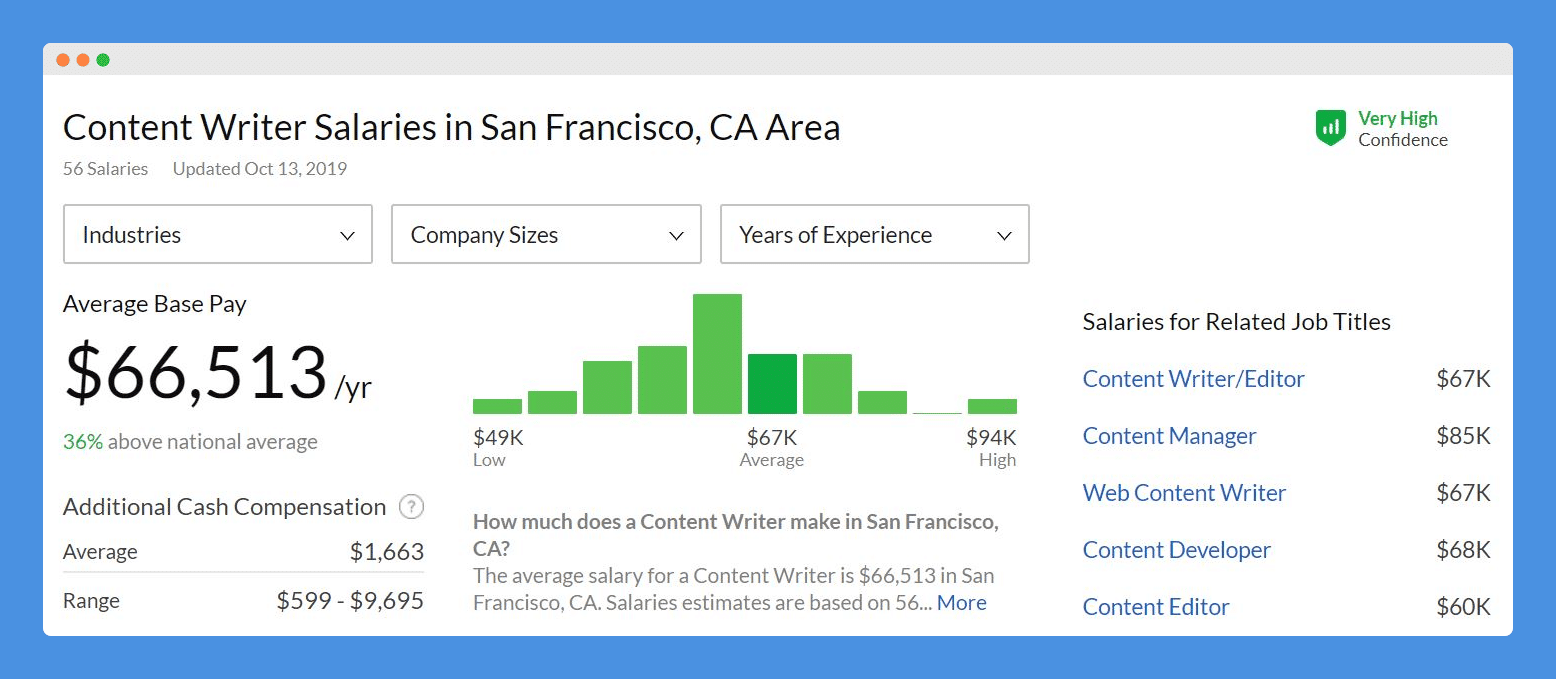 Get our SEO ROI calculator to forecast costs and ROI of a successful organic content distribution campaign.
Our best content
Want to learn how we've grown 4 websites from approximately zero to 100,000 visitors per month, with the biggest one doing 500,000 in just 17 months?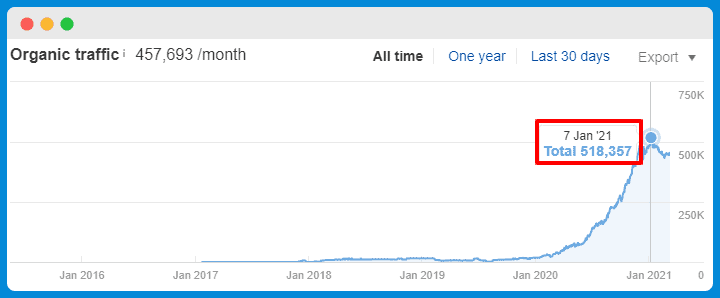 We share it all.
Services, Training & Tools
Are you an ambitious brand that wants to be everywhere your target audience is searching? Let's talk.
Not a good fit for our services? Learn how we help companies build content distribution systems to produce that naturally ranks at scale.
Just want ClusterAi? Check it here.
Have a question? Our community has answers.