How Can Different Types of HR Tools Improve Your Business?
The HR department has a lot on its plate when it comes to managing employees. With their hands full, HR specialists rarely have the time to interact with all other employees regularly, so overall employee satisfaction usually suffers.
With so many different HR software solutions on the market, most of these tedious, repetitive tasks can now be handled in a way that saves time and money and minimizes the likelihood of making an error. These tools also keep all the information well organized and easily accessible.
All HR tools can help you automate HR-related processes, centralize data, and ensure security and compliance, but it is crucial to make the distinction between different types of solutions and understand how your business can benefit from each.
The right HR software solution for your business will handle all segments of the HR department's job—from PTO (Paid Time Off) to onboarding. At the same time, it will ensure that your HR specialists can focus on employees rather than being swamped with administrative tasks.
Why Should You Trust Us When It Comes to HR Management Tools?
The founder of Stronger Teams, Nick Jordan, was the 8th employee in a startup business that grew from 1 to 200 employees without raising venture capital. He and Gordana—our Director of Operations—grew Content Distribution from 1 to 30 employees in 16 months.
For them, that implied evaluating thousands and interviewing hundreds of applicants without any formal HR experience. That proved to be a difficult, time-consuming, and expensive task to handle manually.
We started exploring other options to facilitate the hiring process and manage employees in our remote-work-based business culture. We tested out most of the HR tools on the market and did so after an extensive search, comparing and evaluating different features and services they offer.
We hope that our extensive knowledge of the subject will spare you the heavy lifting and provide you with all the necessary information so you can make an informed decision on your own.
What Types of Human Resources Tools Should You Consider?
All the different HR tools available on the market are useful but not necessarily suitable for your business. After considering factors such as employee satisfaction, the time your HR team spends on certain tasks, money that can be saved by implementing a certain solution, and overall business development, we have selected the most important categories of HR tools:
Payroll software
Recruiting software
Onboarding software
Time tracking software
Training software
Payroll Software
Payroll software solutions handle all payment-related tasks, such as calculating wages and taxes, delivering checks, and depositing salaries. They often provide time and attendance tracking features that facilitate the calculations or integrate with other time tracking solutions. All an employer has to do is enter the employee wage information and hours, and the software calculates the amount automatically.
Most of these solutions also provide notifications whenever tax law changes, so you can comply with new rules and regulations easily. Payroll software saves you time and nerves, eliminates the chances of miscalculations, and helps you avoid penalties.
Our choice of the best payroll software solutions on the market right now is:
Gusto
Quickbooks
RUN powered by ADP
Gusto
Gusto Homepage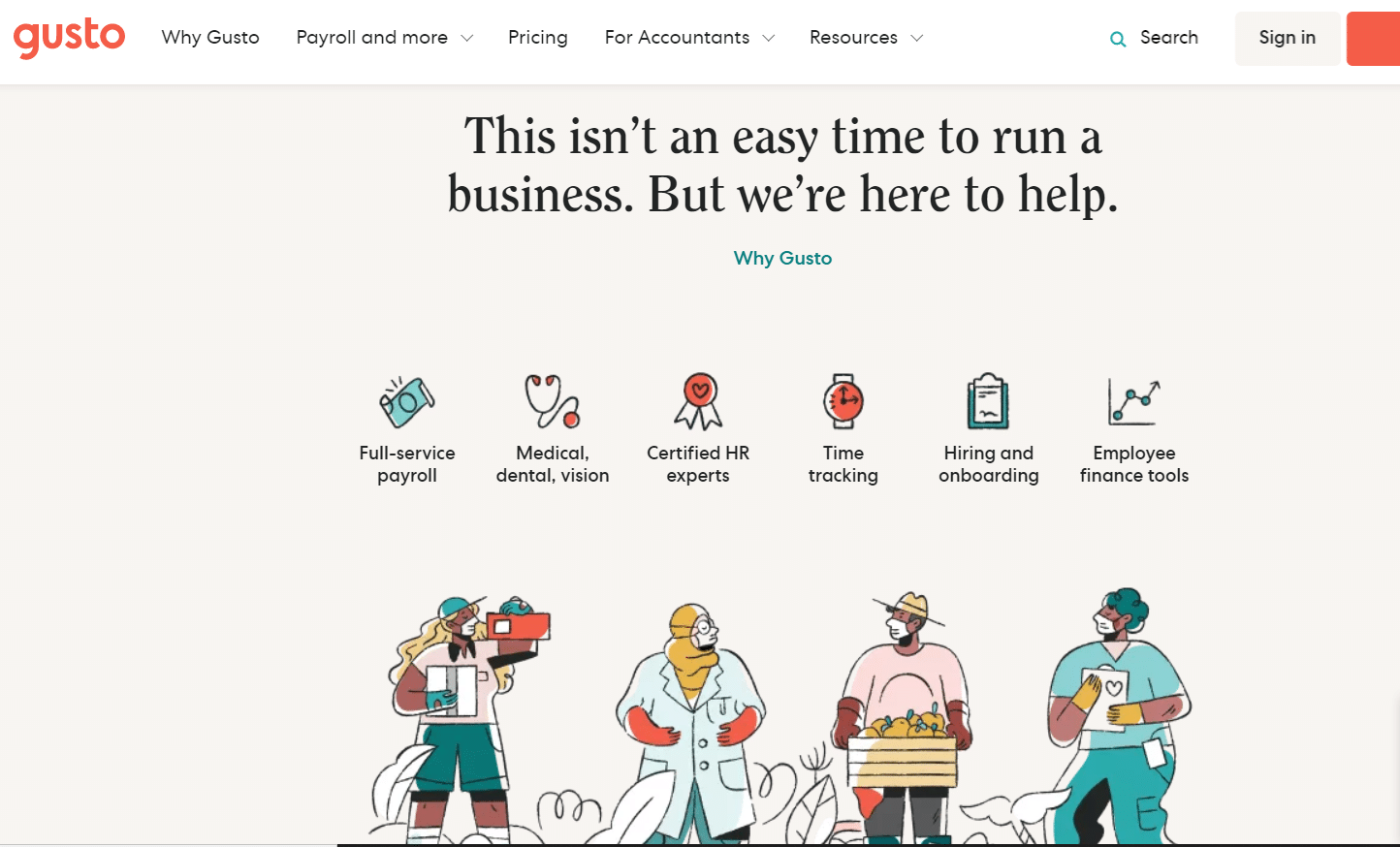 Gusto merges all payroll and HR services into one centralized platform. It combines HR services like time and attendance tracking, as well as hiring and onboarding, with robust payroll features. Those include deduction and fillings, payment deposits, and employee benefits calculations.
The interface is well designed and easy to use. It offers four plans, ranging from $19 to $149 a month.
Pros
Cons

Intuitive UI
Unlimited payroll runs
Great benefits management

Customer service slow to respond
Lack of mobile app
Quickbooks
Quickbooks Homepage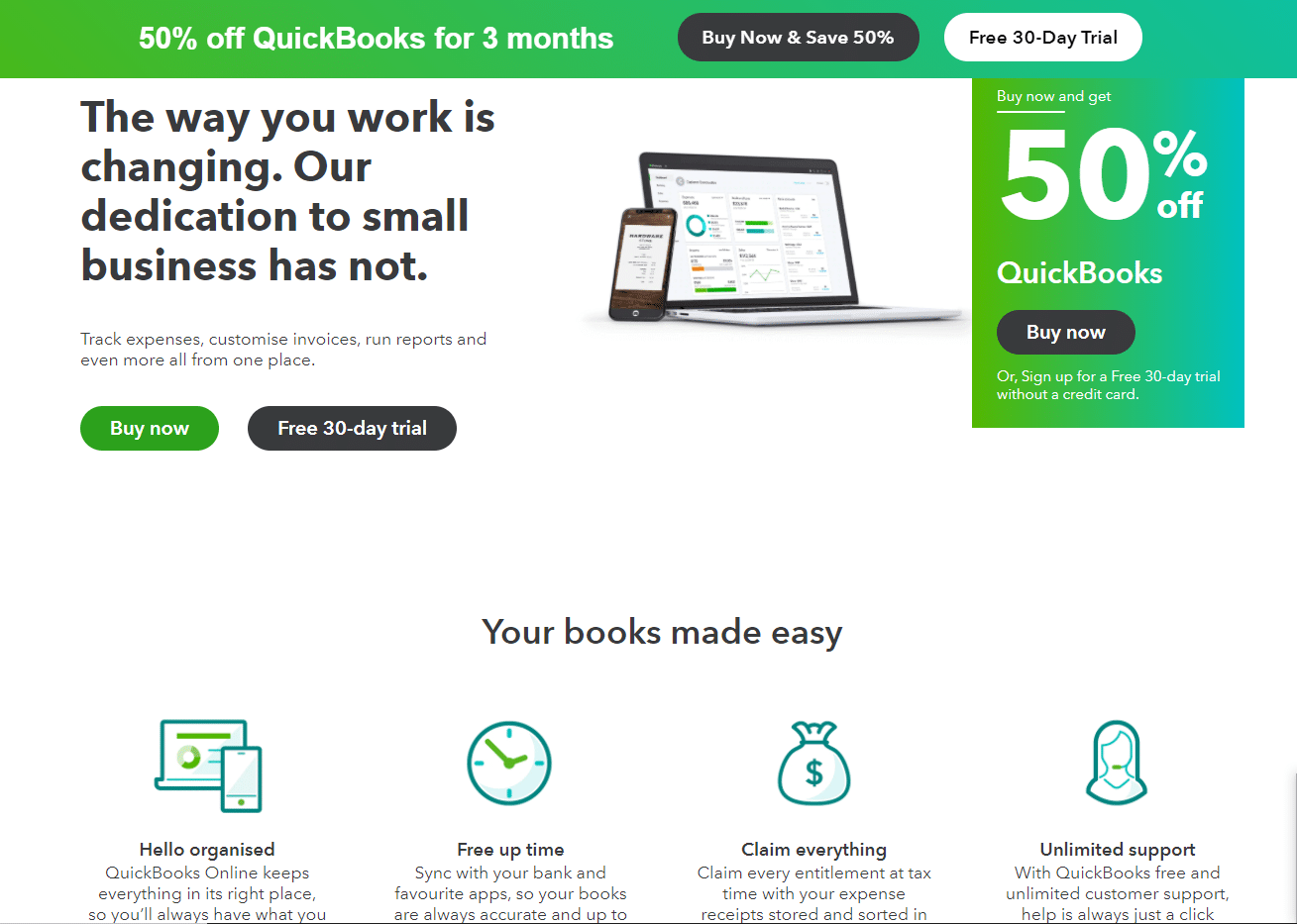 What distinguishes Quickbooks from the competition is the simple interface that requires next-to-no effort to navigate through. It is a well-rounded payroll software that offers services such as direct deposits, time tracking, and health benefits for your employees.
It comes in three plans—Core, Premium, and Elite. Premium and Elite are pricier and offer services intended to help you run and grow your business further. Those services include employee management and reporting features and even budget and recurring transactions management for Elite.
Pros
Cons

Easy-to-use interface
Smooth payroll process
Great integration with Quickbooks Online
RUN powered by ADP
RUN powered by ADP Homepage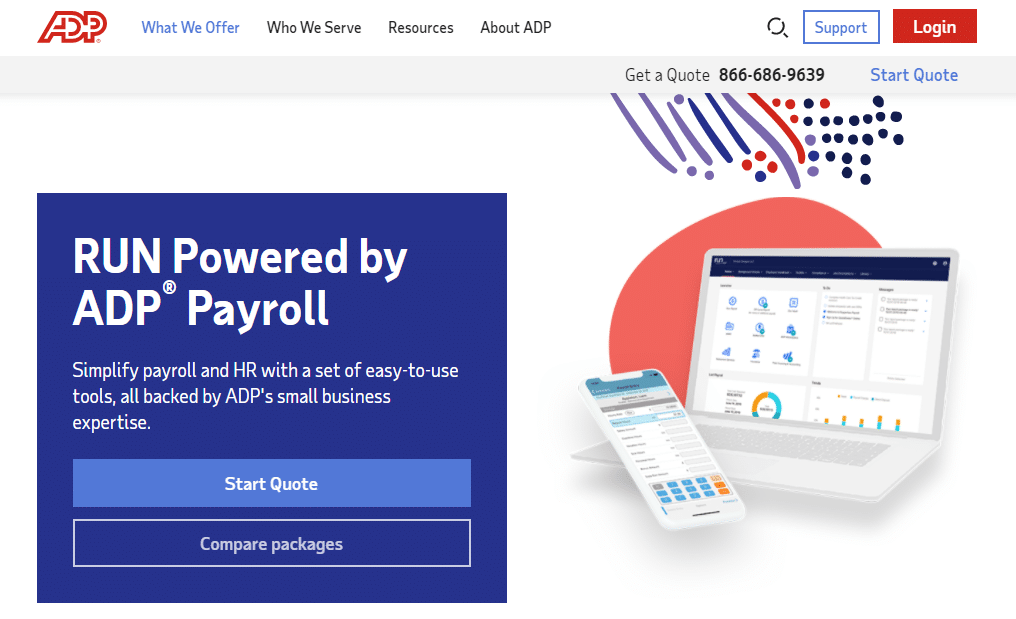 RUN powered by ADP is a payroll software solution that offers a whole range of payroll services designed to accommodate the needs of small businesses and enterprises alike. Small business payroll services cover payroll processing, tax calculations, and compliance support. Midsize to enterprise payroll offers vast integration possibilities with your existing software solutions, such as HR, benefits, and applicant tracking systems, among others.
RUN powered by ADP eliminates the possibility of human error by automating online payroll processing, and it saves your time by filing taxes on your behalf. If you ever need assistance, customer support is always available to help.
ADP only shows the price of the least expensive plan. For the pricier plan, you will need to contact the company.
Pros
Cons

Responsive customer service
Unlimited payroll runs
Easy to use

You have to get a quote for more expensive plans
Recruiting Software
Recruiting software is a term used to describe different tools that facilitate various stages of the hiring process. They help businesses optimize everything from job postings, talent acquisition, and applicant tracking to pre-selecting candidates and sending job offers.
Recruiting tools automate the hiring process, centralize the information, enable communication between candidates and employers, and provide the services needed to select only the best candidates for your job vacancies. These features will help you save a great deal of time and effort needed to attract the most qualified people for your company.
Our choice of the best recruiting software solutions on the market right now is:
Breezy HR
JazzHR
Manatal
Breezy HR
Breezy HR Homepage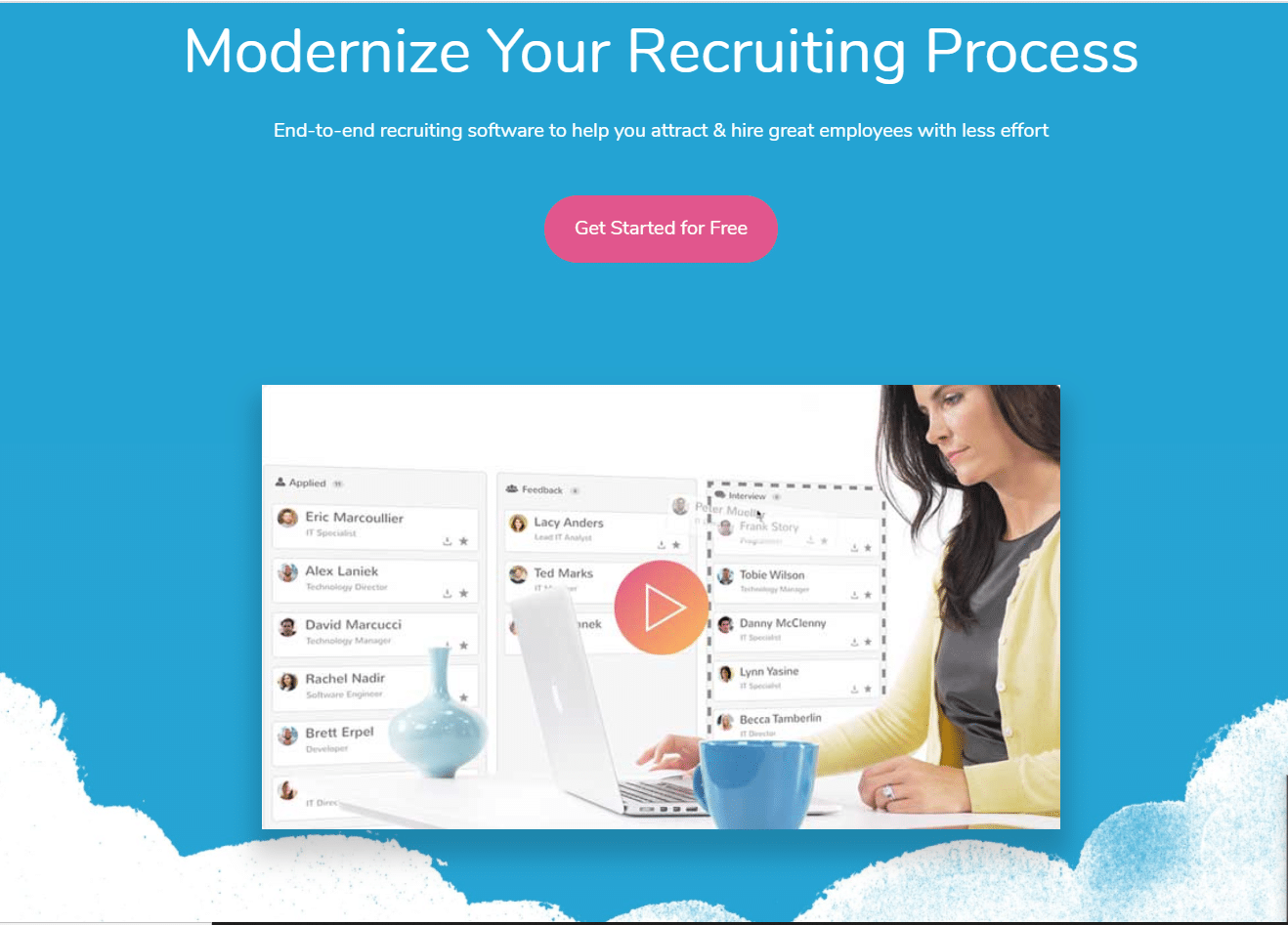 Breezy HR is a well-rounded recruiting tool that includes powerful analytics features. They are designed to provide you with insight into your hiring process and help with candidate management, automated interview scheduling, and communication with applicants.
Breezy HR allows you to put job advertising posts on over 50 boards. You can also engage your entire team in your hiring process to discuss potential candidates together, with no limits on the number of team members you can include. That will ensure the best possible choice for your company.
Pros
Cons

Drag-and-drop interface
Template selection
Automation possibilities

Less sophisticated sorting options
JazzHR
JazzHR Homepage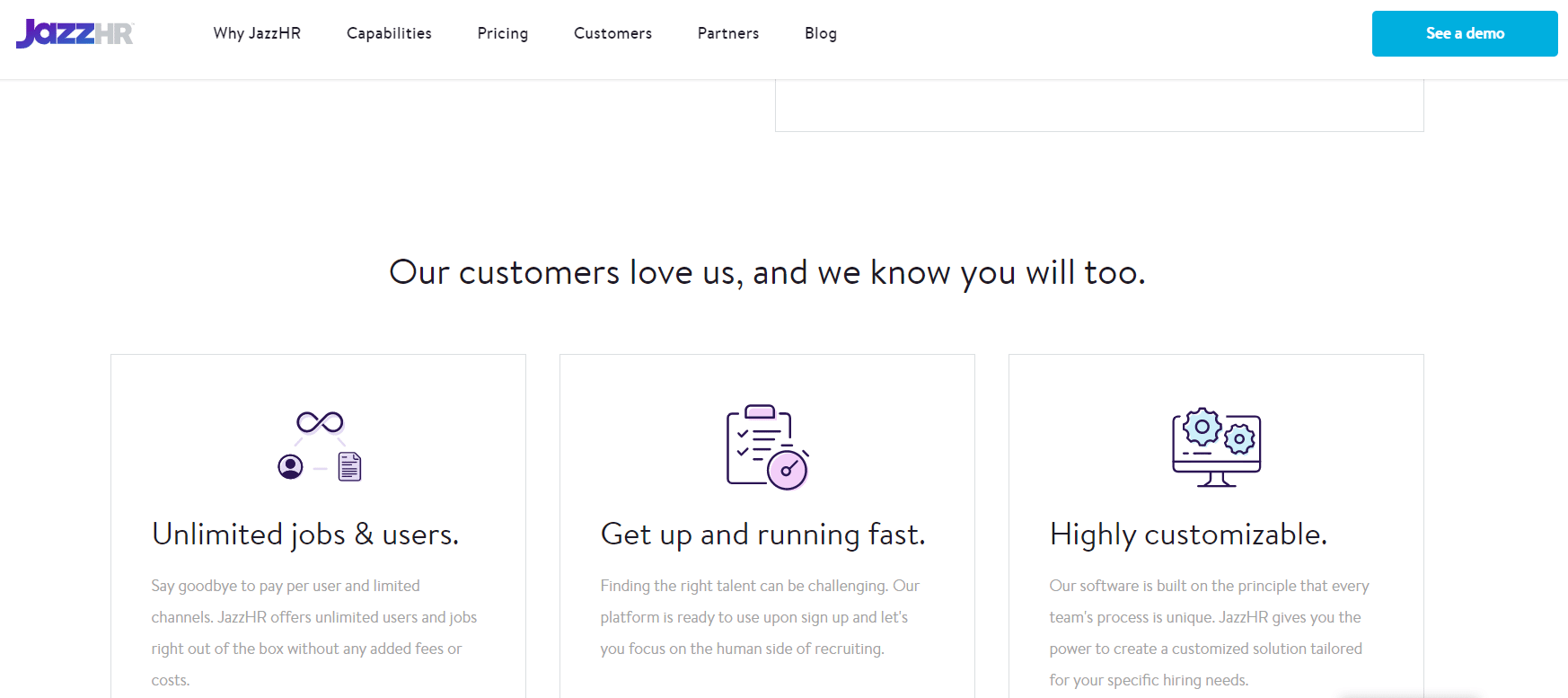 JazzHR is a perfect solution for an in-house HR team, and its most comprehensive features focus on applicant tracking. It allows you to fully customize and streamline your hiring process from start to finish. It also offers branding tools, candidate sourcing, compliance features, and extensive reporting.
Pros
Cons

Vast customization possibilities
User-friendly interface
Manatal
Manatal Homepage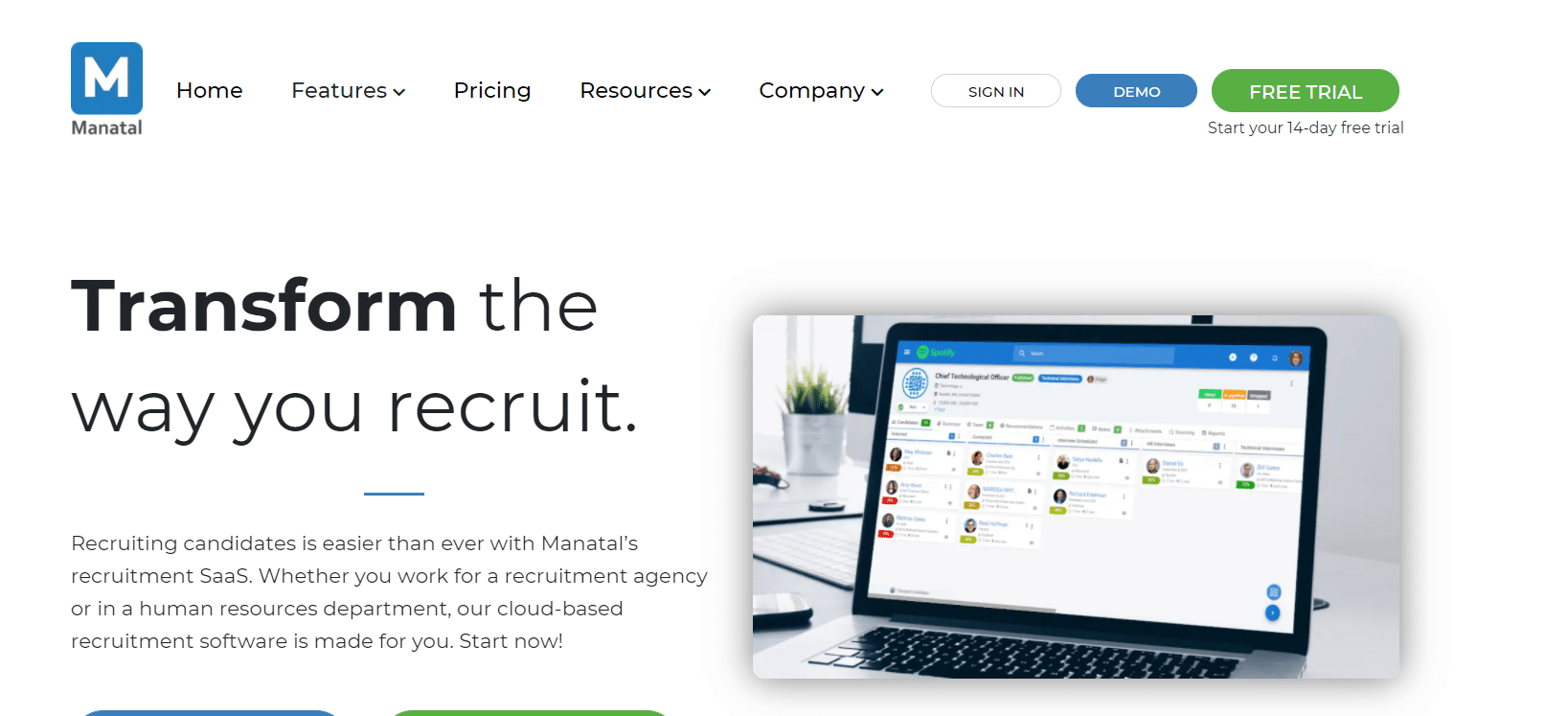 Manatal is a recruiting tool that combines powerful applicant tracking features with AI-powered services, such as candidate recommendation and scoring. It also provides you with a more in-depth image of the candidates through integration with social networks like LinkedIn, Glassdoor, and Careerbuilder and features like candidate screening.
Manatal is accessible through a mobile application and has an easy-to-navigate interface that will make hiring management a breeze.
Pros
Cons

Technical support
User interface
Integration possibilities

Search functionalities need improvement
Onboarding Software
Onboarding software is designed to help you welcome new hires into your company. Onboarding tools help you provide new employees with the necessary information, documentation, and explanations of the job they are hired to do. They also allow employers to follow the new hire's progress through the onboarding process and give feedback.
Onboarding tools streamline processes like filing the necessary paperwork, sending notifications and deadlines for the new employees, and reporting on their progress. That not only saves time but also ensures that your new employees receive the best possible training and settle in their new role in no time.
Our choice of the best onboarding software solutions on the market right now is:
ClearCompany
BambooHR
Lessonly
ClearCompany
ClearCompany Homepage

ClearCompany makes the onboarding process an effortless and pleasant experience with its intuitive interface and a personalized portal. It provides employees with all the information they need on their first day.
All data, like compliance forms and personal employee information, is securely stored on a centralized, easily accessible platform. ClearCompany offers automated task notifications and introductions to team members, as well as a number of payroll integration possibilities.
Pros
Cons

Mobile application
Customer service that responds quickly
BambooHR
BambooHR Homepage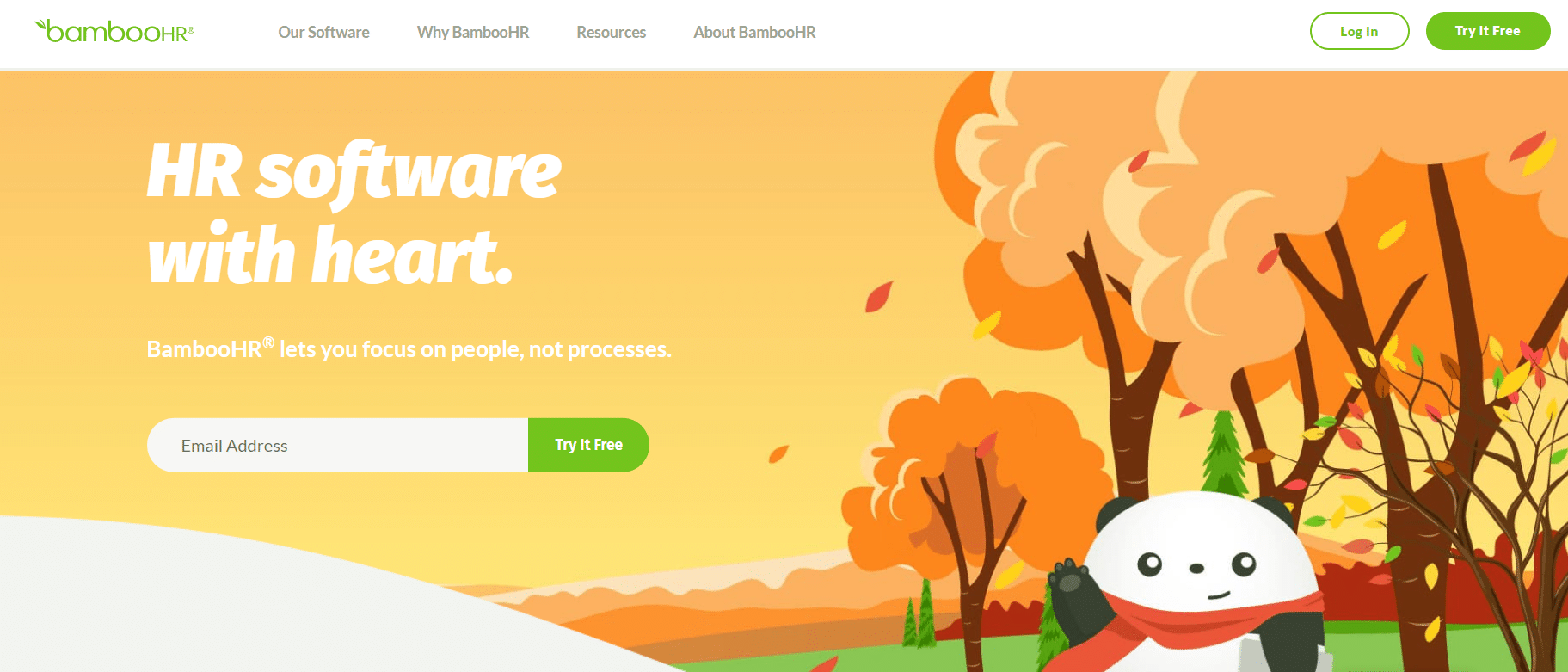 BambooHR is a comprehensive onboarding tool that provides a quick and seamless onboarding experience designed to ease employees into their roles and retain them. It offers personalized, pre-boarding packets to employees to facilitate paperwork filing and completing pre-onboarding tasks.
BambooHR helps keep new hires engaged during an onboarding process by sending them tasks to complete at their own pace. It helps old team members bond with new hires by sending them customizable new-hire packages and get-to-know-you emails.
Together with applicant tracking, employee database, and performance management, BambooHR offers a complete HR service to any company.
Pros
Cons

Simple interface
Customizable workflows

Lack of payroll integration
Lessonly
Lessonly Homepage
Lessonly is a learning management platform that's perfect for onboarding customer support and sales representatives. It allows you to create specialized courses and quizzes designed for training new employees. Trainees can also practice their skills in dealing with customers through an online, real-life simulation and get either a performance review through a Lessonly Gradebook or real-time feedback from their managers.
This impressive learning system is guaranteed to provide fast and quality results for your business in no time.
Pros
Cons

Easy-to-use interface
Helpful customer service
Engaging online learning courses

Limited reporting options
Time Tracking Software
Time tracking software solutions are designed to record the time employees spend on different projects, which managers use to calculate billing amounts. Their features concentrate on tracking the time needed to finish a project or a specific task, estimating employee productivity, and producing more accurate billings. They offer extensive reporting and help schedule tasks and manage future projects with improved accuracy.
Time tracking software is a necessary component for any company that is looking to save money through more accurate payments and improve company performance with better organization.
Our choice of the best time tracking software solutions on the market right now is:
Time Doctor
Hubstaff
Timely
Time Doctor
Time Doctor Homepage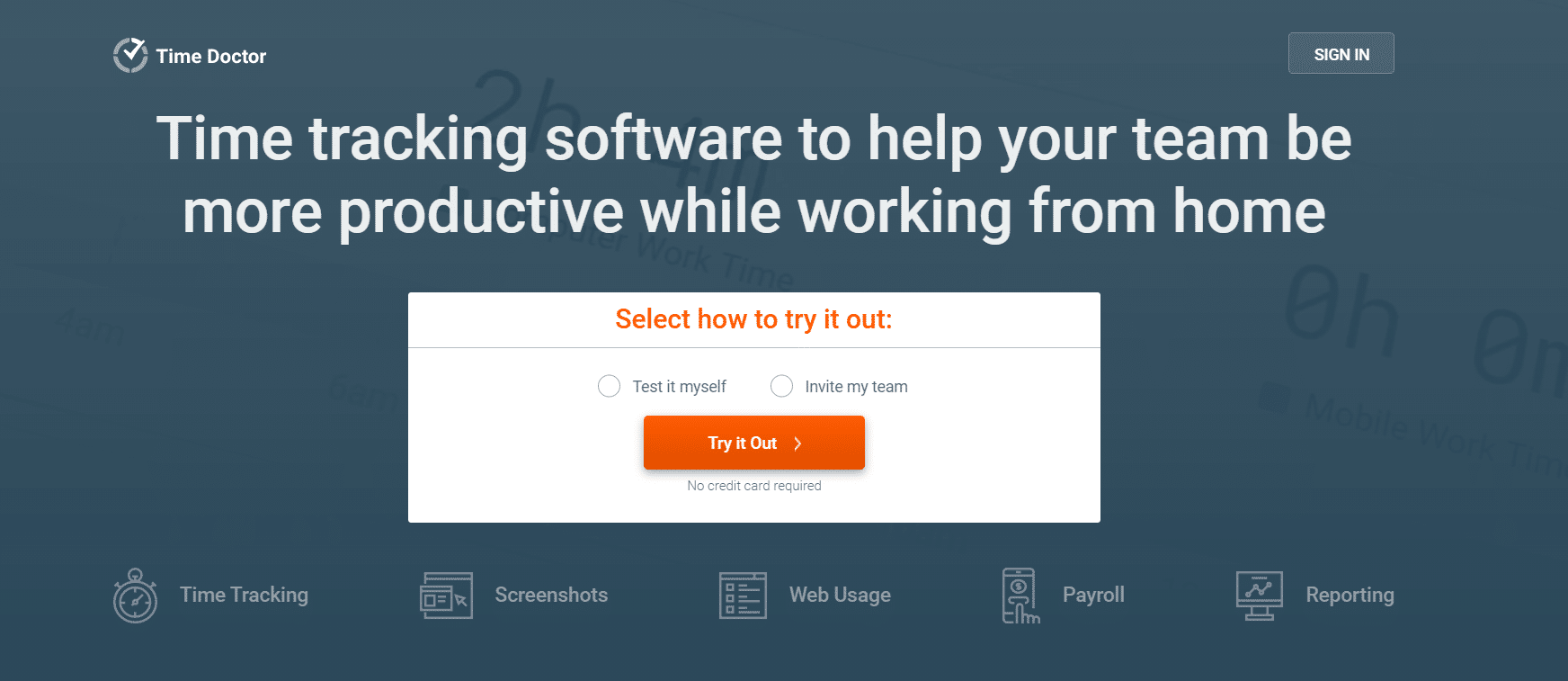 Time Doctor provides its users with a full HR experience, combining time tracking, project management, and employee monitoring. Its features are designed to accommodate the needs of remote-team management. They include taking screenshots to ensure everybody is doing their jobs at a given moment, along with alerts that activate when your employees spend too much time on social networks.
Time Doctor integrates with a variety of project management, accounting, and communication software solutions, like Asana, Slack, and Salesforce. Payroll is calculated directly from the hours tracked by TimeDoctor and deposited through PayPal, Payoneer, or TransferWise.
Pros
Cons

Vast integration possibilities
Advanced employee monitoring features
Hubstaff
Hubstaff Homepage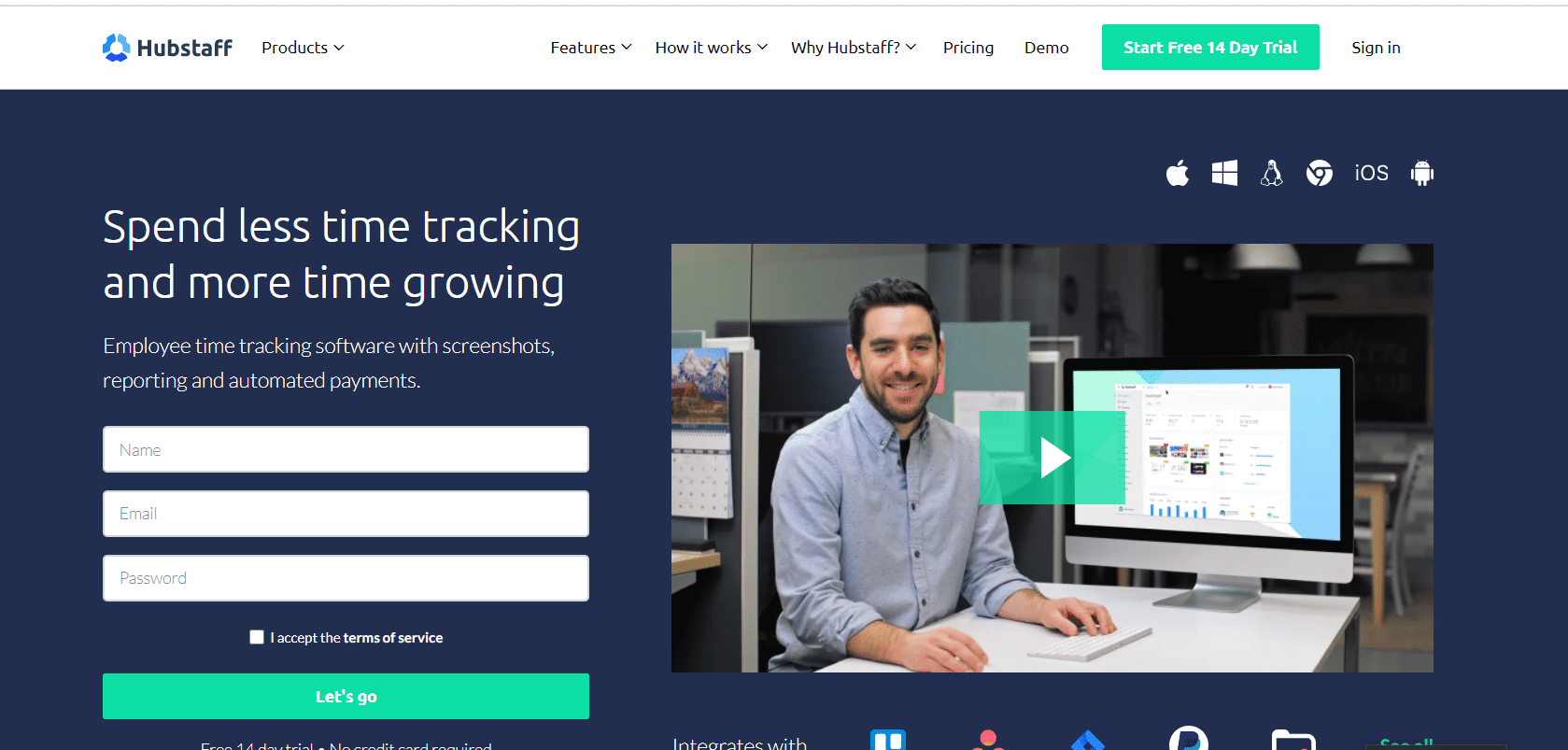 Hubstaff is a time tracking tool designed for monitoring remote teams. It offers an advanced set of time tracking features that include GPS tracking and geofencing to help track workers in remote locations.
When it comes to monitoring your team, Hubstaff offers taking screenshots, provides a chart of time spent on every website during working hours, and even registers movements of the mouse and keyboard clicks to assess employee productivity.
Pros
Cons

Neat possibility of tracking time from different devices
Workflow management
Excellent customer support

More expensive than competitors
Timely
Timely Homepage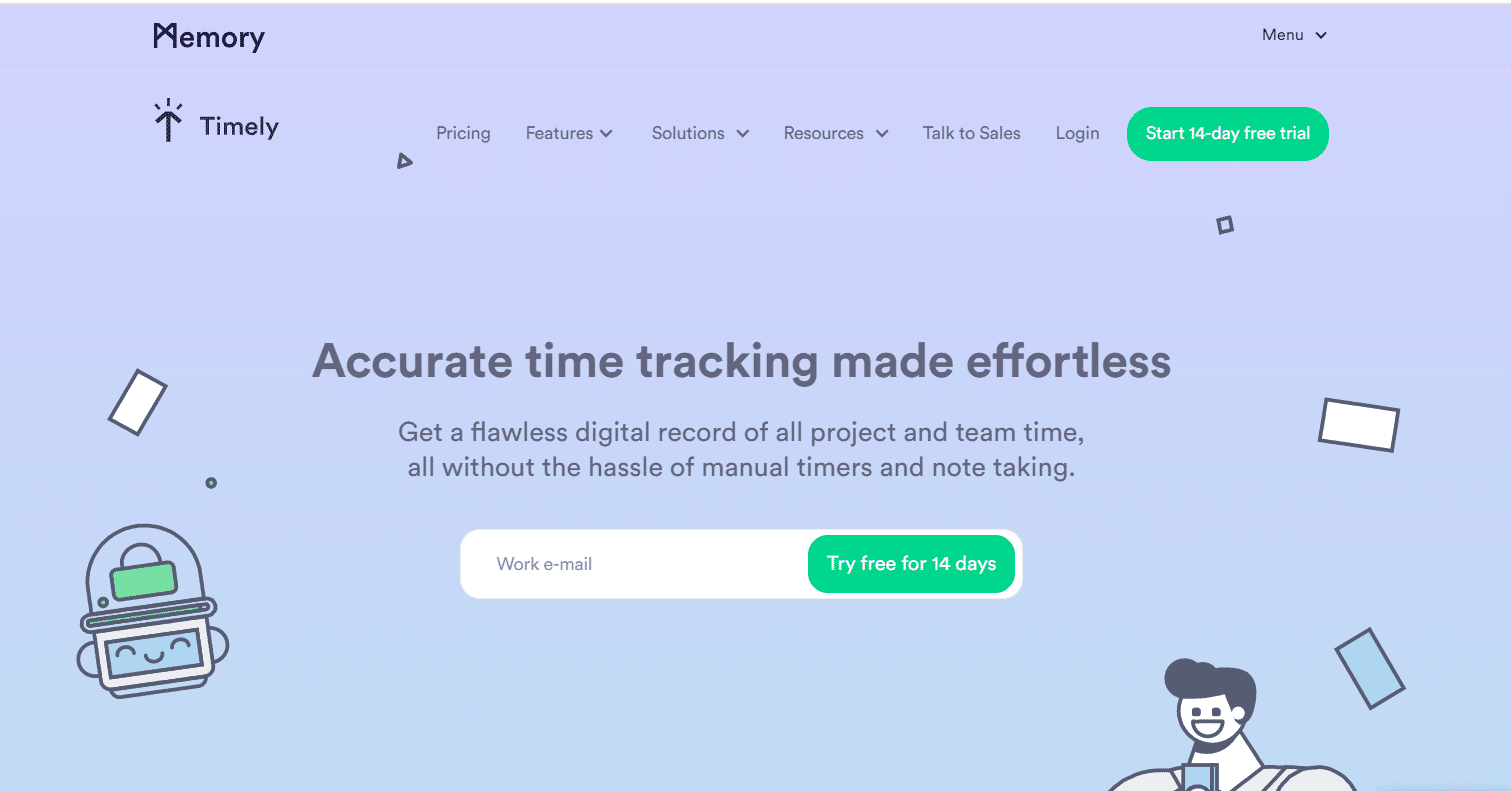 Timely combines time tracking with employee scheduling and offers a calendar view of all of your assigned tasks and projects, along with hours spent on each. Its modern interface allows you to reschedule or divide the tasks between colleagues by dragging and clicking. Calculated hours for each day appear at the bottom of the screen.
Timely also offers an add-on feature called a Memory Tracker that calculates how much time you spend on each program you use to make an accurate timeline. Timely's practical calendar view is what sets it apart from the competition.
Pros
Cons

Easily accessible
Great customer support team

The sheer number of options can be a bit overwhelming
Training Software
Training software is a more practical alternative to training courses, which are meant to introduce employees to new technology developments, compliance regulations, and ways of doing business. These tools allow employers to create or upload existing learning materials to a single, centralized platform that everyone in the company can access at any given time.
Apart from extensive, customizable learning content, training tools provide a feedback system, brand personalization, and analytics and reporting features to help you assess employees' progress and the effectiveness of training materials.
They should be a must-have component of every company interested in broadening their horizons and constantly evolving and improving their business with much less time and money invested.
Our choice of the best employee training software solutions on the market right now is:
Skyprep
Docebo
Bridge
Skyprep
Skyprep Homepage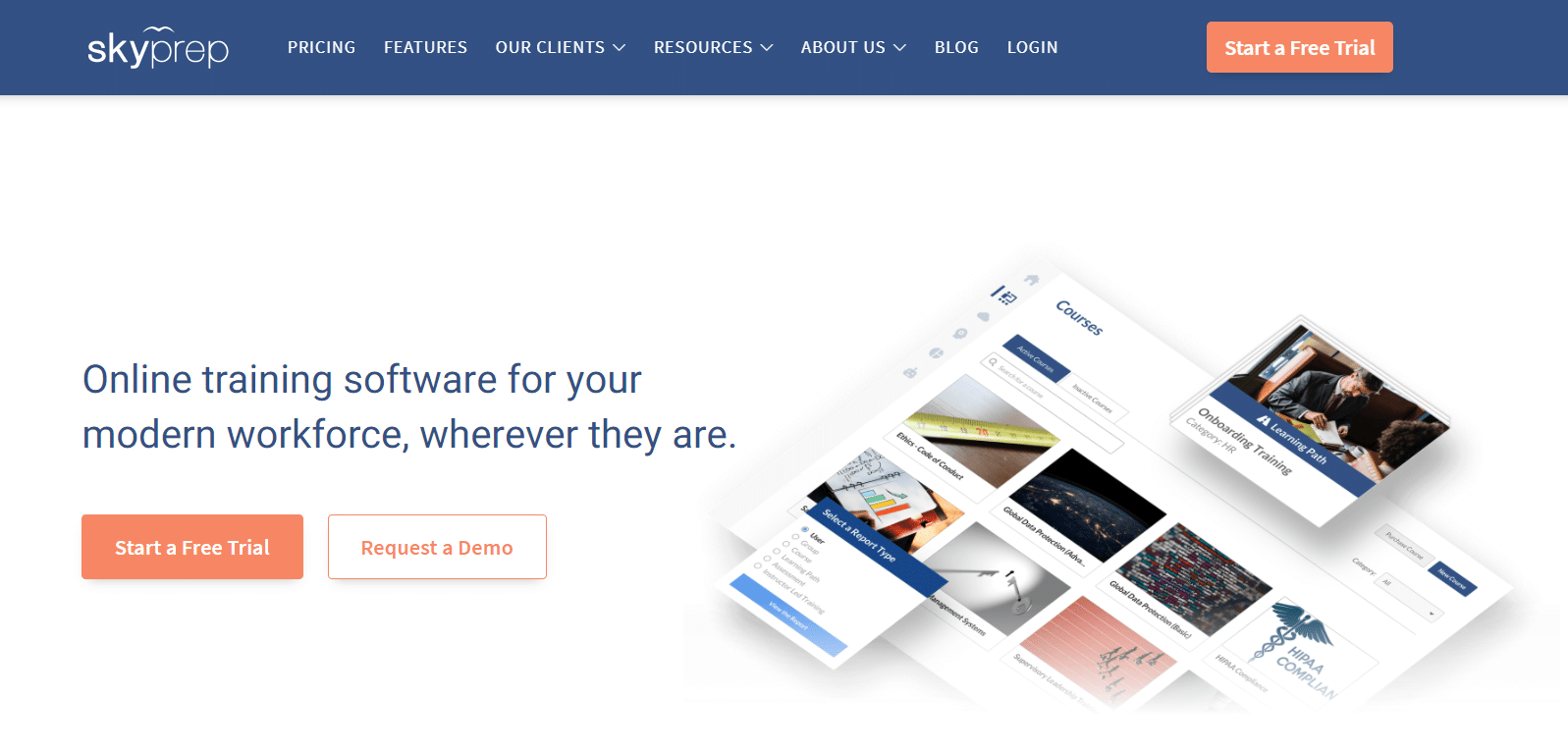 Skyprep is an easy-to-use, customizable tool that provides employee, partner, and compliance training programs.
It offers unlimited courses, customized reporting features, and a number of third-party integrations so you can connect it to applications you are already using. All learning materials are available on one centralized platform and are accessible from any device.
Pros
Cons

Excellent flexibility
Great customer support service

Reporting service could use some improvement
Docebo
Docebo Homepage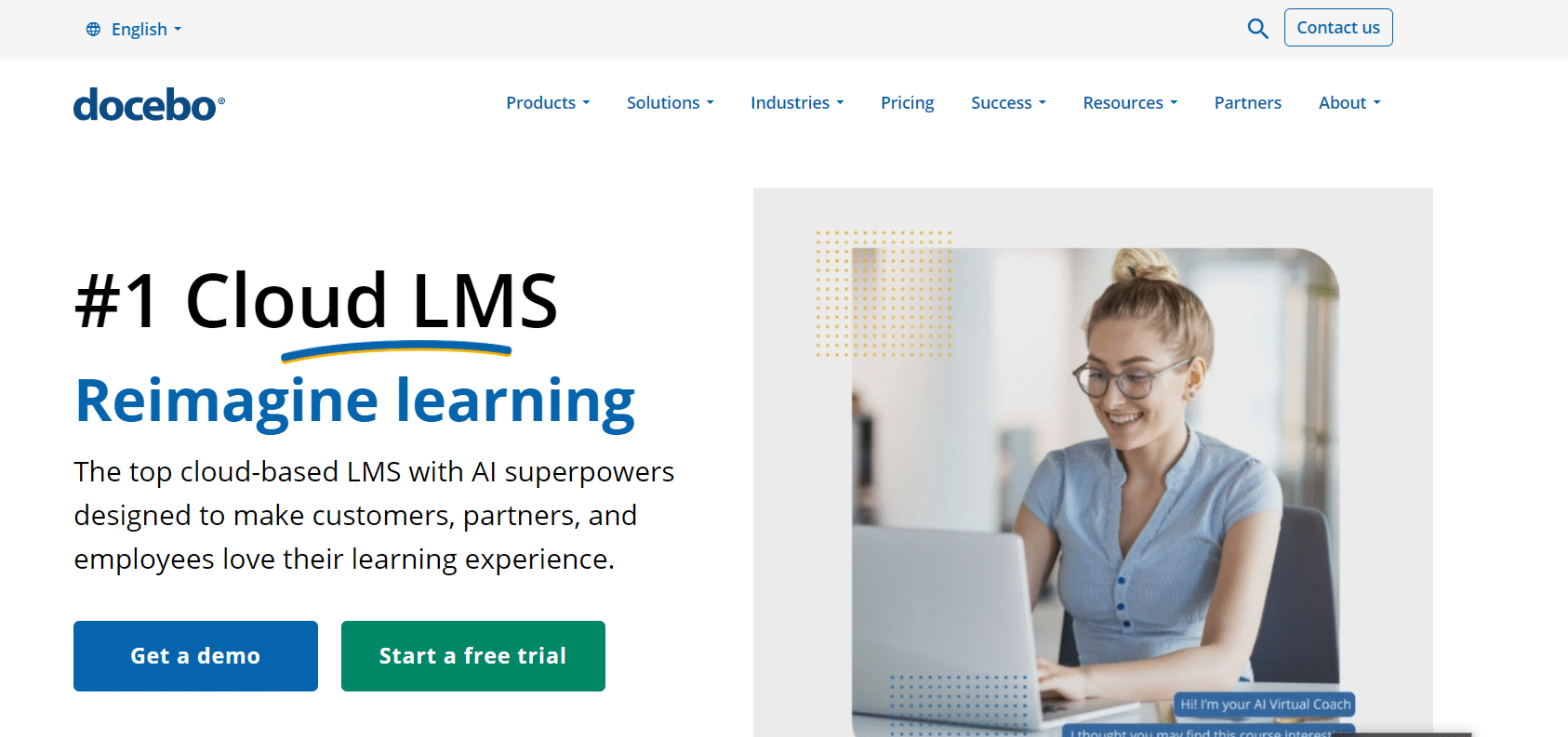 Docebo offers AI-based features to deliver quality training services for compliance, employees, and customers. It provides extensive reporting, analytics, and integration services.
Docebo's analytics feature not only allows managers to give feedback on employee performance but also gives employees the opportunity to follow their progress through a personalized analytics page.
This impressive set of services makes Docebo one of the most advanced training tools on the market today.
Pros
Cons

Excellent versatility
Advanced analytics features
Simple set-up

Occasional bugs in the system
Bridge
Bridge Homepage
What makes Bridge stand out among other training tools is the collaboration between training and employee management systems. Bridge allows you to invest in your employees' knowledge, help them develop new skills and improve existing ones, as well as increase their productivity. It tracks and follows their progress, identifying their weak spots and areas in which they need improvement so they can work on their professional development.
Employees can not only access the vast learning programs on the centralized platform but also connect with their colleagues for collaborative learning and get feedback from their managers. Bridge guarantees success with this one-of-a-kind, employee-centric philosophy, where employee development means quality service and success for the company.
Pros
Cons

Friendly UI
Effective customer support

Quizzing engine could use improvement
We hope that the information we provided will help you identify the HR tool you could benefit from the most. If you want to check out our other selection of the top ten HR tools by categories, check out our HR knowledge base!