Foreword
Ben Lee sold his $10m ARR agency in 2020. Then packed his bags and went to Costa Rica to surf out the pandemic.
But the most memorable detail from Ben's end of 2020 recap is that he has written end-of-year reflections for over decade.
I would love to be able to reflect back on the things my younger self found important.
So, I decided to write my 2020 recap. It's going to be about how I:
Coasted through COVID on a tropical island in a COVID-free country
Sold Doggypedia.org for $30,000
Had the best SEO project on the internet in 2020
As a result our team grew from 1 to 25 FTEs
Launched a SaaS: $0 to $135k ARR in 135 days
Here is to the start of a decade-long tradition.
Living a COVID-Free Country
In February 2020 I was flying back to North America for the first time after moving to Belgrade, Serbia 8 months prior to build the Content Distribution team.
I had made plans to meet my family in Mexico and decided to turn it into a month-long party.
Belgrade → Barcelona to party with a client
Barcelona → SFO to meet clients and sell Doggypedia.org
SFO → San Miguel De Allende, Mexico to meet the fam for vacation
SMDA → SFO for a few days before flying back to Europe
SFO → Belgrade, finally home
When I left on the trip I had been tracking the Coronavirus since the earliest videos began emerging from Wuhan.
It looked like it was going to be a really, really big problem, but I figured I could get back to Europe before things got weird.
Things got weird before I got back.
Europe locked their borders, San Francisco was locking down. I booked a same day flight to Thailand, where I've been ever since.
And fortunately, Thailand beat COVID.
And life has been pretty much normal the entire time.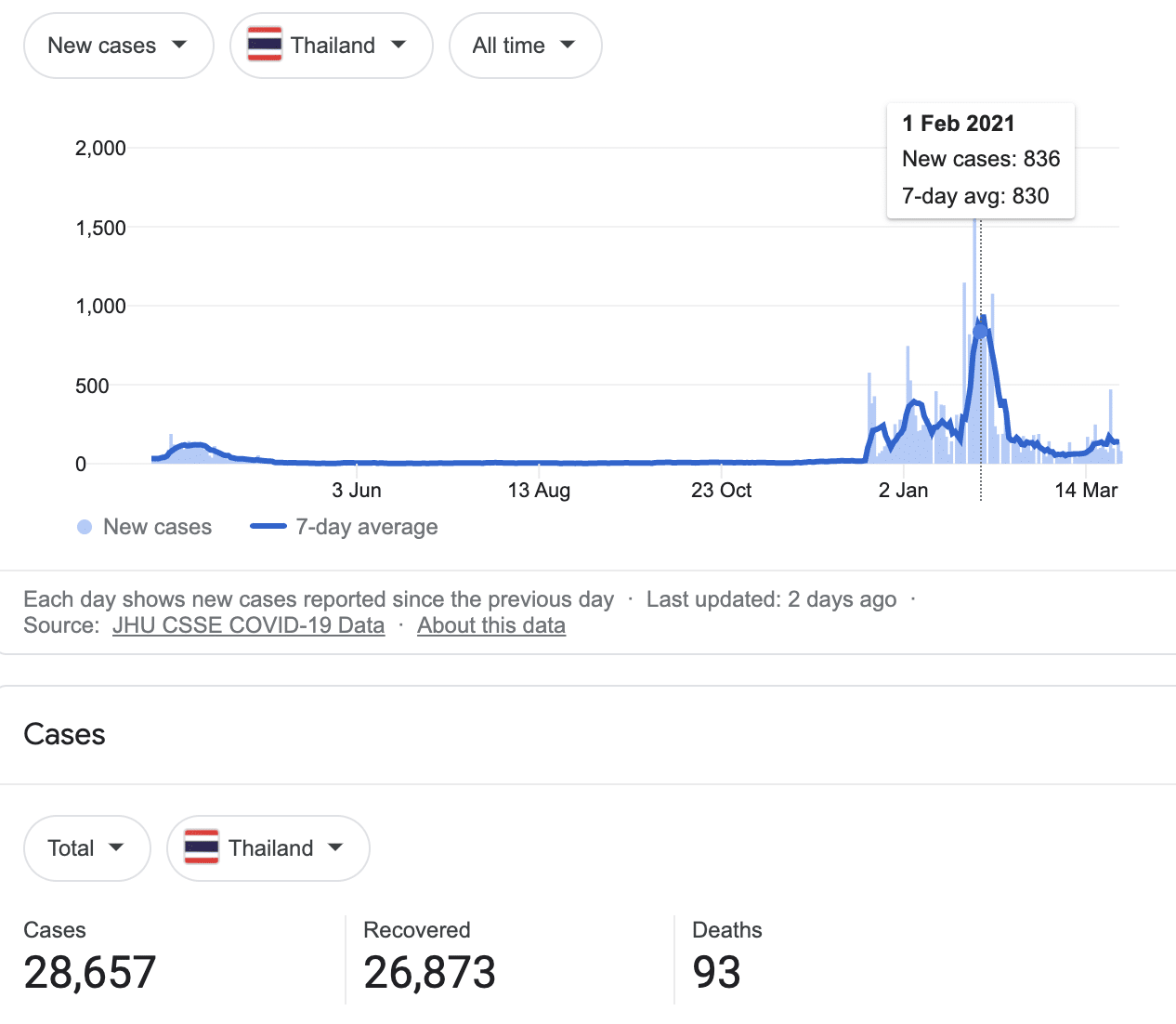 Due to the 99.99% reduction in tourism, I was able to grab a $300/night hotel for $300/month.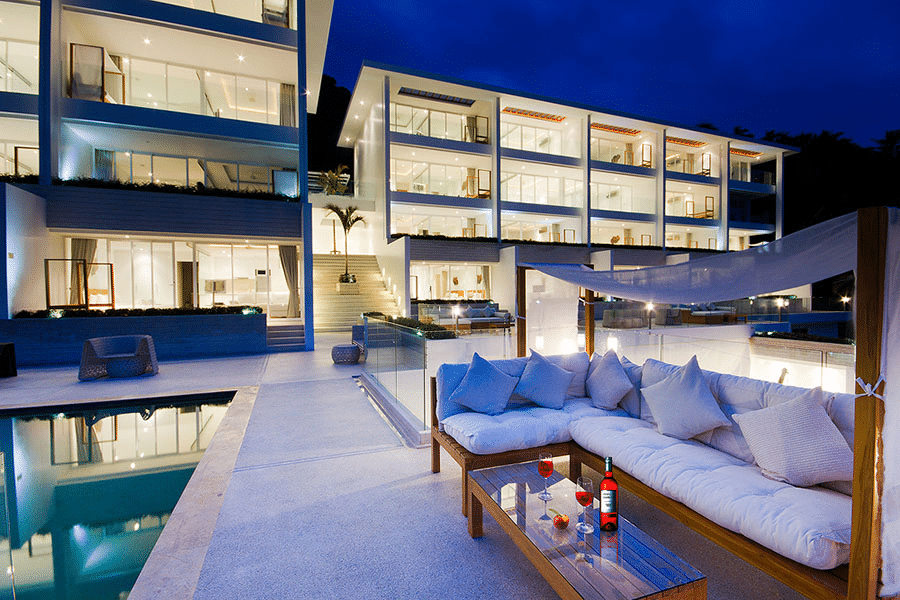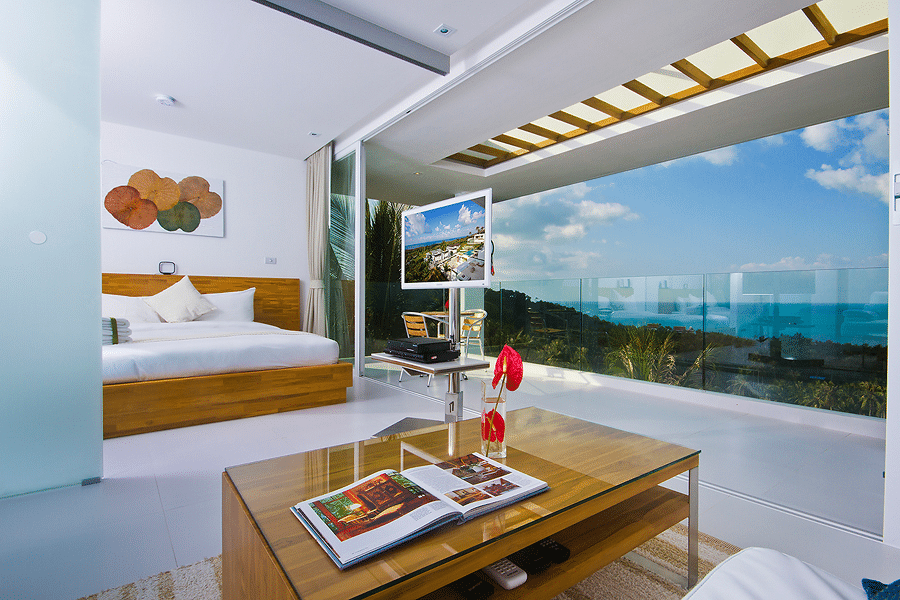 Selling Doggypedia
I built Doggypedia.org for two reasons:
Plan A was to get rich.
Plan B was to build a case study for my consulting business.
To prove to myself, and prospective clients that I could work at the level I knew I was capable of.
I messed up plan A.
I built Doggypedia to:
116,000 organic visitors per month
65 million Pinterest impressions
1 million views on Youtube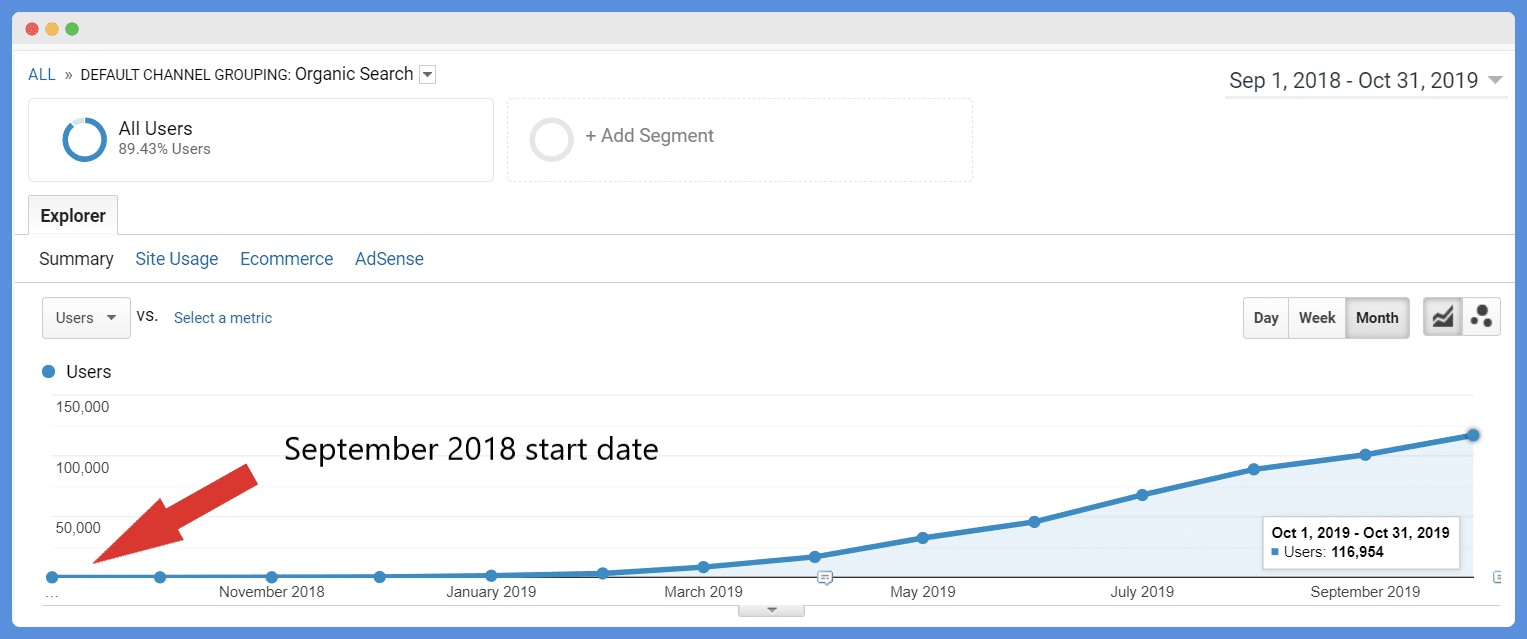 But I wasn't able to monetize the brand.
And I made a post on Facebook sharing my story.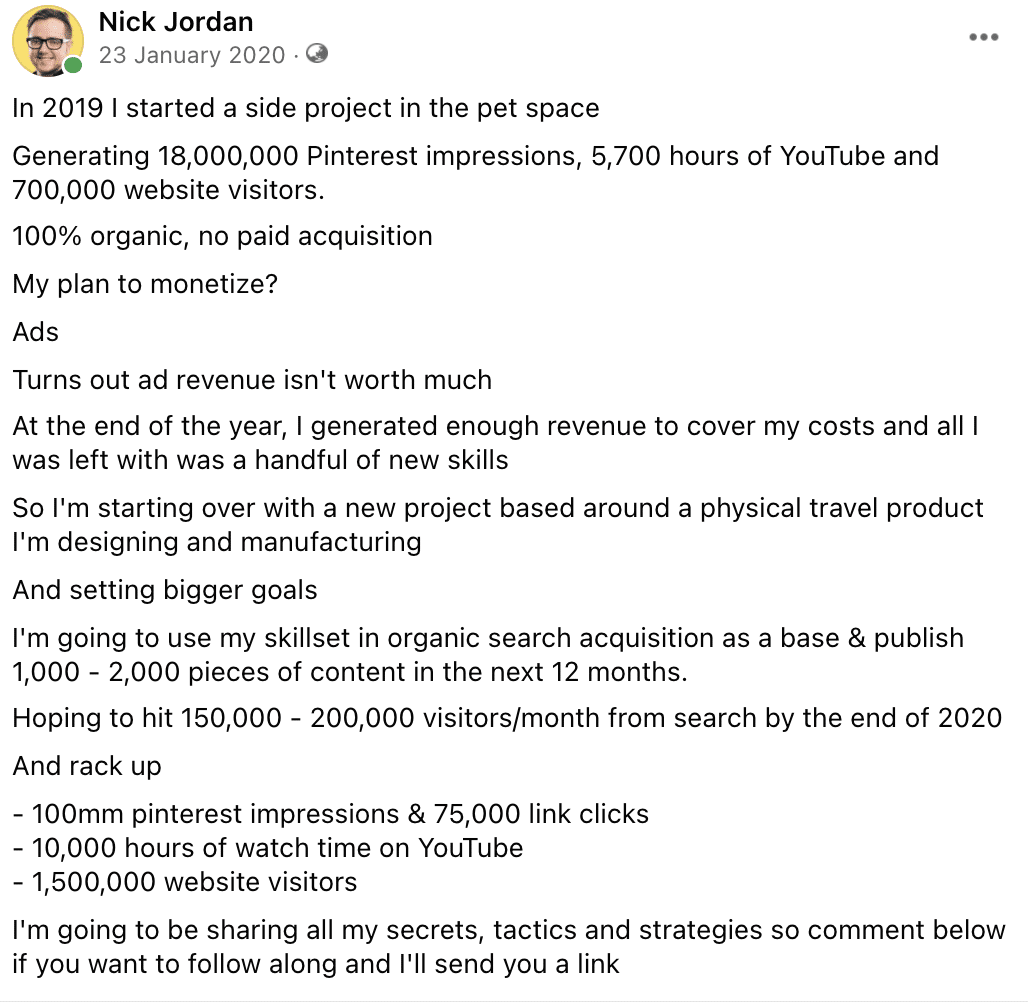 Sam Parr from The Hustle, tagged his friend, Ramon Van Meer.

Ramon had built and sold the largest soap opera website on the internet, without ever having watched a soap opera.
For $9,000,000.
He leveraged that capital into a very, very fast growing DTC dog brand.
It was the perfect fit.
He didn't want anything but the traffic.
And I didn't have anything to offer but the traffic.
Ramons first offer was $5,000 and I hustled other offers to get the final price to $30,000.
When I came out to San Francisco to meet clients, Ramon let me spend the week in his pool house – it was awesome.
Ramon is a fantastic person, has great values, and I very much hope to work with him again some day.
The Best SEO Campaign of 2020
In March 2020 I was in SF visiting two clients, including DoNotPay.
We had begun working together 8 months prior to meeting, and one of the primary reasons DoNotPay cited for choosing us for their campaign is our Doggypedia project.
By the end of the year, our project with DoNotPay would go on to become the #1 SEO campaign on the internet in 2020.
Content Distribution Grew From 1 to 25 FTEs
We went into 2020 with only Gordana and I.
And by fulfilling the best SEO campaign on the internet in 2020 for DoNotPay, our team would grow to 25 FTEs by the end of the year.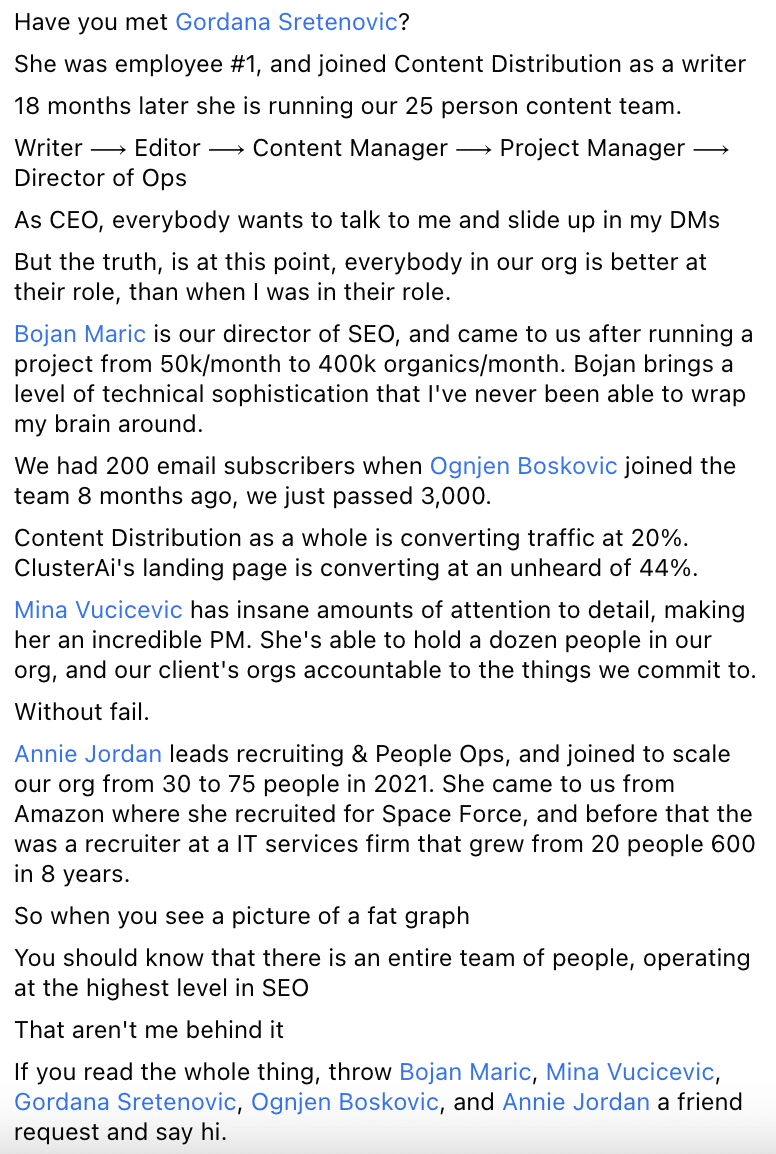 $0 to $135k SaaS ARR in 135 Days
In 2020 I became an SEO guru.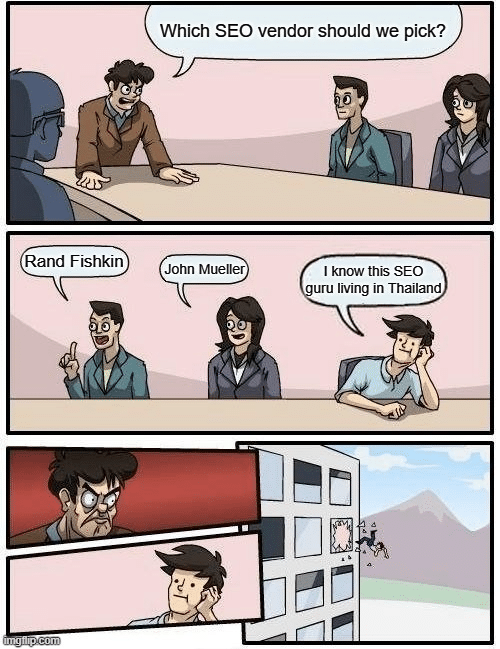 The truth is I don't identify as an SEO.
I spent the first 75% of my career in early stage SaaS companies, not doing SEO.
I identify as a founder, a marketer, and even a sales guy, but I view SEO as just a tool in my toolbelt.
In August 2020 I launched ClusterAi, an SEO SaaS that I had been using internally for the last two years, and the tool responsible for ContentDistribution's consistently great SEO outcomes.
And ClusterAi grew from $0 to $135k ARR in 135 days.
100% organically with no paid spend.

Notable users include Fiverr, Carmax, HootSuite, and at least one F100 project being run by an agency.
2020 is the Year I Reached My Entrepreneurial Goals
I'm 33.
I began attempting to build products and companies at 21.
The only time in the last 12 years I had an annual salary above the poverty line in Seattle was a four year period working as an early employee for a fast growing startup.
And every day for the last 12 years I've woken up, and put one foot in-front of the other in order to achieve what I achieved in 2020.
But now that I'm here, I realized what I have now isn't actually what I want.
I want more.
More scale. More revenue. Bigger logos.
More, more, more, more.
I wasn't able to spend any time appreciating what I achieved.
I feel resigned to the fact that this feeling probably won't go away. It will never be enough.
Final Words
2020 could have easily been the worst year of my life.
I consider it the best year of my life.
But we're still not completely stable and regression is possible.
The thing I fear right now more than anything, is regression.
Here are some broad goals I want to hit in 2021:
Business:
Bring ClusterAi to $200k ARR
Build our consulting team from 25 to 75 FTEs
Launch a new product and grow to $25k MRR
Marketing
Grow our Facebook group to 10,000 members
Grow our email list to 10,000 subscribers
Grow Stronger Teams to 100,000 organics/month
Health
Visible abs
Stop smoking
Run a half marathon
Compete in a quarter iron man
Average 4+ workouts a week over the course of 2021

In 2020 our agency grew from 1 to 25 FTEs. In 2021 we might hit 75.
None of us have ever done this before.
And we're figuring it out in public.