How To Find the Best Online Payroll Software for Your Company—Top 7 Solutions
Your employees are the cogs that keep your business running.
The most hard-working employees are those that are happy with their job. Aside from providing your staff with the perfect working environment, you need to ensure that everyone is compensated properly.
The issue is that managing your employees' salaries manually is a tedious task. Errors during payroll calculation aren't uncommon, and every mistake can be costly.
This is why plenty of businesses of all sizes rely on online payroll software. It enables them to schedule timely and accurate payments. It can also automate a variety of other related tasks, such as time tracking and compliance with different tax laws.
To help you reach an informed decision, we reviewed an extensive selection of online payroll tools and compiled a list of high-quality solutions. Let's take a look at how your business can benefit from using:
Rippling
Paycor
Gusto
Payroll4Free
Paychex
Denali Payroll
Workful
Rippling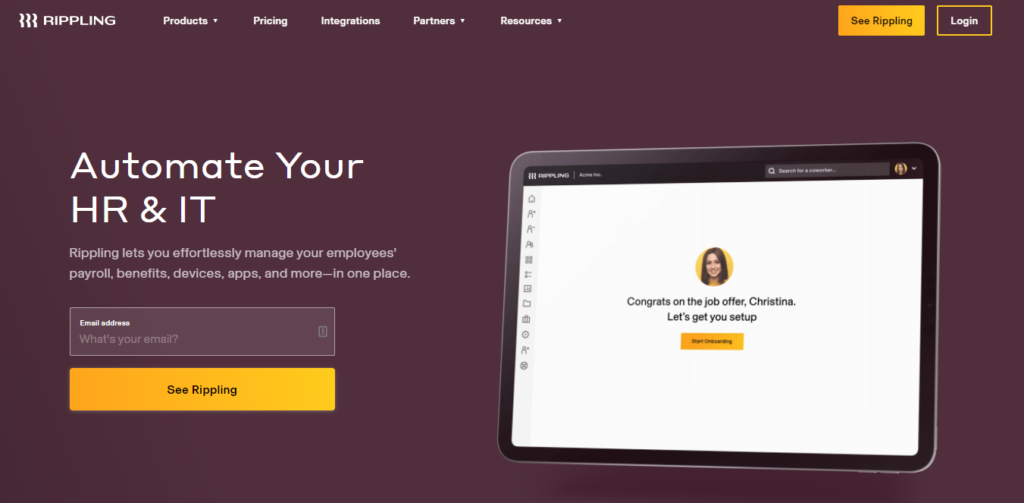 Rippling Homepage
Rippling is a robust employee management platform with payroll features. To be able to run payroll, you have to purchase the appropriate module for $5 per month for each employee.
In case your company has contractors and employees on the same payroll, Rippling makes working with each group easier by providing you with multi-tiered access. While the platform is a fantastic solution for enterprises with plenty of employees, it may not be the best option for SMBs that work with a small number of contractors or hourly workers.
One of the best features that Rippling has to offer is its tax filing system. It covers all 50 states in the U.S. and enables you to work with international payments as well. It provides automatic filing for W-2s, I-9s, and 1099s. You can find tax information for each state and ensure 100% accuracy for your payroll.
Other payroll features include:
Direct deposit
New hire reporting
Workers' compensation
The core platform costs $35 + $8 per employee. It provides features such as:
Time-off tracking
Employee directory
Core HR integrations
Onboarding automation
Rippling Overview
Pros
Cons
Robust tax filing systemSeamless integration with appsUser-friendly interface
Payroll module costs extraLimited customer support availability
Paycor

Paycor Homepage
Paycor is a popular HR and payroll software solution made primarily for SMEs with multiple locations and a large number of workers. Aside from payroll, it covers recruiting, onboarding, and benefits administration.
The platform enables you to optimize and streamline your payroll with features such as employee self-service and general ledger integration. It also provides valuable resources like reporting tools and HR form templates.
When it comes to employee support, Paycor includes options such as:
Direct deposit
Child support payments
401K integration
Wage garnishments
To ensure that you can provide a 100% accurate payroll, the platform includes automated workers' compensation, extensive assistance with tax compliance, and a robust time tracking feature named Time Clock.
The platform comes with an intuitive user interface that makes payroll management and other crucial processes a breeze. You've got access to real-time analytics with detailed information on workflows, employees, and different departments. This enables you to determine patterns and pain points and come up with adequate responses.
Paycor Overview
Pros
Cons
Feature-rich payroll systemEfficient time tracking featureIntuitive user interface
No reporting customizationUnavailable pricing without asking for a quote
Gusto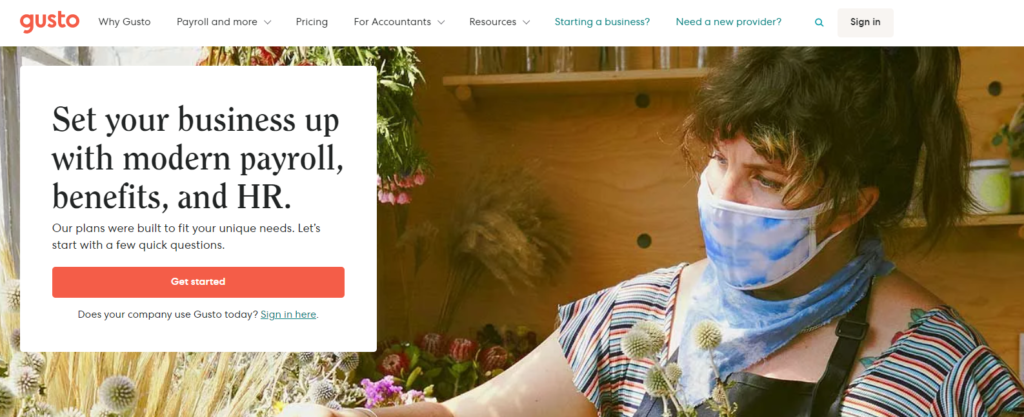 Gusto Homepage
Gusto is one of the best online payroll software solutions on the market. It's a user-friendly platform that is the #1 choice for over 100,000 companies across the United States.
The platform is simple to set up and manage, even if you've never used a payroll service before. Running payroll is simple with Gusto—If your pay cycles are consistent, you can automate the process and not worry about it until it's necessary to introduce changes.
The number of payroll cycles is unlimited, which means that you aren't restricted to weekly and bi-weekly payrolls. You can pay your workers whenever you want to.
You can set up individual onboarding processes for your employees, whether they are W-2 hires or 1099 contractors. Gusto includes employee self-service, providing workers with access to pay stubs, W-2 forms, and personal information.
The platform calculates your taxes and files everything automatically. Whenever you run payroll, Gusto will ensure that your state, local, and federal taxes are taken care of. The good news is that you can use this benefit for free.
Gusto offers four paid plans:
Basic—$19 + $6 per month for each user
Core—$39 + $6 per month for each user
Complete—$39 + $12 per month for each user
Concierge—$149 + $6 per month for each user
More advanced paid plans provide additional features such as PTO policies, next-day direct deposit, customizable employee onboarding tools, and accounting and time tracking integrations.
As for health and workers' comp benefits, they can be integrated with Gusto for free.
Gusto Overview
Pros
Cons
Automated taxes and payrollUser-friendly navigationExtensive HR template library
Expensive for SMBsNo mobile app
Payroll4Free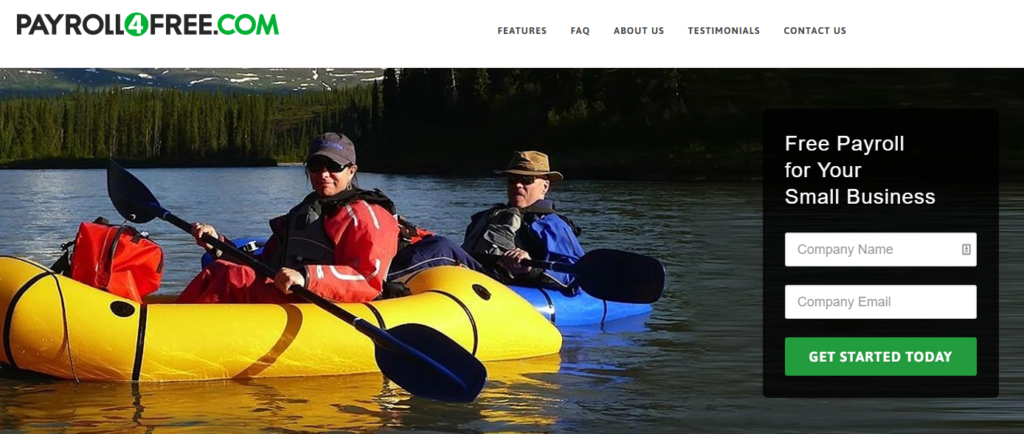 Payroll4Free Homepage
If you're running a small business with no more than 25 employees, Payroll4Free is a great solution for you. It's a free payroll software solution made for startups that are looking for a way to save on operating costs while still establishing their business operations.
You can use the software for free without a time limit, but you'll have to deal with in-app ads.
In terms of features, Payroll4Free comes with the basics for running payroll. The software calculates the taxes for you and provides you with tax forms, but you have to do the filing yourself or pay $12.50 per month for tax filing services.
With Payroll4Free, you can pay W-2 employees and 1099 contractors and track vacation time. The software also provides direct deposit, but you have to pay $12.50 per month to transfer the funds to your employees via your bank.
Other features include:
Employee portal
Detailed reporting
Enrollment
Paper checks
Payroll4Free Overview
Pros
Cons
Free foreverQuickbooks integrationSimple navigation
Riddled with in-app adsLimited to 25 employeesCompatible with Windows only
Paychex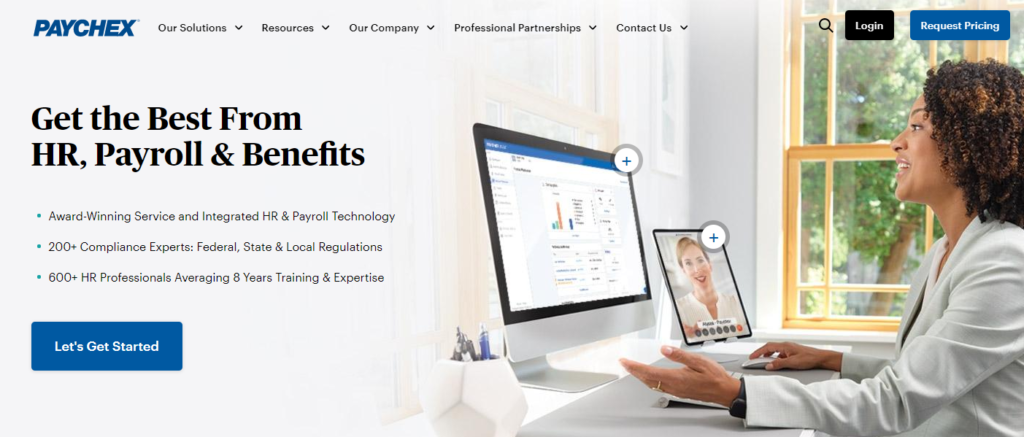 Paychex Homepage
Paychex is a powerful online payroll software solution brought to you by a company with a long and successful history. As a payroll, human resources, and benefits outsourcing service provider, Paychex has been around for more than half of the century. It's being used by over 650,000 businesses.
The platform has evolved over the years, offering fantastic solutions for both SMBs and enterprises. This is why you get to choose between two options—Paychex Go and Paychex Flex.
If you're running a large business, you'll love Paychex Flex because of its flexibility. Aside from running payroll, you can make use of the platform's features such as HR administration, advanced analytics, employee onboarding, and background checks for new employees. Other features that the Flex plan includes are:
General ledger service
Custom reports
Financial wellness program
Free mobile app
Extra payment options
Dedicated payroll specialist
One of the downsides of Paychex Flex is that it comes with a complicated sign-up process that doesn't present you with the pricing options right away.
Paychex Go is a simpler solution made for small businesses. The price starts at $59 + $ 4 per month for each employee. One thing to keep in mind is that Paychex Go offers limited functionality. You won't have access to the free mobile app, workers' compensation reports, and custom analytics and reporting.
Paychex Overview
Pros
Cons
Advanced payroll managementHR administrationAdvanced analytics
Limited features with the Go plan
Denali Payroll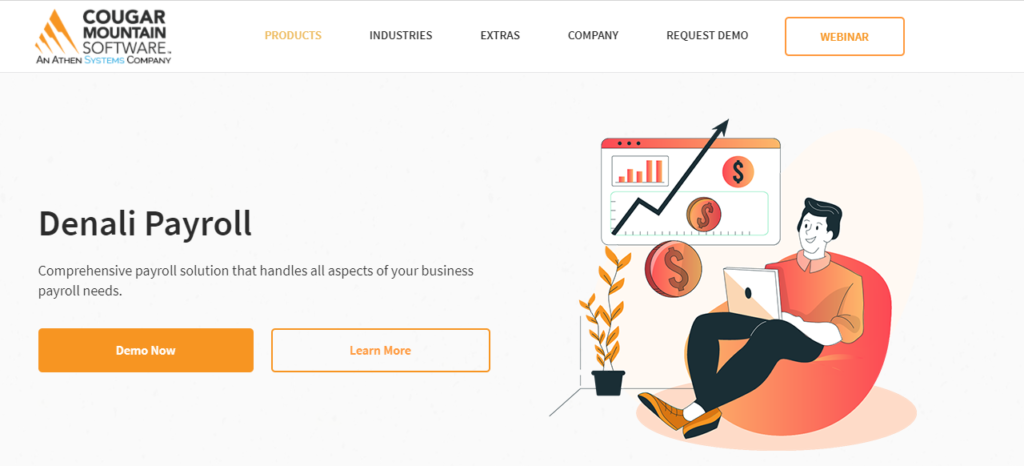 Denali Payroll Homepage
Denali Payroll is an online payroll software solution developed by Cougar Mountain Software. It's made to handle the needs of both enterprises and small businesses.
The software is scalable in line with your company's growth. It consists of different modules that you can add or remove according to your business' needs.
Denali Payroll includes different compensation types, such as:
Salaries
Hourly
Per-diem
Contract
You can choose to pay your workers using check-printing methods or automated direct deposit. When it comes to forms, the software provides W-2s and 1099s, with the ability to submit the former using Aatrix. You can create custom reports by filtering data or using the help of a Denali reporting specialist.
Tax payments are automated and continuously updated, providing you with the latest local, state, and federal withholding codes. You can also make use of the tax tables for all 50 states in the US.
You can purchase Denali Payroll for the one-time price of $1999.
Denali Payroll Overview
Pros
Cons
Automated tax paymentDifferent compensation typesScalable to company size
Outdated user interfaceNo HR featuresA huge upfront investment
Workful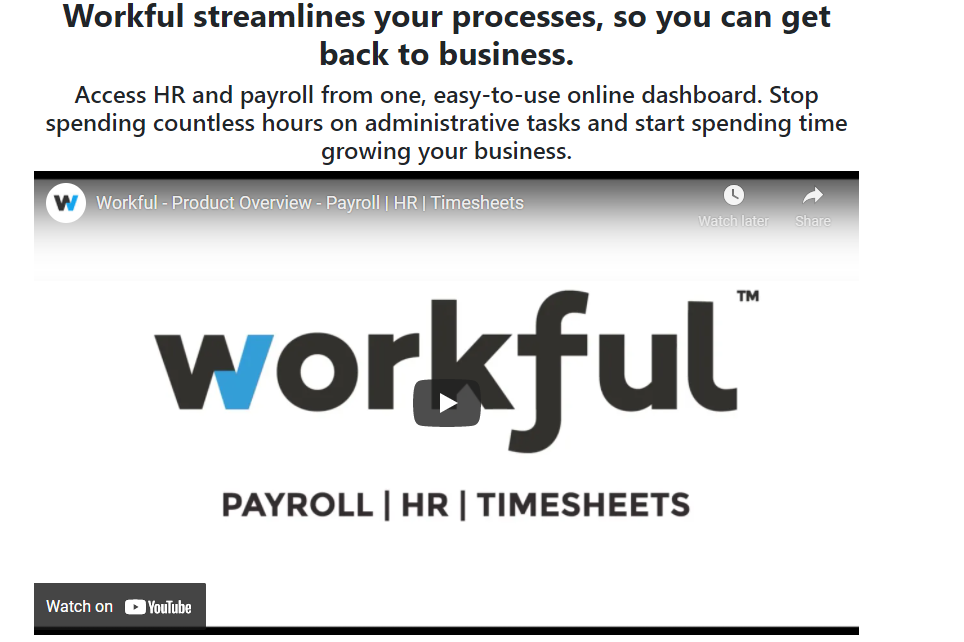 Workful Homepage
Workful is a robust payroll and employee management software solution. It combines payroll and time tracking features to ensure that you don't need to enter any data manually. All you need to do is set up the payroll and approve any data changes so that the platform can process everything automatically.
The platform includes tax calculation and generates year-end forms, such as:
It also prepopulates federal tax forms and helps you file particular state taxes correctly and on time. You can also make use of Workful's services for tax filings in five states—Texas, Florida, Georgia, California, and South Carolina.
In terms of payment, Workful provides direct deposit and multiple pay rates. You can integrate the platform with Quickbooks and ensure that all your payroll costs get updated in the financial records.
Workful includes self-service features, such as:
Requests for expense and time-off reimbursements
Ability to clock in and out using Workful's mobile app
Access to tax withholding information
It's easy for managers to track employee workflows and make any necessary adjustments. When it comes to reports, the platform covers tax liability, employee lists, mileage expenses, etc.
You can also use Workful to onboard new employees and manage documents efficiently.
Workful Overview
Pros
Cons
Centralized dashboardAutomated payroll tasksHR features
No tax filings filing for all U.S. statesUnsuitable for larger businesses
What Are the Essential Features of Online Payroll Software?
If you want to get the best possible online payroll software solution for your business, these are some of the crucial features that you should look for:
Direct deposit
Employee self-service
Tax filing
Integrations
Reporting
Direct Deposit
Direct deposit is a secure and practical payment method. It ensures that the checks go straight from your company's bank to your employees' banking accounts. This method removes the possibility for the check to get lost along the way and enables your workers to get the funds sooner.
Employee Self-Service
Employee self-service (ESS) takes the burden off the HR department by enabling employees to access crucial information and perform some of the essential payroll tasks on their own. If they want to learn more about their salary, update their contact information, or choose different benefit options, they can do so using this feature easily.
Tax Filing
Tax filing is a crucial feature that enables you to deal with taxes efficiently and ensure that there are no errors. You can calculate the local, state, and federal taxes that your company owes easily and generate W-2 and 1099 forms for your staff.
Integrations
Most online payroll software solutions come with various integrations that can improve your business processes. If you integrate your payroll platform with accounting software, every payroll will be added to the general ledger automatically. You can also integrate with time tracking software and calculate payments in line with working hours easily.
Reporting
Reporting is an essential feature because it provides you with the necessary insight into how your company operates. This includes being able to track taxes and benefit deductions, view the payroll in different departments, etc.
What Are the Benefits of Using Online Payroll Service Software?
Payroll software provides various benefits that can make running your business significantly easier. Here are some that you should consider:
Avoid mistakes
Boost employee satisfaction
Ensure legal compliance
Enhance data security
Avoiding Mistakes Using Online Payroll Software
A mistake in the payroll system can cost you a lot. If you short-change your workers by accident, you can devastate their morale and even face legal issues. If you overpay them, you can cripple your working capital and be forced to deal with the dreadful logistics of getting that extra amount of money back.
An online payroll platform decreases the risk of such errors happening significantly. The payroll process can be automated with great accuracy to ensure that your employees get paid properly.
Boosting Employee Satisfaction Using Online Payroll Software
Ensuring that your workers are satisfied is one of the most important aspects of running a business. Aside from avoiding mistakes that can affect the way your employees feel about your company, Payroll software can help you provide them with various benefits.
If the software comes with a self-service feature, it will enable your employees to have direct control over information such as:
Accessing pay stubs
Changing tax withholding and deduction amounts
Choosing benefit programs
Logging work hours
Setting up retirement investment plans
Giving your staff more autonomy when it comes to payroll and benefits management is one of the best ways to make them happier about working for you.
Ensuring Legal Compliance Using Online Payroll Software
Making sure that you're compliant with each state, local, and federal tax law regarding payroll without using software to help you is a daunting task. It's far from easy to keep track of every change that all these laws go through frequently.
The good news is that plenty of online payroll services track and update all the laws and regulations that you need to comply with. This way, your HR department doesn't have to keep an eye on all the legal requirements constantly.
Enhancing Data Security Using Online Payroll Software
Payroll data contains sensitive personal information, such as names, birth dates, mailing addresses, social security numbers, etc. One of your primary goals is to make sure that such data cannot fall into the wrong hands.
Most payroll software solutions use advanced security measures to protect sensitive information, making sure that it cannot be accessed by anyone outside your company.
Why Your Company Needs To Use the Best Online Payroll Software
Every business needs efficient HR software that can help them streamline the majority of processes and focus on crucial tasks. With plenty of solutions on the market, it can be difficult to find the best option for your business needs.
The software that we reviewed is the cream of the crop, and we are certain that you can find a solution that will make you, your HR department, and your employees satisfied.
If you're interested in checking out different types of HR software, take a look at our software categories page for all kinds of effective solutions.